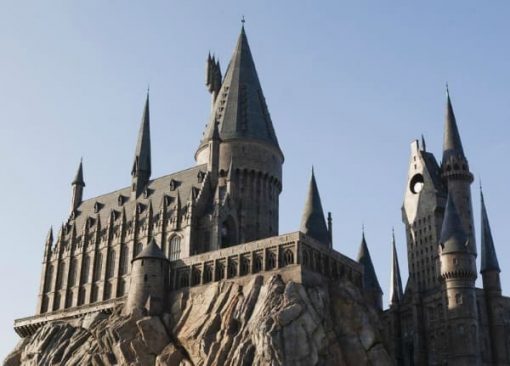 Don't worry if you're not a witch or a wizard because even muggles are welcome at Universal Orlando's The Wizarding World of Harry Potter.  Located in Universal's Islands of Adventure theme park, The Wizarding World of Harry Potter provides a realistic glimpse into a fictional world of magic and mystery, as originally created by author J.K. Rowling in her Harry Potter book series.
Upon entering Hogsmeade, known to Harry Potter fans as the only all-wizarding village in Britain, I marveled at the ever-present intricate details throughout the area that combined to make me feel as if I were an actual Hogwarts student participating in a rare weekend visit.
Just like in the Harry Potter book series, Universal's version of the village is "hidden" from muggle view – a muggle is a person without magical capabilities – by areas of rugged mountainous terrain. Granted, the theme park mountains aren't extremely high but they do play an important role in creating the proper ambiance.
While standing next to a stationary version of the Hogwarts Express, a train known to magically transport students to and from Hogwarts School of Witchcraft and Wizardry each school year, I was excited to see familiar businesses on both sides of the bustling street that I recognized from having just finished reading all seven books in the Rowling series.
To the right, I spotted Ollivanders magic wand shop where a seemingly countless number of sturdy wand-filled boxes line walls on both sides of the store; all the way from floor to ceiling in some spots. My son, after sampling many character replica wands there, ultimately chose a unique version based on its representation of his birth month.
On the left, and almost directly across the street from Ollivanders, was  Honeydukes and Zonko's.  Honeydukes is a Victorian-style candy store where you can buy chocolate frogs, Bertie Bott's Every Flavour jelly beans, huge lollipops, exploding bonbons and much more.  Zonko's, which is connected to Honeydukes, is a novelty and joke shop where pranksters can find many otherwise unheard of items like screaming yo-yos and extendable ears. An interesting variety of sweets are also available there including Fainting Fancies, Fever Fudge, Nosebleed Nougat and U-NoPoo (don't ask).
As much as I enjoyed watching my son cast imaginary spells while in Ollivanders and sampling ear wax-flavored jelly beans after our visit to Honeydukes, the highlight of my time in Hogsmeade was undoubtedly a visit to Hogwarts castle itself and an unforgettable experience aboard the thrill ride called Harry Potter and the Forbidden Journey.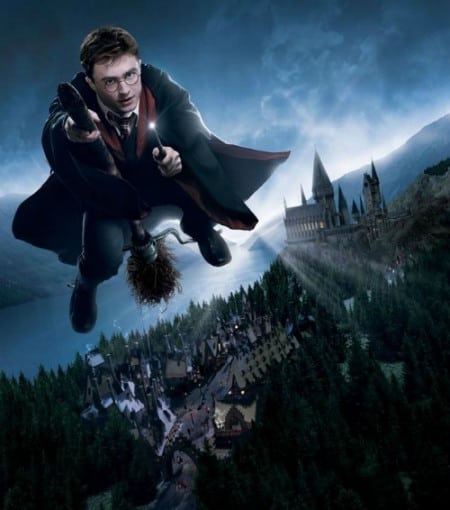 While waiting in line for the ride, which takes place inside the castle, we slowly made our way along passageways and corridors that offer a glimpse at areas undoubtedly familiar to Harry Potter fans. We passed Headmaster Dumbledore's office, the Defense Against the Dark Arts classroom and even the Gryffindor common room.
The dimly-lit castle is filled with novelties and surprises including wall portraits that engage guests in conversation and an image-projected but very realistic encounter with Harry Potter along with his friends, Ron Weasley and Hermione Granger.
Harry Potter and the Forbidden Journey mimics a trip on broomstick as participants, who are seated safe and secure in large coaster-like compartments, follow Harry and his friends on an adventure-filled journey in and around Hogwarts as well as through the English countryside. Along the way, riders swoop down on the school's Quidditch field and come face-to-face with giant spiders and a persistent dragon.
Another ride, located near the entrance to the village, is a high-speed, intertwining roller coaster called Dragon Challenge. It actually consists of two separate "dragon"coasters, an aggressive Chinese Fireball and a ferocious Hungarian Horntail, that are said to provide completely different riding experiences. Despite the fact that I'm not much of a coaster enthusiast myself, I was momentarily overtaken by my 9-year-old daughter's enthusiasm and excitedly agreed to sample the Chinese Fireball. I loved it!
In addition to strongly recommending rides on both Harry Potter and the Forbidden Journey and the Dragon Challenge, no matter the wait time, I highly suggest that visitors to The Wizarding World of Harry Potter make it a point to sample Butterbeer. This refreshing beverage, available only in the wizarding world, is served two ways, as a fizzy soda or as a slushy frozen delight. My soda version of the foamy, non-alcoholic concoction, tasted like a blend of vanilla and butterscotch creme soda.
Magic can be found virtually everywhere in The Wizarding World of Harry Potter and even though I'm still classified as a muggle, I'm confident the tricks I learned while navigating the area will make my next visit there even more enjoyable.
Park Hours: Park hours coincide with operational hours for Universal's Islands of Adventure theme park – generally 365 days per year, starting at 9 a.m. Closing times vary.
Admission: The Wizarding World of Harry Potter is located within Universal Orlando's Islands of Adventure theme park and does not require an additional admission fee. A one-day adult ticket to one theme park is $85. One-day admission to one theme park for children ages 3-9 is $79.  Multi-day and multi-park options are also availalbe.
Ride Restrictions: In order to ride Harry Potter and the Forbidden Journey, guests must be at least 48 inches tall. In order to ride the Dragon Challenge, guests must be at least 54 inches tall.
Tips:
Since this themed-area has only been open for a little more than a year now, it's still extremely popular. There is no slow time! If you plan to visit  The Wizarding World of Harry Potter, make it your first stop of the day.
Once inside the city of Hogsmeade, proceed directly to Harry Potter and the Forbidden Journey. The line is always long but moves relatively fast. Many parts of the waiting line are partially shaded. Also, drinking fountains and even a beverage vendor can be found along the way.
Cameras and backpacks are not allowed on Harry Potter and the Forbidden Journey; they must be left in lockers located directly inside the castle.
Do not wear loose-fitting flip flops or sandals while riding the Dragon Challenge. I spotted many of these on the ground below us.
The shops are small and generally very crowded. Lunchtime is perhaps the best time to shop while others search for food.
Magic wands are available at the Orlando airport and in various shops throughout Universal Orlando but the best selection, by far, is at Ollivanders. In fact, you'll find wands there that you won't find anywhere else.
Photo credit:  ©2011 Universal Orlando. All Rights Reserved. (used with permission)
Greg Seiter | Indianapolis-based Greg Seiter is a 22-year freelance veteran who specializes in family travel. While embracing a background in athletics, the travel enthusiast has written for the Associated Press and various NCAA Championships publications in addition to AAA and Resort Condominiums International. Greg's top three travel destinations are Orlando, Fla., Pigeon Forge, Tenn. and Myrtle Beach, S.C.