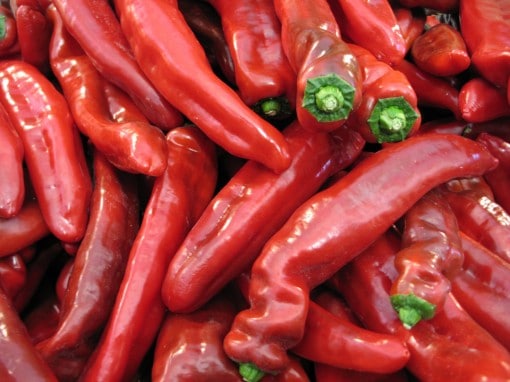 Some like it hot! Sure, summer's temps may climb into the triple digits, but we're talking about spicy heat — the kind of culinary POW! that makes serious eaters perspire with pleasure.  Those of us who travel "food first" always are in search of regional delights, especially when that involves hot and spicy.
Chili Heat
If you're in search of culinary heat, chili fests should be on your radar screen. Here are four to whet your appetites (and make you wish you could be in more than one place at a time):
The Scoville scale is traditionally used as a measurement of the spicy heat – called piquance – of a chili pepper. The number of Scoville heat units (SHU) indicates the level of capsaicin (the chemical compound that makes peppers hot).
More Heat
As you may have guessed, chili peppers aren't all that's spicy out there in culinary land. Here are three more places to check out your taste for heat:
First up is the Cajun Hot Sauce Festival, set for April 12 through 15, 2012, in the SugArena at Acadiana Fairgrounds in New Iberia, Louisiana (map). Of course, the reason there's a hot sauce festival in New Iberia is obvious: nearby Avery Island is the home of Tabasco! Even if you're not headed to the fest, you can stop by the factory for a tour and a chance to browse everything Tabasco in the company's store.
Horseradish packs its own special heat, and the residents of southern Illinois know that very well. The area around Collinsville grows almost 85% of the world's supply. To see what the fuss is all about, stop by the International Horseradish Festival, which has celebrated the multi-faceted and "vastly under-utilized" horseradish since 1988. This year's fest, June 1 through 3, 2012, takes place in Woodland Park, Collinsville, Illinois (map).
The Salsa Festival in Oxnard, California, celebrates the food, the music and the dance in Plaza Park (map) July 28 and 29, 2012.  There'll be lots of spicy food (of course), but don't miss the Salsa Tasting Tent. Local restaurants and salsa vendors will dish up dozens from mild to wild from 11 a.m. to 7 p.m.
Photo credit:  Courtesy of the author, © 2012 by Susan McKee
Susan McKee | Susan McKee is an independent scholar and freelance journalist specializing in history, culture and travel.