This deal goes in the luxury category, rather than the value category, but hey – a girl can dream, can't she?!
The Sheraton New York Times Square hotel has introduced a new Penthouse Escape luxury package featuring culinary and wine experiences in the hotel's plush Penthouse Suite. With accommodations in an upscale duplex suite boasting panoramic Manhattan views and memorable foodie experiences, the package is a wonderful splurge for couples with the budget to expand heir culinary horizons, for celebratory events such as bachelorette parties and anniversaries, and for family weekends in New York City.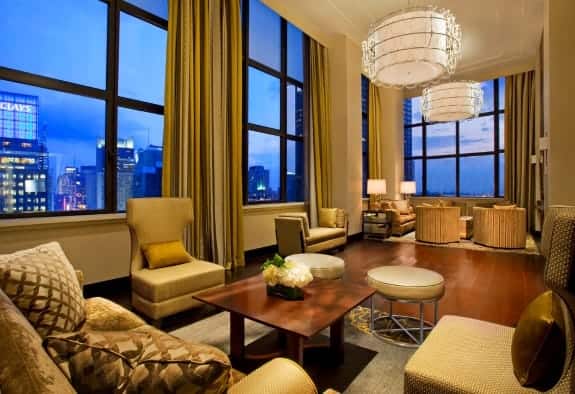 Situated in the heart of Times Square, the Sheraton New York Times Square Hotel offers a perfect combination of comfort, convenience, and Manhattan style. The 3,546 sq. ft. bi-level Penthouse Suite is elegantly appointed with sophisticated décor in a soothing gold-drenched color palette that provides a spacious and relaxing atmosphere on the 45thfloor. Guests enjoy deluxe furnishings in the open sitting area with a bar and spectacular views of New York City, a dining room with seating for ten, a fully-equipped kitchen and a private office area. The master bedroom includes a king-size bed and en-suite bathroom, complete with custom digital controls for the indulgent walk-in rainforest shower, an oversized sunken tub, and a television mirror in the sink area. The second bedroom features double beds and a lounge area with large windows overlooking the city.
Upon booking the Penthouse Escape package, guests have an initial consultation with a member of the hotel's culinary team to discuss their food interests and any special requests. A cooking session takes place in the Penthouse Suite, utilizing the expansive kitchen and dining area. The three-course cooking lesson with Chef Joe Fontanals is a hands-on interactive and guests receive copies of recipes created during the experience.
A bottomless wine tasting includes wines from the acclaimed Sheraton Social Hour, which features several Wine Spectator 90+ rated wines from renowned wineries such as Chateau Ste. Michelle, Seghesio, Villa Antinori, Peter Lehmann, M. Chapoutier, Paul Cluver and Domaine Lafond. Guests receive tasting notes and worksheets for all wines sampled during the experience.
The Penthouse Escape package includes:
Three nights in the two bedroom, three bathroom bi-level Penthouse Suite with breathtaking views of Central Park and Times Square from every room
Bottomless wine tasting with in-house wine expert David Ocampo, featuring wines rated 90+ by Wine Spectator
Two-hour cooking session with Executive Chef Joe Fontanals in the suite's full kitchen and dining room
Access to the 44th floor Club Lounge with 24/7 complimentary beverages and snacks
Complimentary access to the Sheraton Fitness center
Complimentary wireless Internet access
Location:  811 7th Ave at 52nd Street, New York (Times Square)
Dates:  Available through May 31, 2014, subject to availability and black out dates. Must be booked 14 days in advance.
Rates:  $15,000, with maximum capacity of four guests
Photo credit:  via TravMedia
Mary Jo Manzanares | Mary Jo Manzanares is a founder and the editor-in-chief of The Traveler's Way, an online travel magazine proving informational and inspirational travel recommendations for curious Baby Boomer travelers. She has been a speaker at various industry events and has a personal travel blog at Traveling with MJ. When she's not traveling, Mary Jo likes lingering over a cup of coffee, wandering in a museum, sipping wine at a cafe, and sharing it all with friends and readers. Mary Jo's top travel destinations are Italy, Portugal, and the Caribbean.