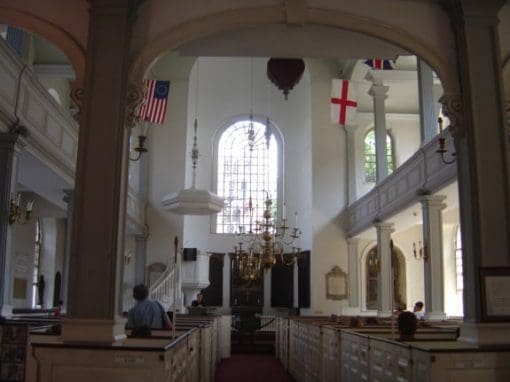 Full of history and historical sites, Boston is an easy destination for last minute holidays.  There's so much to see and do, though, that the city can seem overwhelming.  And it is.  My recommendation is to break it down into bite size pieces, giving yourself plenty of chance to sightsee, soak of the ambiance of the city, as well as to savor the many food and beverage choices the city offers.
One theme that's fun, especially for families with school-aged children, is Paul Revere and a visit to two of the historical sites that he's associated with.
The Old North Church
Most of us have herd the lines of the famous Henry Wadsworth Longfellow poem describing the rid of Paul Revere:
One if by land, and two if by sea; And I on the opposite shore will be, Ready to ride and spread the alarm Through every Middlesex village and farm.
Although the poem may take some literary license with historical details, it basically refers to hanging a lantern (or lanterns) in the belfry of the Old North Church in Boston as a signal that the British were coming, a signal to Paul Revere to alert the neighboring villages to prepare and take action.
The Old North Church still stands in Boston today, and is the city's oldest surviving church structure as well as a National Historic Landmark. The church is more properly known as Christ Church in the City of Boston, and is affiliated with the Episcopalian Church. It is an active church, and services have been held there regularly since it was built in 1723, save for a brief closure during the American Revolution.
Its 191 foot tall steeple makes it the tallest steeple in the city, and it a recognizable part of the Boston skyline. A short walk through the church will give you a view of revolutionary era architecture and a tremendous sense of history. It's said that the box pews, the brass chandeliers, and the first clock are all original — that's over 250 years ago!
The church is on Boston's Freedom Trail, a two and a half mile red-brick walking trail that leads you to 16 historic sites.
Details:
Address:  193 Salem Street, Boston
Hours:  Vary according to season, but basically it's open every day of the year for tours.  Church services are Sunday at 9 and 11 am and Thursday at 6 pm.  Visitors are welcome to attend church services.
Admission:  No charge.  Donations are appreciated.
Paul Revere House
Another important Paul Revere site is the Paul Revere House a small wooden home that was the starting point for his famous ride.  He lived in the home with his wife, five children, and mother, remaining in the home long after the ride that made him a legend. The house was eventually sold around 1800, but it remains standing today as
downtown Boston's oldest building.
The home was opened as a museum in 1908, one of the first historic house museums in the country, and today it is one of the few buildings remaining from the colonial era. Although it has been renovated substantially over the years, about 90% of the building is original back to 1680. Some of the original items include two doors, three window frames, and portions of the flooring and rafters. The heavy beams and large fireplaces were typical interiors of colonial homes, and the upstairs chambers contain furniture believed to have belonged to the Revere family.
The Revere House is also on the Freedom Trail, between Faneuil Hall and the Old North Church.
Details:
Address:  19 North Square, Boston
Hours:  Self guided tours available 9:30 am – 5:15 pm through October, and till 4:15 pm through mid-April.  Closed Mondays during the winter.  Allow about a half hour to tour.
Admission:  $3.50 adults, $3 seniors and college students, $1 children.
Photo credits:  wikimedia (Old North Church); Neville10 via flickr (Paul Revere House)
Mary Jo Manzanares | Mary Jo Manzanares is a founder and the editor-in-chief of The Traveler's Way, an online travel magazine proving informational and inspirational travel recommendations for curious Baby Boomer travelers. She has been a speaker at various industry events and has a personal travel blog at Traveling with MJ. When she's not traveling, Mary Jo likes lingering over a cup of coffee, wandering in a museum, sipping wine at a cafe, and sharing it all with friends and readers. Mary Jo's top travel destinations are Italy, Portugal, and the Caribbean.