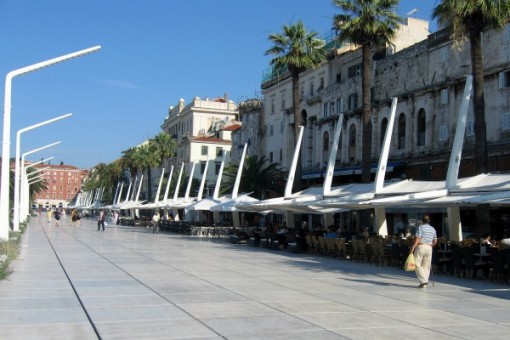 Whether you come to Split by land or by sea, chances are that you will at some point wind up walking along the Riva, a waterfront promenade that is both a long time symbol of the city and a favorite gathering spots for residents.  The design of the modern Riva has been attacked by locals for its lack of aesthetics, but it's still a popular spot for people watching by day or by night.
By day:  While locals may complain about the glaring white of the promenade in the heat of summer, I didn't find it a problem.  I'd recommend slowing down your pace with a coffee or bite to eat at a local cafe after a visit to the Diocletian Palace.  A simple cucumber, tomato and onion salad with vinegar and oil was so good that we went back a second day to have the same thing.  Add a glass of wine and some bread and you can while away a couple hours watching people walk the Riva.
By night:  Toward dusk when people come out for the Croatian version of the passeggiata, an evening stroll along the Riva and the historic center.  Locals dress up a bit, although not as much as by Italian standards, but this is a time to see and be seen.  Tourists usually stand out conspicuously based on their casual attire. Grab a table and some wine and watch this very European ritual.  Then, as dusk turns into night, the bars and clubs start hopping.
Split, located on the eastern shore of the Adriatic Sea, is one of the oldest cities in the area and its historic center (which includes the Diocletian Palace) is on the list of UNESCO World Heritage Sites.  In addition to the city's importance as a port, travelers have discovered its beauty and it has become popular with both independent travelers and cruise passengers.
Photo credit: Mary Jo Manzanares
Mary Jo Manzanares | Mary Jo Manzanares is a founder and the editor-in-chief of The Traveler's Way, an online travel magazine proving informational and inspirational travel recommendations for curious Baby Boomer travelers. She has been a speaker at various industry events and has a personal travel blog at Traveling with MJ. When she's not traveling, Mary Jo likes lingering over a cup of coffee, wandering in a museum, sipping wine at a cafe, and sharing it all with friends and readers. Mary Jo's top travel destinations are Italy, Portugal, and the Caribbean.