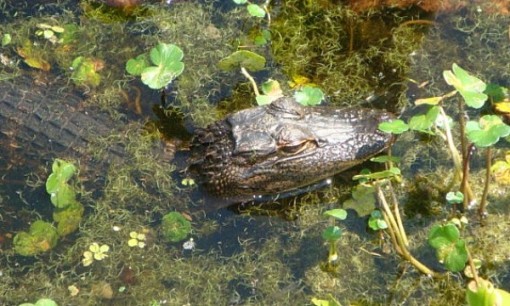 Located 30 minutes outside of Orlando, Lake Tohopekaliga begins the headwaters for the Florida Everglades.  An area full of swamps and marshes, Lake Toho as it is called by the locals, provides a rich habitat for wildlife in sharp contrast to the congested thrill-packed theme parks of  Central Florida.  Stretching over 18,000 acres, this is home for numerous species of birds, snakes, turtles, plant life and the American Alligator.
After theme park days on a recent vacation in Orlando, my family chose to explore these headwaters on an airboat tour through the Kissimmee Chain of Lakes.  While there are several operations offering airboat rides in the vicinity, only one, Spirit of the Swamp, offers private, interactive tours.  The tours are on an airboat designed to hold a maximum of six people, five guests plus the captain, just perfect for our family of four.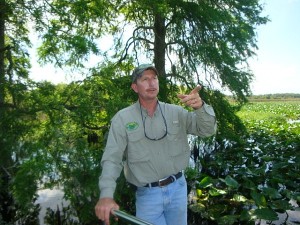 On our private tour, Captain Harold was able to individualize the experience.  The best feature of the tour was that the airboat was equipped with voice activated microphones and headsets, allowing us to communicate with the captain as well as each other.  These boats are powerful and loud, and the headsets eliminated the need for us to shout at each other, or to point and nod pretending that we understood what the other person was saying.  As Captain Harold relayed information to us and pointed out features during our the tour, we could clearly understand him, and even better, we could ask follow up questions of him, giving us real participation in what we saw.
There are several potential starting locations, and specifics will be given when you make your reservation.  We were told to meet Captain Harold at Partin Triangle in St. Cloud, Florida, and given directions to the boat ramp.  From here it was a straight shot through a canal to Lake Toho. Though bottled water and soda can be provided,  guests can choose to bring other beverages.  Just let the tour operators know in advance, and they'll have a cooler and ice waiting on board.  And don't forget your cameras, sunglasses and sunscreen!  The boats are equipped with safety equipment and you'll be given instructions on how to use the equipment in the unlikely event of an emergency.
Gliding our airboat across the water, Captain Harold reminded us that we were about to explore nature and while he would do his best, he couldn't guarantee what we would see.  As if on cue, a Bald Eagle sat on a rock along the shoreline, proudly welcoming us to the Lake.   Bright pink, finger shaped tubes were visible throughout the area.  These tubes we would be told were actually the eggs of Apple Snails.  A snail that indeed grows to the size of a small apple, and is the main food source for the endangered Snail Kite.  Though an endangered bird, we found quite a few protected nests and great care was taken to maneuver the boat around them.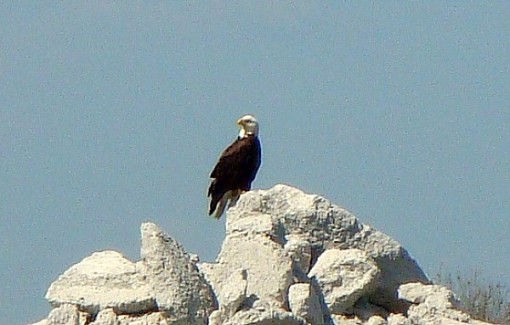 Upon discovering an area where a mother alligator was protecting her young, we were instructed to take off our headsets and listen quietly.  I was amazed to hear the baby alligators making a barking or yapping sound, almost like puppies, while communicating with their mother.   I reminded myself that if we had been on a larger airboat, we would not have been able to get this close.  We did see several other other alligators, of various ages, throughout our tour.
Although we had the opportunity to see many species of wildlife, I think my favorite part was the sheer beauty of the area.  Since our tour took place in Spring, with an abundance of wildflowers and water lilies in bloom, I asked Harold if this was the best time to visit.  He assured me that each season has its own beauty and anytime is perfect for a visit. Harold's enthusiasm for airboating and love of native Florida was very evident throughout our tour.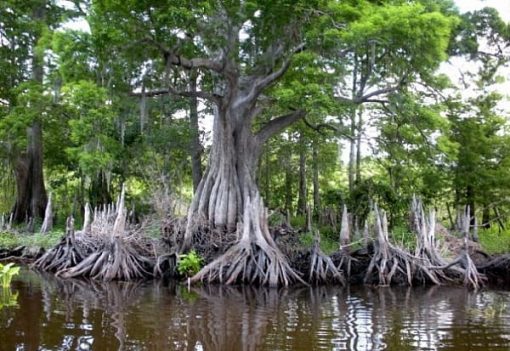 Because the tour is only your family and friends,  stopping whenever you wish to snap a photo or two is no problem.  The small size and private atmosphere  make this is a perfect experience for guests who are unsure or intimidated by crowds or have special needs.
Spirit of the Swamp provides several experiences in addition to swamp tours, including picnics on the island, nature photography tours, even sunset cruises and night tours.  Next time I think our family will try the "Florida Cracker" tour – a 2-hour trip that includes not only the water experience, but a guided tour of an uninhabited island.  Uninhabited by people that is – there's plenty of wildlife to see.
Location:  The departure spot is just a few minutes from US 192 East in St. Cloud.  This is a 30 minute drive (or less) from most Orlando theme parks and attractions.  You'll be given specific directions when you call for reservations.
Reservations:  Rates vary depending on the tour price, and start at $35 for adults and $30 for children under 10.  All tours require advance reservations by phone or email.
Photo Credits:  Cypress Tree used with permission of Spirit of The Swamp; all others by J. Ingersoll
Jenni Ingersoll | Having been transplanted numerous times, I have learned to explore the sites around our new found hometown, uncovering hidden gems and attractions. When vacation time rolls around, I enjoy traveling with my family and the occasional weekend escape with my husband, coming home to share our travel experiences with others. You can follow me on Twitter @JAIngersoll. My top three destinations are Walt Disney World Resort, the Midwest and any beach I can walk along.