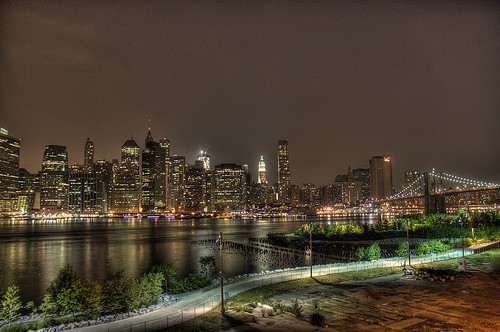 Perched high atop the 41st floor overlooking Manhattan, The Westin New York Grand Central is one of the few New York City hotels to cultivate a rooftop vegetable garden. Now growing for its third year, the organic garden illustrates the hotel's foray into urban agriculture, producing vegetables and herbs that are used throughout the hotel's food and beverage program and THE LCL: Bar & Kitchen restaurant.
The 1,344 square foot garden is situated 384 feet above Manhattan on the 41st Floor rooftop. With eleven planted beds and four robust barrels planted throughout summer and fall, vegetables include arugula, mesclun lettuces, heirloom tomatoes, yellow squash, zucchini, peppers and fall squashes. Herbs include basil, mint, thyme, oregano and cilantro. The garden utilizes only organic plants, soil, fertilizer and insect deterrents, including eco-friendly ladybugs.
The uber-local ingredients cultivated in the garden are used in seasonal menus, including salads, grilled vegetables and various dishes on the hotel's seasonal menus. Examples include Arugula Salad and Tomato & Buffalo Mozzarella Salad. Herbs are used for flavor and seasoning in various dishes, while mint is harvested for cocktails including freshly-muddled mojitos.
Pre-Register for Veggies with a View
Back by popular demand, a special series of rooftop garden tours is free to the public, although reservations are required. Make your reservations early – when rooftop tours were launched in 2014, demand was so strong each tour reached capacity with a waiting list.
Guided 30-minute tours of the rooftop garden every Thursday in June and July at 5 pm, with the exception of 4th of July week when the veggies will be celebrating Independence Day. The 2015 dates include: June 4, 11, 18, 25 and July 9, 16, 23, 30.
Reservations must be made at the Concierge Desk located in the hotel lobby (212 East 42nd Street) or by calling the Concierge Desk, or sending an email request for your preferred date. Confirmed registration is mandatory for the tours; walk-ins will not be accepted.
Led by Executive Chef and Chief Gardener Brian Wieler, the tours offer insider access to the private garden, which has breathtaking views of Manhattan and is closed to the public. During the tour, Chef Wieler discusses the hotel's culinary and rooftop garden program, with a questions and answer session, and a special surprises afterwards.
All tour attendees can register to win a hotel-themed prize, courtesy of the Westin New York Grand Central. The prize will be awarded in August when the summer tour season is complete.
Photo credit: KimCarpenter NJ
Mary Jo Manzanares | Mary Jo Manzanares is a founder and the editor-in-chief of The Traveler's Way, an online travel magazine proving informational and inspirational travel recommendations for curious Baby Boomer travelers. She has been a speaker at various industry events and has a personal travel blog at Traveling with MJ. When she's not traveling, Mary Jo likes lingering over a cup of coffee, wandering in a museum, sipping wine at a cafe, and sharing it all with friends and readers. Mary Jo's top travel destinations are Italy, Portugal, and the Caribbean.