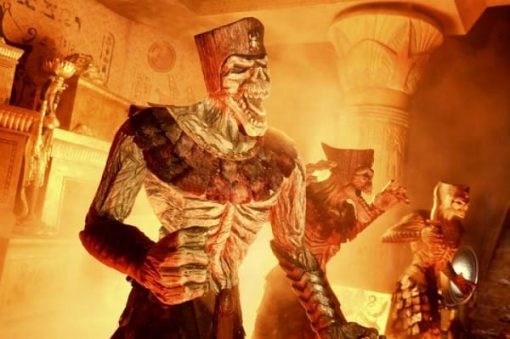 If there's one thing I've learned from many years of amusement park navigation, it's that most enjoyable and productive visits to a theme park involve a certain degree of advance planning.  I applied that knowledge during a recent family visit to Universal Orlando and offer up my tips to help you get the most out of your family trip.
Universal Orlando is composed of two primary theme park areas – Universal Studios Florida and Universal's Islands of Adventure – as well as section dedicated solely to dinning, shopping and entertainment known as Universal CityWalk Orlando.  The CityWalk complex serves as a gateway for Universal Orlando visitors with a left-side walkway leading to the Islands of Adventure theme park and a right-side passage to Universal Studios.
Tip: If you you want to be among the first to enter the Universal Orlando parks on any given day, plan to arrive approximately 15 minutes after the gates open.  You'll still get in early and will avoid the stress of the initial rush.
Universal Studios Florida
Universal Studios Florida is a movie buff's dream come true with the area dedicated to movies and movie making. From interactive rides to live shows and themed eateries, the park combines experiences that highlight both old and semi-recent cinema classics.
In the area's "Hollywood" section, I particularly enjoyed Universal Orlando's Horror Make-Up Show.  It lets you go behind the scenes to discover trade secrets used for make-up effects. Another highlight for me was Terminator 2: 3-D, a thrill-filled action show.
Tip: Terminator 2 is an exciting adventure that involves live actors who utilize realistic sounding weapons. If you're bothered by loud sounds, you may want to steer clear of this one.
Universal Studio's "World Expo" section features MEN IN BLACK Alien Attack, a sit-down ride that allows guests to zap aliens while attempting to save the galaxy, and a personal favorite of mine, The Simpsons Ride, which simulates a roller coaster adventure without having to be on an actual roller coaster.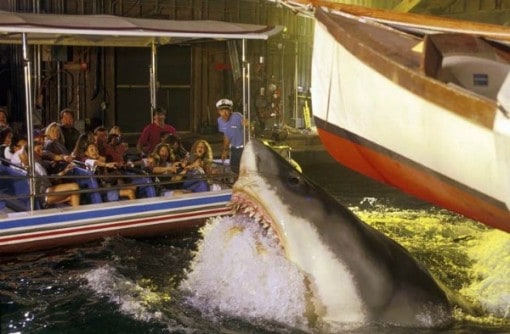 If you're a fan of the 1970s classic movie, Jaws, you'll definitely want to experience that ride in the "San Francisco/Amity" section. JAWS provides up-close encounters with a realistic replica of the famed beast itself via a guide-led boat ride around a multi-section lagoon.
Tip: You MIGHT get slightly wet during this adventure. Sit in the middle section of any row for the best chance of staying completely dry.
My favorite ride, by far, in the Universal Studios theme park is Revenge of the Mummy. I enjoyed the fast-paced roller coaster that involves backwards motion and a plunge in total darkness so much during my family's visit that I rode it twice!
Universal's Island of Adventure
At Universal's Islands of Adventure theme park, visitors of all ages can relive fond childhood memories of  their favorite Dr. Seuss stories in the area's brightly-colored and dramatically-themed "Seuss Landing" section.
If you enjoy stunt shows, I recommend making time to enjoy The Eighth Voyage of Sinbad, which can be found in "The Lost Continent."
Tip: During hot afternoons, this show, which takes place in an under-roof, open-air theater, is a great way to escape the sun.
Poseidon's Fury is another indoor experience worth checking out. While some walking is involved during this particular show, there's also fireballs, lasers and water explosions to contend with.
If you visit Universal's Islands of Adventure, I strongly recommend a stop at The Wizarding World of Harry Potter. Whether you're seeking thrills on the Dragon Challenge roller coaster, an unforgettable Hogwarts castle experience and ride on Harry Potter and the Forbidden Journey or simply a cup of Butterbeer, you're bound to find this area fascinating.
Tip: For more information, read my previous post on The Wizarding World of Harry Potter.
While in "Jurassic Park" during my recent visit, I apparently missed any posted signs that warn guests of the potential for getting wet while riding the Jurassic Park River Adventure. Admittedly, I elected to sit in the front row in anticipation of dodging raptors and eventually, a Tyrannosaurus Rex, but at the conclusion of this exciting adventure, I was drenched from head to toe.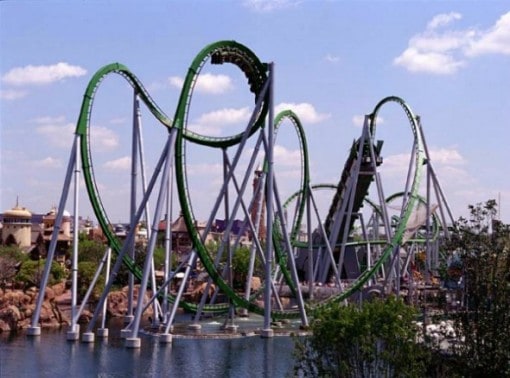 Finally, the park's "Marvel Super Hero Island" section is loaded with thrill-ride options but I mostly enjoyed The Amazing Adventures of Spider-Man while there. It's a 3-D sit-down adventure that involves filmed images and live special effects.
Park Hours: Universal Studios and Universal's Islands of Adventure are open 365 days a year – generally beginning at 9 a.m. Closing times vary.
Admission: A one-day adult ticket to either theme park is $85. One-day admission to one theme park for children ages 3-9 is $79.  Multi-day and multi-park options are also availalbe.
Ride Restrictions: Some of the rides at Universal Studios and Universal's Islands of Adventure have height restrictions. Click here for ride-specific information.
Additional Tips:
Print hard copies of each park map prior to your visit in order to help with the planning process.
If you want to visit both parks, plan on two days. It's simply not possible to enjoy all that each park has to offer during a one-day visit.
No matter which theme park you're visiting, start at the back and work your way forward. It's been my experience that visitors tend to stop at the first rides they see.
Eat lunch before 11:30 a.m. or after 2 p.m. in order to avoid the longest lines.
If possible, plan to visit water rides late in the day in order to avoid having to walk around in wet clothing for an extended period of time.
Don't miss out on an opportunity to see the Blue Man Group while visiting Universal Orlando if your schedule allows. Without a doubt, it's the most bizarre yet enjoyable show I've ever seen!
Photo credit:  ©2011 Universal Orlando. All Rights Reserved. (used with permission)
Greg Seiter | Indianapolis-based Greg Seiter is a 22-year freelance veteran who specializes in family travel. While embracing a background in athletics, the travel enthusiast has written for the Associated Press and various NCAA Championships publications in addition to AAA and Resort Condominiums International. Greg's top three travel destinations are Orlando, Fla., Pigeon Forge, Tenn. and Myrtle Beach, S.C.