Traverse in the lap of Himalayas to have a rejuvenating experience, visit the land of yoga and Ayurveda, Rishikesh, for a soulful escape, and relish every moment spent in the Himalayas. Rishikesh is a town nestled in the North Indian state of Uttarakhand, surrounded by gigantic mountain ranges and the River Ganges floating beside.
A convergence of yoga, adventure, and spirituality, Rishikesh is also famous for its wonderful luxury resorts. The resorts boast of a picturesque ambiance in the backdrop that accompanies a tranquil atmosphere. These resorts truly pave the way for an impeccable getaway for those who want to witness the beauty of nature at its pinnacle.
Lose yourself into the charm of the lush green hills that exquisitely complement the contrasting blue water of the River Ganges and relish the majestic experience of staying at one of these 10 best luxury resorts in Rishikesh.
1. Aloha on the Ganges
This resort perfectly defines luxury, as it is a blend of comfort, tranquillity, beauty, and opulence. Seated on the banks of the River Ganges, the resort sets a perfectly serene, pleasant, and salubrious atmosphere.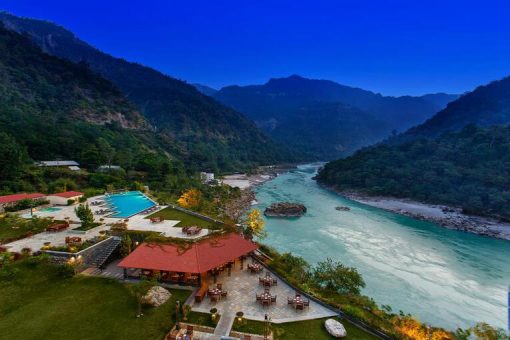 Activities: Yoga session, Spa by Tattva, morning havana, and picnic lunch at the waterfall. Adventure activity tours facilities include river rafting, bungee jumping, rock climbing, flying fox, and wildlife safari.
Accommodations: The resort has multiple accommodation facilities that include- Deluxe, Superior, Two bedroom premium apartments, and two and one bedroom standard apartment with modern amenities.
Rates: Approx $75 onwards (varies according to packages). Packages include Continental plan, family, adventure, dining, Vedic and Yoga retreat.
2. Aranyam River Retreat
Aranyam River Retreat resort is for the wildlife lovers for those keen to encounter the wilderness of nature. Seated amidst the Rajaji National Park on the bank of River Ganges, it is perfect for a heavenly getaway amidst the lush green forest.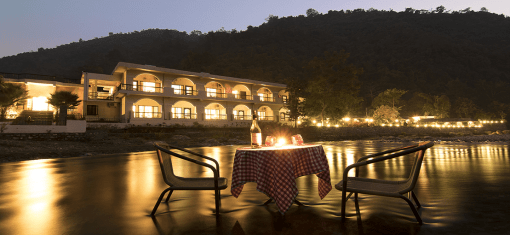 Activities: The resort provides the most luxurious services to make the stay comfy and relaxing. Activities include- wildlife safari, bird watching, yoga and meditation, sightseeing, therapeutic massage, and many adventure activities. Also offers palatable Indian and classical continental cuisine.
Accommodation: The resort has a variety of accommodation facilities including comfortable river-facing premium and premium plus rooms, safari and alpine tents, Swiss cottage, and treehouse or machaan.
Rates: The room cost averages between $75 to $100. The cost of package ranges from $200 500. Package includes adventure escapes, spiritual and wellness retreats, and romantic rendezvous.
3. Junglee Resort
Another resort nestled in Rajaji National Park that attributes to the thick shade of greeneries around and gives an enchanting experience of nature and wildlife. During your stay, you may get an opportunity to witness the majestic dwellers of the national park.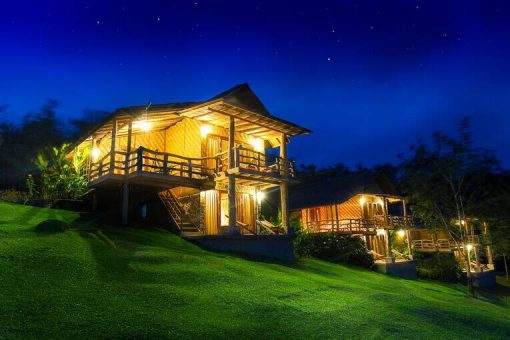 Activities: Best known for its delectable delicacies, prepared in local style. Other activities include Ayurveda massage, yoga practice, Wildlife safari, indoor and outdoor games, bonfire and a variety of adventure activities.
Accommodation: The resort has a total of 8 cottages including- 3 Wooden Cottages, 3 tree houses, 2 brick cottages. All are crafted keeping in mind both comfort and luxury and are well-equipped.
Rates: 50$ – 150$ INR
4. Nature's Valley Resort
Staying at this resort brings nature close to you as the resort is surrounded by picturesque views that include- scenic landscapes, breathtaking mountains, and the Valley of Kumaon. All this together creates a heaven for those who are seeking harmony and tranquillity.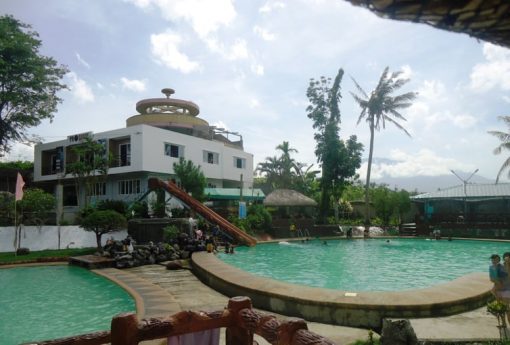 Activities: The resort offers an array of activities including rappelling, camping, trekking, rock climbing, village walk, bird watching, indoor and outdoor games, etc.
Accommodation: The accommodation is of two types –Non-AC and AC cottage rooms. And are well-equipped with modern amenities.
Rates: $75-130
5. Aalia on the Ganges
The resort bestows a rejuvenating and luxurious experience in the lap of nature. Aalia is designed in a classic contemporary style with the scenic view of the countryside set in a perfect ambiance for an exquisite luxurious stay.
Activities: Spa facility, yoga classes, wellness therapies, adventure activities, sightseeing, bird-watching, Safari, to Char Dham Yatra, and a visit to the temples.
Accommodation: Provides comfy and cozy grandeur villas that comprise three bedroom setting- Chila, Garden, and River room. These rooms are well-equipped and have private garden and rooftop decks.
Rates: $200-1,000
6. Raga on the Ganges
To have an exquisite luxurious stay amidst the captivating mountains, lush forests, evergreen pastures, and besides the river Ganges, visit Raga on the Ganges resorts. It bestows the amazing opportunity to relish the allurement of nature along with rejuvenating the self with their Teertha spa.
Activities: Enjoy the spa, Jacuzzi, Sauna, Steam Bath, Hydro Therapies, and Yoga facilities. Relish the adventurous experience with whitewater river rafting, trekking, canoeing, rappelling, etc. Offers lip-smacking food in both traditional Indian and International cuisines.
Accommodation: A well-equipped room of Raga gives a panoramic view of the Emerald green-blue river water and the gigantic mountains. Well-designed and elegantly crafted keeping in mind the comfort of modern day time.
Rates: The price may vary depending upon the rooms and package you choose. They also offer customized packages on demand, $110-140, extra adult $20, extra child $15, plus applicable taxes.
7. Second Life Resort
Perfect for the adrenaline junkies, second life resort is designed keeping in mind adventure and thrill. The resort offers a comfy stay with all modern amenities and offers various activities.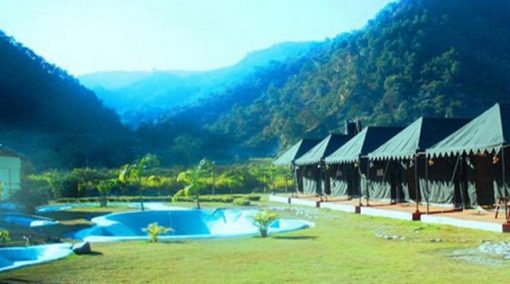 Activities: They offer heightened adventure activities with all packages.
Accommodation: The resort has an assortment of seven Swiss tents, six eco-tent cottages, 6 luxury executive suite, and four royal bamboo cottages. All are well-equipped with basic and modern facilities.
Rates: 30$ – 40$ INR (varies according to the packages and plans)
8. Glasshouse on the Ganges
Glasshouse on the Ganges is a resort nestled on the bank of Holy River Ganges. It is a majestic abode for those who seek a luxurious stay in the lap of Mother Nature. It provides a reviving experience and pampers you well.
Activities: Treats you with delectable North Indian cuisine and offers an array of adventure activities and visits to local places including- sightseeing, temple visit, National park visit, etc. The resort also offers amazing detoxification and rejuvenation spa treatment.
Accommodation: The resort has five cottages and riverside equipped with all modern amenities. The facilities are both comfortable and leisure-oriented.
Rates: $130-240
9. Atali Ganga
Another best luxury resort on the divine land of Rishikesh, Atali Ganga resort provides a panoramic view of the majestic Himalayas and lush forests. Famous for its White Water Cafe that offers mouth-watering delicacies.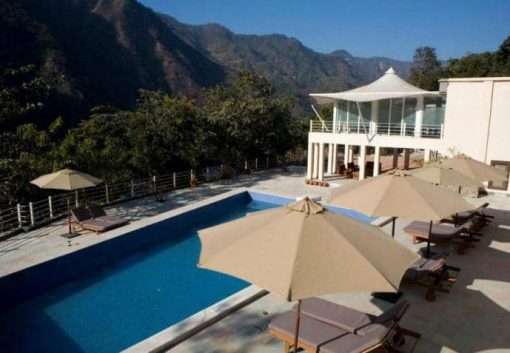 Activities: Get ready to get your adrenaline rush with the adventure activities they offer.
Accommodation: Offers multiple accommodation facilities including deluxe and duplex styled deluxe cottage and independent cottage.
Rates: $200-500
10. Ananda Spa-Resort
Ananda spa resort in Rishikesh is seated in the lap of the Himalayas besides the Holy Ganges and is cosseted by the scenic views. Offers high-quality living experience to its guests as the ambiance of the resort is serene and tranquil.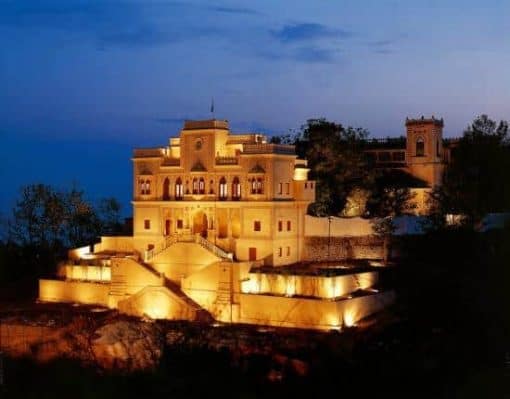 Activities: Known for its luxury spa, healing treatment, and Ayurveda therapies, the resort also offers Vedic wellness treatments and Yoga retreats.
Accommodation: offers an array of options including garden view rooms, deluxe palace, deluxe valley view rooms, Garden Suite, vice-regal Suite, and Ananda Suite Villas.
Rates: Varies according to the packages and accommodation
The pious land of Rishikesh offers an indefinable experience and staying at these luxury resorts makes the experience even more indelible one.
Guest Author Bio: Manmohan Singh is a passionate Yogi, Yoga Teacher and a Traveller in India. He provides Yoga Teacher Training in India. He loves writing and reading books related to yoga, health, nature and the Himalayas.
Guest Contributor | The Travelers Way occasionally accepts guest posts from fellow travel bloggers, friends within the travel industry, and as advertorial content.