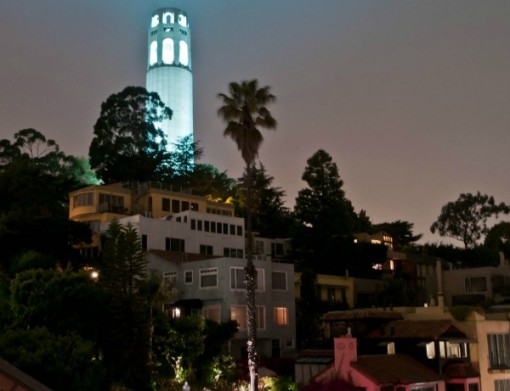 High atop Telegraph Hill in Pioneer Park, Coit Tower looks over the city of San Francisco.  An iconic part of the city's skyline, the 210 foot tall Coit Tower has an interesting, if not always verifiable, history.
The tower was built in 1933 with funds donated by Lillie Hitchcock Coit.  Folklore claims that the tower was designed to look like a fire hose nozzle, and was a tribute to the firefighters of the 1906 earthquake fire, but it's not clear if that is true or merely urban folklore.  Still, the story is widely retold and many would like to believe that it's true.
Regardless of its questionable history, Coit Tower is one of San Francisco's most popular attractions,  with both the grounds and tower offering spectacular views of the city, Golden Gate Bridge, and San Francisco Bay.  Be sure to bring your camera!  You can tour the tower grounds and lower level at no charge, or opt for a tour to the top for a small additional fee.  It's usually crowded, especially in the nice weather, but you should still be able to find a bit of space for a picnic or relaxation.
On the first floor are depression-era murals by a variety of artists, all done in a Diego Rivera style.  The murals depict the daily life of workingmen and women during the depression, and at the time of their painting were considered quite subversive.
Coit Tower is open daily 10 am – 5 pm.  It is only accessible by one road, with a small parking lot at the top of the hill.  During the summer, traffic is miserable and parking generally unavailable.  Other options include walking the two steep blocks up Filbert or Greenwich Street (from Grant Avenue), or taking the #39-Coit Muni bus.
Photo credit:  Michele Ursino via flickr (CC)
Mary Jo Manzanares is a founder and the editor-in-chief of The Traveler's Way, an online travel magazine proving informational and inspirational travel recommendations for curious Baby Boomer travelers. She has been a speaker at various industry events and has a personal travel blog at Traveling with MJ. When she's not traveling, Mary Jo likes lingering over a cup of coffee, wandering in a museum, sipping wine at a cafe, and sharing it all with friends and readers. Mary Jo's top travel destinations are Italy, Portugal, and the Caribbean.