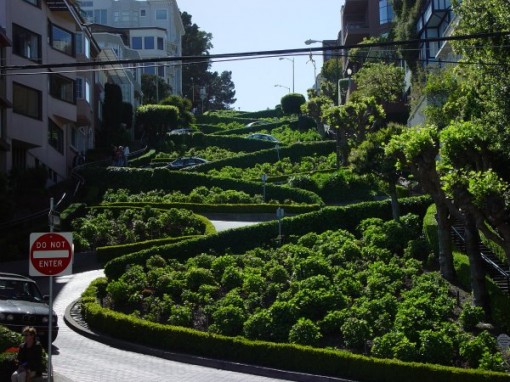 San Francisco's Lombard Street runs east and west between the Embarcadero, Telegraph Hill, Russian Hill, Cow Hollow and finally ends at the Presidio.   It's a pleasant drive, mostly just a run-of-the-mill city street – except for one block on Russian Hill between Hyde and Leavenworth Streets.  And it's that one block that gives Lombard Street the distinction of the 'Crookedest Street in the World."
The crooked block has eight S-turns in a switchback design, ans was originally designed for a a very practical purpose – to ease the steep grade of the street.  Today, the street is paved in brick and is a showcase rather than a practical solution.  Residences line both sides of the street, and despite heavy driving and pedestrian traffic, it is considered a desirable place to live.  If you can afford it, that is.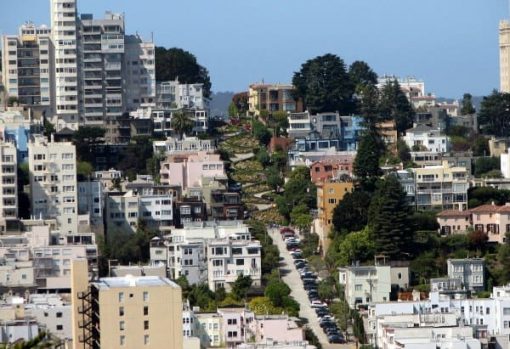 A drive down this crooked block of Lombard Street may seem like a touristy kind of thing to do, and yes, you will find lots of tour buses who have dropped off passengers in the neighborhood (large buses can't navigate the switchbacks).   Having driven the switchbacks a time or two myself, I think it's actually kind of fun.  During the day you'll get a look at the beautiful homes and flower boxes, and at night it sparkles with the lights and views of San Francisco.  The speed limit is 5 mph, a lot slower than you might think (especially if you remember any of the movie chase scenes that feature this spot of road), and you'll need to keep a sharp eye out for pedestrians.
Perhaps the better way to see Lombard Street, however, is on foot.  You can opt to park your car nearby, although it's usually tough to find a spot, or take the Powell-Hyde cable car, and then climb the stairs along the street.  You'll have a great opportunity for taking photos and get a bit of exercise as well.
Photo credit:  Rick Pawl via flickr (switchbacks); Bernard Gagnon via wikimedia (overhead view)
Mary Jo Manzanares is a founder and the editor-in-chief of The Traveler's Way, an online travel magazine proving informational and inspirational travel recommendations for curious Baby Boomer travelers. She has been a speaker at various industry events and has a personal travel blog at Traveling with MJ. When she's not traveling, Mary Jo likes lingering over a cup of coffee, wandering in a museum, sipping wine at a cafe, and sharing it all with friends and readers. Mary Jo's top travel destinations are Italy, Portugal, and the Caribbean.