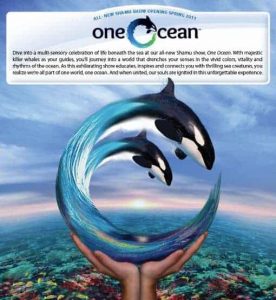 SeaWorld parks across the United States will debut an all-new killer whale show this spring and summer, connecting guests to the sea with a new level of energy, excitement and vibrancy as it educates and inspires them to make a difference in this world. "One Ocean" features SeaWorld's majestic killer whales as ambassadors of the sea, and the ocean as the center of our natural world.
One Ocean opens at SeaWorld Orlando on April 22, 2011, hopefully marking a turnaround in show programming following last year's associated show death.  Tillikum, the whale involved in last year's death, has returned to the currently running show and trainers are expected to be back in the water with the whales soon.
The show hopes to connect guests with these remarkable animals and immerses the audience in the vivid colors and sensations of the underwater world. At the core of the show is the unifying message that both animals and humans are part of one world, with one ocean, and its future is in our hands to cherish and protect. The show features spectacular whale behaviors, including thrilling high-energy leaps and multiple whales performing simultaneously. The whales interact in new ways with trainers, the audience, each other, and even the set itself. In one segment, the whales play amid giant fountains.
Shamu Stadium – with its three-story set, panoramic LED screens and hundreds of surround-sound speakers – will feature special effects that envelop guests in the show experience, including brilliantly colored lights; soaring fountains; stunning underwater imagery and an original, contemporary musical score with global rhythms. But even more important is the educational message the show imparts: we are all part of one world and have the power to make a difference. The message of caring and respect for the world we share is woven throughout the show – encouraging guests to make a difference through their own everyday actions.
"One Ocean" debuts at SeaWorld Orlando, and then rolls out to SeaWorld San Diego on Memorial Day weekend and SeaWorld San Antonio in June. It will replace the popular "Believe," a show that enjoyed a five-year run in all three SeaWorld parks.
Photo credit: Courtesy of SeaWorld
Mary Jo Manzanares is a founder and the editor-in-chief of The Traveler's Way, an online travel magazine proving informational and inspirational travel recommendations for curious Baby Boomer travelers. She has been a speaker at various industry events and has a personal travel blog at Traveling with MJ. When she's not traveling, Mary Jo likes lingering over a cup of coffee, wandering in a museum, sipping wine at a cafe, and sharing it all with friends and readers. Mary Jo's top travel destinations are Italy, Portugal, and the Caribbean.