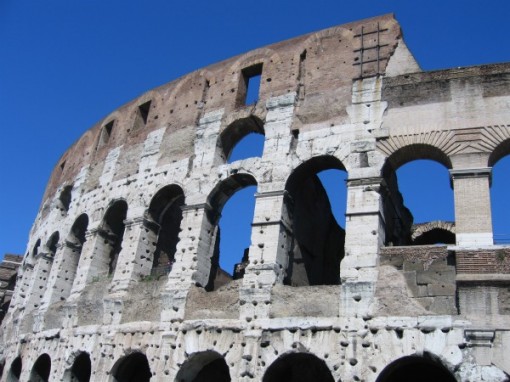 The Coliseum was built between 72-80 AD and was the center of the Rome.  The building had four floors, three tiers of arches, an attic, and a cellar area where the lions and other fierce beasts were housed.  On top of the attic was a shade that could be pulled over the arena for protection from the sun or rain.  The Coliseum represented a remarkable bit of architecture and design, and if you've seen the movie Gladiator you'll have a rudimentary idea of how it worked.
Today the Coliseum is in ruins, but enough remains for you to get a sense of the prominence it must have played.  You can see the walls and arches, the marble benches dating back to early days, just being there offers a look at history than is far more powerful than reading about it in a book.
Going inside the Coliseum requires an admission fee, but the exterior grounds have no charge.
Photo credit: Mary Jo Manzanares