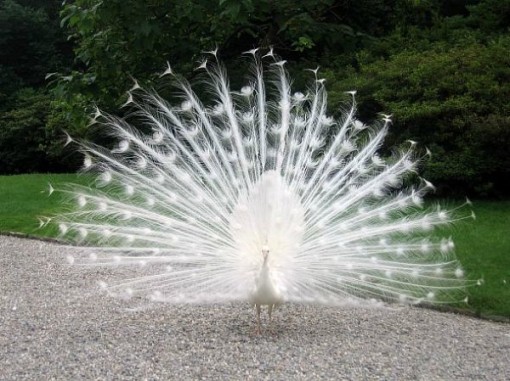 Isola Madre is the largest of the three Borromeo Islands found in Lake Maggiore, an Italian lake that's part in Italy and part in Switzerland.  There are a few buildings on the island, most notably a 16th century palace, but it is probably best known for it extensive gardens.  The gardens are famous for the Cashmere Cyprus, the largest tree of its kind in Europe.  It's over 200 years old!
The gardens also feature azaleas, rhododendron, camellias, wisteria, lemons, hibiscus, and the Ginkgo biloba.  You can wander through, enjoying the beauty of the gardens, and you'll most unexpectedly come across some of the critters that live on the island.  This beautiful white peacock is one of several peacocks, of all colors, that live on the island, and roams free among the gardens.  Walking down a path you can follow a bend in the road and unexpectedly find on in front of you.  Wait a moment and watch him preen and show off his full plumage.  Parrots and pheasants also roam freely among the exotic plants on the island.
Visiting the island can be arrange by public ferry or private boat tenders.
The island is open for guests daily, late March to late October, 9 am-5:30 pm.  There are a variety of admission options, from tickets to Isola Madre alone to those that include admission to the other Borromeo Islands.  Allow and hour or so to enjoy the gardens, and another half hour if you wish to tour the palace.
Photo credit:  Courtesy of Mary Jo Manzanares
Mary Jo Manzanares is a founder and the editor-in-chief of The Traveler's Way, an online travel magazine proving informational and inspirational travel recommendations for curious Baby Boomer travelers. She has been a speaker at various industry events and has a personal travel blog at Traveling with MJ. When she's not traveling, Mary Jo likes lingering over a cup of coffee, wandering in a museum, sipping wine at a cafe, and sharing it all with friends and readers. Mary Jo's top travel destinations are Italy, Portugal, and the Caribbean.