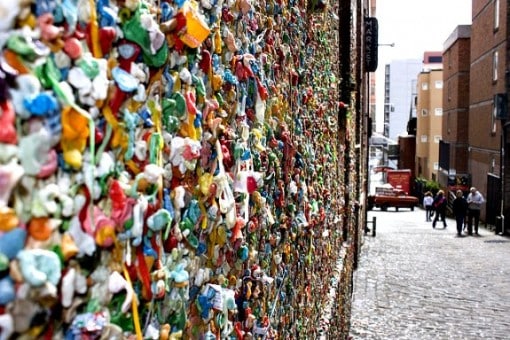 Chewing gum.  On the wall.  That's what the Seattle Gum Wall is all about.  It might seem like it's more complicated that than, but that's all it is – a wall full of chewing gum, accumulated over nearly a decade.
The Gum Wall is located in Post Alley at the Pike Place Market, right outside the Market Theater. The gum first made its appearance in 1993 when patrons for the theater would stick gum on the wall, then stick a coin in the gum, while there were queued up for their tickets and admission.  Weeks went by and everyone kept sticking gum to the wall.  On a couple of occasions the Market told the theater to remove the gum and clean off the wall.  They did. But the gum kept coming back.
Somewhere in the midst of all the scraping and cleaning, the Gum Wall took on a life on its own until finally, in 1999, Pike Place Market officials game up and declared the Gum Wall an official tourist attraction.  The tradition of sticking your chewing gum to the wall still continues and now no effort is made to clean or change the wall.
It's become a bit of a tourist attraction whether for the sheer quirkiness of  the wall or because some people consider it a type of interactive art.  If you think this all sounds gross and unsanitary, you'd be right.  The Gum Wall is listed second on the list of the most unsanitary attractions, right behind the Blarney Stone, yet it's a popular tourist spot.  If you're walking around the Market on a sunny weekend, it wouldn't be unusual to see a smiling bride and groom posing for photos.f you he
If you head to the Gum Wall for your own photo op, be sure not to lean back or touch the wall.  Unsanitary, remember?
What do you think?  Have you been to the Gum Wall?  Is it art?  Or is it just gross?
Location:  1428 Post Alley, Seattle
Photo credit:  Rob Evans via flickr (top); traceyr via flickr (box office)
Mary Jo Manzanares is a founder and the editor-in-chief of The Traveler's Way, an online travel magazine proving informational and inspirational travel recommendations for curious Baby Boomer travelers. She has been a speaker at various industry events and has a personal travel blog at Traveling with MJ. When she's not traveling, Mary Jo likes lingering over a cup of coffee, wandering in a museum, sipping wine at a cafe, and sharing it all with friends and readers. Mary Jo's top travel destinations are Italy, Portugal, and the Caribbean.