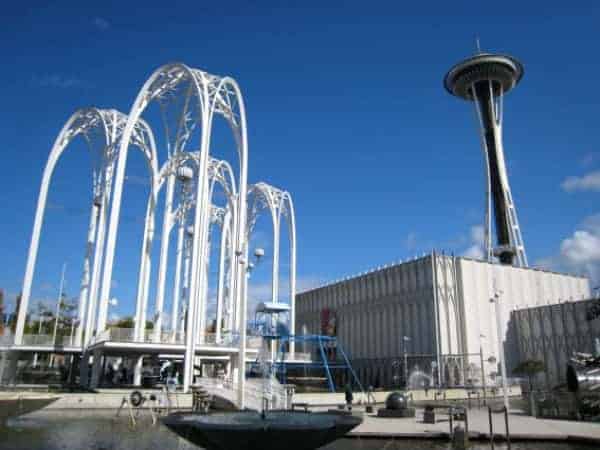 You don't have to travel to a galaxy far, far away, to get a look at generations of Star Wars memorabilia.  All you need to do is head to the Pacific Science Center to see its current featured exhibit "Star Wars:  Where Science Meets Imagination."  The exhibit explores the futuristic technologies seen in the more than 30 year history of Star Wars, allowing visitors to learn about the once far-out technology that has become commonplace, while challenging us to think about what the future might hold.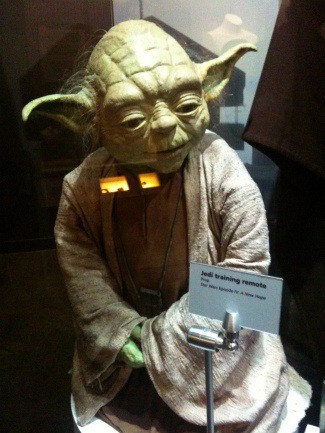 From characters to costumes, transport vehicles to weapons, and robotics to movie clips, the exhibit is sure to entertain and charm fans of the original trilogy, the various prequels, and the television shows.    On display are a life-sized Chewbacca, Wookie companion to Han Solo, and Yoda, wise Jedi master and mentor to young Luke Skywalker as he came into his full Jedi potential.  I swear I could hear Yoda saying, "Do or do not… there is no try."
There are plenty of interactive displays, models, and authentic costumes and props from all six of the Star Wars films.  Also on display is Luke Skywalker's land speeder, Darth Vader's black suit, storm troopers, R2-D2, robotics, and lots more.  Many of the displays are interactive, giving kids a change to let off a little steam while learning about the science and technology that once seemed so fantastically improbable, but today seems all too possible.
When you need a break from wandering among the displays queue up for the Robotics theater, a chance to rest up a bit and to learn about how the robotics used to create C3PO and R2-D2 are science-based concepts that have applications far beyond the movies.  This short film  has plenty of fun stuff that kept the kids in the audience entertained.
Location:  On the Seattle Center campus.  If you're coming from downtown, consider taking the monorail ($2) and save on the expense of parking.  If you drive, you'll find paid street parking, along with pay lots and garages in the area,.  (Free street parking seems to be a thing of the past.)
Dates:  The Star Wars exhibit runs through May 8th, 2011
Hours:  Monday-Thursday, 10 am-5 pm; Friday & Saturday, 10 am-9 pm, Sunday, 10 am-7 pm.
Admission:  Tickets are $20 for adults, $18 for seniors (65+), $15 for youth (ages 6-15), and $13 for children (ages 3-5).  Admission tickets are for timed entry every 15 minutes, and include general admission to the rest of the Pacific Science Center.  This is a special exhibit and not included with Pacific Science Center annual memberships.  Member admission is $4.  On Friday and Saturday nights (6-9 pm) you can take advantage of discounted rates ($8-13) for admission to the Star Wars exhibit only (the rest of the exhibits are closed).
Tickets: Tickets are on sale, both onsite and online.
Special Tips:  Allow about an hour and a half to get through the Star Wars exhibit, longer if you're a huge fan.  Then head over to Building 2 for the Millennium Falcon Experience for a chance to jump to light speed in this life-sized replica.  The multimedia simulator will hold four people, and is an additional $3.  Advance purchase is strongly recommended.  On the day I went to the exhibit I arrived right when it opened and the Millennium Falcon Experience was already sold out for the day.
When you've had your fill of action and technology, enjoy a slower pace with a stop by the Butterfly House, also in Building 2.  You'll get a look at a variety of butterflies flying freely throughout the exhibit., and will want to make sure to keep an eye on the ground as you don't want to step on any of these beautiful creatures.  Don't be surprised if one lands on your head or shoulder.  Wander at will, or pick up a laminated card to help you spot and indentify the different species. The Butterfly House is a great place to slow things down a bit, and is popular place with kids, photographers, and people who just want a change of pace.  A half hour to an hour is plenty of time.
Photo credit:  Richard Bitting via flickr (exterior); Mary Jo Manzanares (Yoda)
Mary Jo Manzanares is a founder and the editor-in-chief of The Traveler's Way, an online travel magazine proving informational and inspirational travel recommendations for curious Baby Boomer travelers. She has been a speaker at various industry events and has a personal travel blog at Traveling with MJ. When she's not traveling, Mary Jo likes lingering over a cup of coffee, wandering in a museum, sipping wine at a cafe, and sharing it all with friends and readers. Mary Jo's top travel destinations are Italy, Portugal, and the Caribbean.