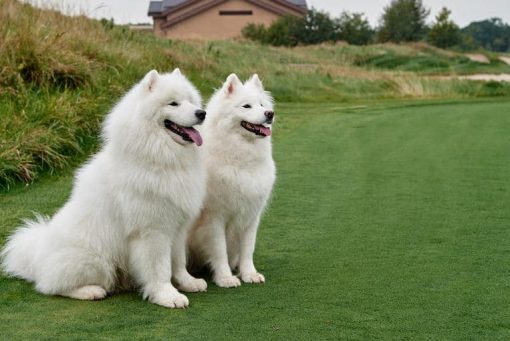 Dogs owners that travel sometimes must choose between leaving their dog at home or figuring out a way to travel with their pets. For golfers, there can be even more limitations since many golf courses aren't dog-friendly. This guide assures traveling golfers there are places where it's easy to travel with your dog and they are allowed on the golf course.
A Few Tips on Traveling with your Dog
Traveling with a dog may sound stressful but it doesn't have to be. More and more hotels are accepting of dogs, subject to certain limitations (usually related to the number of dogs allowed and size) and a deposit.
In addition to hotels becoming more dog and pet-friendly, the introduction of Airbnb and other home rental services have opened up availability for dog lovers. The first tip is to consider a dog-friendly Airbnb and hotel instead of boarding your dog.
Make sure that you pack and travel with at least a copy of all vet records. At a minimum, you'll need the rabies confirmation record. If you are traveling with your newly adopted dog, make sure all papers are complete so it will be handy in necessary cases.
Also, ask your vet about traveling anxiety medication in case your dog gets car sick or anxious when leaving the comfort of home.
Lastly, bring or purchase an extra bag of your dog's favorite treats. A good way to calm them down is to give them a treat they are comfortable with.
Remember most golf courses don't usually allow dogs on the course during peak golf season on Saturday and Sunday mornings. Plan ahead to either play twilight or during the week when bringing your dog.
Dog Travel is Interesting!
Your dog or pet might be your best friend. Why change that on your vacation? Traveling with your dog helps you explore places you might not have gone to without your dog.
Dogs can be a social catalyst. Whether at facilities that welcome dogs, walking in a park, or even on the golf course, it's a chance to meet other dog owners and potentially make new friends.
Dog-Friendly Golf Courses
Rumbling Bald Resort
In Charlotte, North Carolina, Rumbling Bald Resort is very dog-friendly as long as your dog stays on a leash. This public course is built on an old landfill and has uncommon elevation changes due to the settlement underneath. 
There are plenty of local ponds that attract fowl and other wildlife your dog will be able to sniff and play with. This course will give your dog a workout and he will be more than ready for a nap after eighteen holes.
PGA Championship, Dog-Friendly
In Sheboygan Wisconsin, the pristine whistling straits of Riverdale Country Club await golfers and their companions. The course is the site of the 2010 and 2015 PGA Championships and home to an energetic Aussiedoodle named Carly.
Although this championship golf course has hosted big-name golfers like Tiger Woods, they understand the spirit of golf and that it was intended to be played with a dog by your side.
Near Philadelphia and Dogs Welcome
In Limerick PA, Turtle Creek Golf Course has a resident dog similar to Whistling Straits. Due Northwest of Philadelphia, travelers will find it accessible to the King of Prussia Mall, Philadelphia Airport, and the Amish areas.
Turtle Creek boasts a wooded golf course with a significant number of holes using water to increase the level of difficulty. At 6700 yards, the course is manageable for golfers of several skill levels and is a good walk long walk for your dog companion.
Belgrade Lakes Golf Course – Belgrade Lakes, ME
Located in the wooded areas of central Maine, these courses dog-friendly was born out of necessity for golfers. Many of the rentals don't allow unattended dogs on the property but no matter, you can bring them to the course with you.
Well behaved dogs can even stay off-leash. The only time they will need to stay by the cart is when putting, some dogs have been known to dig and destroy the green areas. Enjoy the lush wooded areas with a scenic round of golf and a long walk with your dog.

The Goodwood Estate – Chichester, United Kingdom
Part of the allure of The Goodwood Estate is the tradition of dogs on golf courses. Since 1697, dogs have been allowed to walk the course with their owners. The two championships eighteen-hole golf courses provide golfers a unique experience.
An emphasis at the golf club makes sure each dog is comfortable. Many of the holes have water and food bowls tended by the club members. After finishing your round on one of the pristine courses, treat your best friend to the clubs restaurant where you both can enjoy a meal simultaneously.
True Blue Golf Club – Pawleys Island, SC
Only a short distance from Myrtle Beach South Carolina lies the 19th century True Blue Golf Course. Located near the beach in the low country of the southeast, this dog-friendly course welcomes golfers to iconic scenery and a one of a kind clubhouse. The Pawleys Island area is perfect because many of the hotels and rentals are dog-friendly. During certain times dogs are allowed on the beach.
Make sure to book your tee time outside of peak season because this area is packed during summer months and your dog won't be able to join you. They have a strict policy against dogs on the golf course during peak season.
Agate Beach Golf Course – Newport, OR
A nine-hole course located near the beach of Newport Oregon, this course challenges golfers and welcomes dogs. Once you and Fido have finished your round, treat yourselves to Agate Beach Golf Course Cafe where you both can enjoy a meal. Cool year-round temperatures and overcast skies are ideal for keeping dogs cool especially in the summer months.
After finishing a round and a good meal, enjoy the natural ocean scenery at the nearby Agate Beach State Recreation Site. This Oregon course makes a great combination for both dogs and golfers.
No matter where you like to travel or when you plan on playing a round of golf, dogs are becoming more welcome and travel enthusiasts have fewer issues bringing them along. On your next trip, aside from golf, dog sledding is a must-try.
Guest author bio: Jordan Fuller is a golf coach and mentor who also owns a golf publication site. He loves to bring his dog on the course as his companion when his lovely wife is not around. Jordan is very passionate about writing about golf and the things around it.
Guest Contributor | The Travelers Way occasionally accepts guest posts from fellow travel bloggers, friends within the travel industry, and as advertorial content.