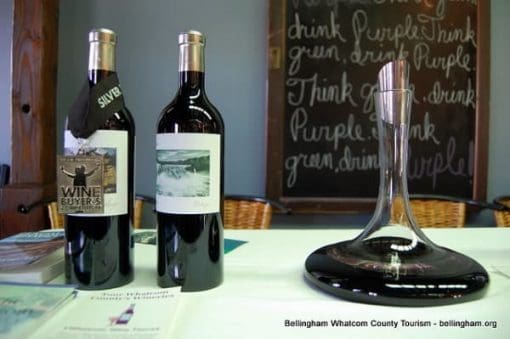 Whatcom County may not be the first Washington wine destination that you think of, perhaps not even the second or third, but this area, and easy drive north of Seattle, is producing some fine artisan wines that you should know about.  The wineries are small, often family owned, and find balance not only in the blending of grapes, but also in blending the natural beauty of the region with local food, art, and personality.  A drive along the Whatcom Wine Trail, which featured eight on the area's wineries, will give you a chance to meet winery owners, tour facilities, taste what's on offer, and get your wine questions answered.
You can drive the Whatcom Wine Trail, stopping at one of these locations along the route (in alphabetical order):
Dakota Creek Winery – 3575 Haynie Road, Blaine.  Dakota Creek specializes in  limited quantities of premium wine.  You'll find a variety of choice to satisfy all palates, including cabernet, merlot, syrah, malbec, chardonnay, pinot gris, viognier,  Firefighter Red (a charity blend) and Jill's Blend (named after one of the owners).  Tasting room hours:  Thursday – Saturday, 1-5 pm, or call to arrange a visit at other times.
Dynasty Cellars – 2987 Haxton Way, Bellingham.  This family owned winery, with a tradition of wine making that is centuries old, hand crafts wine that is drinkable right away yet will still benefit from additional cellaring.  Wine currently offered include Meritage, Zinfandel and Merlot.  Tasting room hours:  by appointment; a new tasting room is under construction.
Glacial Lake Missoula Wine Company – 1678 Boblett Street, Blaine.  Making powerful Bordeaux-style wine, Glacial lake is a garagistes-style winery. Don't let the thought of "garage wine" put you off a visit as these are big, full bodied wines, with plenty of fruit.  Wine currently offered include Deluge, Kolk Rose, Mars, and Harbor Light Red.  Tasting room hours:  Saturdays, noon-6 pm.
Honey Moon Mead – 1053 North State Street, Bellingham.  Located in a refurbished glass warehouse, this winery operates as a wine bar, serving a light menu along with mead and cider.  Try the outdoor patio when the weather gets nice.  Honey Moon focuses on hand-crafted products, made in small batches.  Hours:  Monday – Saturday, 5-11 pm.
Legoe Bay Winery – 4232 Legoe Bay Rd, Lummi Island.  Located on a small island in the San Juan Islands, this boutique winery uses fruit from the Columbia Valley.  Wine currently offered include chardonnay, viognier, and two signature blends, Reefnet Red and Reefnet White.  Tasting room hours:  by appointment.
Mount Baker Vineyards – 4298 Mount Baker Highway, Everson.  Located along the scenic drive to Mount Baker, this well established winery produces 28 different varietals and uses some fruit from their own estate vineyard.  Tasting room hours:  11 am–5 pm daily.
Samson Estates – 1861 Van Dyk Road, Everson.  This small winery located in the Nooksack Valley produces artisan wines from grapes and other fruit.  They also offer chocolates made with their wines.  Tasting room hours:  11 am-6 pm daily during the summer, weekends during the remainder of the year, 11am-5 pm.  Closed during the holiday season.
Vartanyan Estate Winery – 1628 Huntley Road, Bellingham.  With a spectacular view of Mount Baker and an art gallery to complement its wine selections, Vartanyan offers artisanal wines made in the Armenian wine making traditions.  Enjoy your wine on the patio or by the fireplace, depending on the weather.  Tasting room hours:  noon-6 pm, Thursday – Sunday (April-October); 1-5 pm Friday – Sunday (November-March), and by appointment.
If your plans call for plenty of wine tasting, you can leave the driving to someone else with Whatcom Wine Tours.  Put together your own exclusive group or join tours offered from local area hotels.   Tours include a visit to three wineries and include lunch, chocolates, a souvenir wine glass, and bottled water.  Prices start at $65, but do not include fees for wine tasting or gratuities.
Discover an often overlooked Pacific Northwest wine region with a trip to Whatcom County.
Photo credit: Courtesy of  Bellingham Whatcom County Tourism, Sommer Cronck photographer
Mary Jo Manzanares is a founder and the editor-in-chief of The Traveler's Way, an online travel magazine proving informational and inspirational travel recommendations for curious Baby Boomer travelers. She has been a speaker at various industry events and has a personal travel blog at Traveling with MJ. When she's not traveling, Mary Jo likes lingering over a cup of coffee, wandering in a museum, sipping wine at a cafe, and sharing it all with friends and readers. Mary Jo's top travel destinations are Italy, Portugal, and the Caribbean.