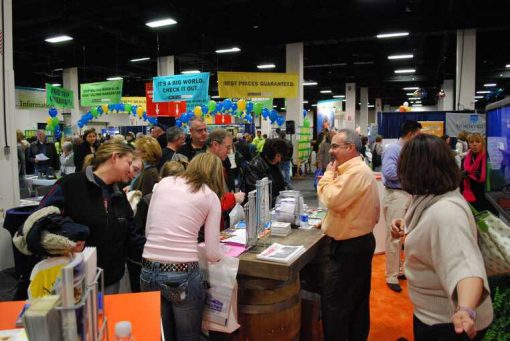 The 11th annual Boston Globe Travel Show, one of the largest consumer travel shows in the country, will take place on February 19-21, 2016, at the Seaport World Trade Center in Boston.
Showcasing the culture, cuisine and sights of both exotic and domestic destinations, the show regularly draws more than 20,000 attendees looking to book travel. In 2016, the three-day event will feature more than 300 travel exhibitors and suppliers, representing every segment of the travel industry and offering detailed information on trips to every region of the world.
Travel pavilions will showcase destinations around the world. In addition to individual destinations, the show pavilions feature cruise specials, adventure travel, vacation rentals, volunteer travel, vacation planning and packages and much more. Other vendors will feature the latest in luggage offerings, technology and travel gear.
From legendary travel writers such as author Patricia Schultz to Robert Rose, host of Raw Travel, attendees will learn about new and exciting travel opportunities ranging from eco-tourism to budget vacations, luxury escapes, vacation rentals and much more. Those interested in booking a vacation immediately will find great deals in the "show-only" specials offered by many exhibitors.
Food is an important part of travel and some of New England's best chefs will be on hand to showcase cuisines from around the world. Visitors to the culinary stages will learn cooking techniques before having the opportunity to sample dishes from all regions. The show also will include cultural seminars, music and dance presentations and a craft beer pavilion, making it more of weekend destination than simply a trade show.
The 2016 Boston Globe Travel Show will be open to the public from 5:30-8 p.m. on Friday, February 19; from 10 a.m. – 6 p.m. on Saturday, February 20; and from 10 a.m. – 4 p.m. on Sunday, February 21.
Tickets are $10 in advance, and  available onsite for $15. Children 18 and under are admitted free of charge.
Photo via TravMedia
Mary Jo Manzanares is a founder and the editor-in-chief of The Traveler's Way, an online travel magazine proving informational and inspirational travel recommendations for curious Baby Boomer travelers. She has been a speaker at various industry events and has a personal travel blog at Traveling with MJ. When she's not traveling, Mary Jo likes lingering over a cup of coffee, wandering in a museum, sipping wine at a cafe, and sharing it all with friends and readers. Mary Jo's top travel destinations are Italy, Portugal, and the Caribbean.