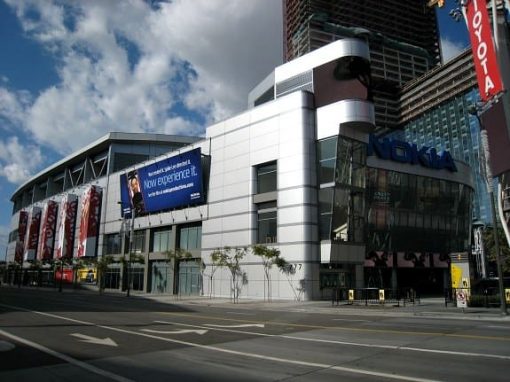 Los Angeles is a hotbed of creative juices, and that includes a lively and vibrant music scene.  Nearly every national act will pass through L.A. on tour.  From major national acts to local future stars, there are so many venues that it's easy to include a live music venue in your LA vacation plans.   Whether you buy tickets and plan your vacation around the performance, or just hear about a performance you want to see, hear on some of the major live music venues in Los Angeles that you'll want to know about:
The Ford Amphitheatre – This outdoor venue in the hills north of Hollywood features a calendar of diverse music, from world music to jazz and blue grass.  It's owned by the County of LA, and has 1,200 seats, providing an intimate outdoor music setting.
Gibson Amphitheatre at Universal CityWalk Hollywood – Originally an outdoor amphitheater, this venue, located at Universal Studios, was converted to an indoor one back in 1982.  It seats 6,000, and hosts national acts.  It's known for its spectacular acoustics, giving you a quality listening experience whether you're in the front row or the last.
Grand Performances at California Plaza – Nothing is better than FREE musical performances, and that's what this venue offers during the summer time. This is a favorite for local residents who come to watch up and coming local acts during the lunch hour and on weekends.  Located right downtown in the heart of things, crowds of nearly 6,500 people can be accommodated in this urban garden setting.
The Greek Theatre – Located in Griffin Park, this venue goes back to the 1920's.  Lots of famous acts have appeared in this outdoor amphitheatre that will seat nearly 6,000.  Performances offered April through October.
Hollywood Bowl – This place is legendary. and your concert experience can include a picnic dinner, bottle of wine, and a spectacular sunset.  The venue is laid back, family-friendly, and can accommodate more than 17,000 people.  Despite its size, concerts here generally sell out, so if you want to catch a performance, be sure to plan ahead and get tickets in advance.  During the summer, the LA Philharmonic calls this spot home.
House of Blues Sunset Strip – You can catch nearly every genre of live music at House of Blues, from hip hop to gospel.  The iconic club looks like something transplanted from the deep south with its rusty corrugated roof and factory-like look.  Inside, however, it's all plush LA.  The Sunday Gospel Brunch is a big favorite.
Knitting Factory Hollywood – Related to the east coast indie-hip Knitting Factory, this location offers some of the most eclectic music you can imagine.  Mexican ska, Cambodian rock, and metalcore join emo, indie and classic rock.  The venue has 3 stages, often blending a diverse audience of music lovers.  Come back often and you may discover the next greatest act.
Nokia Theatre at LA Live – The newest and glitziest of the live music venues, the Nokia Theatre (in photo above) boasts 7,100 seats, none of which are more than 210 feet from the stage.  It's a big venue working hard to bring you an intimate music experience.
Walt Disney Concert Hall – Audiophiles will love this venue with expert acoustics.  The architecture is just as great, and all the seats have unobstructed views.  Primarily a venue for classic music, the LA Philharmonic plays here from October through June (after which they move to the Hollywood Bowl for summer performances).
The Wiltern – This venue gets its name from combining the two streets where it's located – Wilshire and Western, and its Art Deco building can seat up to 2,300 on tiered floors.  Boasting good acoustics, this venue is often used for acts to tape a live concert album.
What's your favorite L.A. live music venue?
Photo credit:  wikimedia

Mary Jo Manzanares is a founder and the editor-in-chief of The Traveler's Way, an online travel magazine proving informational and inspirational travel recommendations for curious Baby Boomer travelers. She has been a speaker at various industry events and has a personal travel blog at Traveling with MJ. When she's not traveling, Mary Jo likes lingering over a cup of coffee, wandering in a museum, sipping wine at a cafe, and sharing it all with friends and readers. Mary Jo's top travel destinations are Italy, Portugal, and the Caribbean.