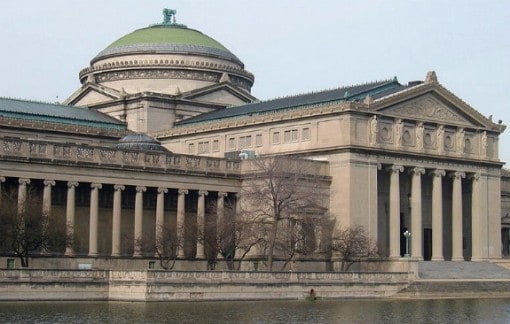 When I visit a museum, I want to be educated through exhibits AND experiences and that's precisely why Chicago's Museum of Science and Industry is one of my favorites.
As the largest science center in the Western Hemisphere, the five-story museum, which has almost 400,000 square feet of exhibit space, is housed in the only building still remaining from the 1893 World's Columbian Exposition.  But even with thousands of artifacts and hundreds of exhibits to look at, the very fact that you can reach out and touch so much of what's there is what makes this museum stand out above others.
Science Storms
Are you fascinated by things like lightning, avalanches and tornadoes?  The 26,000-square-foot Science Storms exhibit, located on the museum's main level, provides scientific yet easy-to-understand explanations for some of nature's most awe-inspiring phenomena.  In addition to learning about fire, sunlight and atoms in motion, guests can actually create a tsunami in a 30-foot wave tank.
If you have the time to wait in line, I recommend sampling the tornado exhibit. By using specialized controls, visitors can actually manage a 40-foot twister by manipulating its air flow.
You can also take a turn at building an electric motor.
Silver Streak: Pioneer Zephyr
Transportation enthusiasts should be sure to visit All Aboard the Silver Streak: Pioneer Zephyr, a 20-minute guided experience that recounts Pioneer Zephyr's 1934 trip from Denver to Chicago that marked America's first diesel-electric, streamlined stainless steel passenger trip.
Guests who visit this exhibit, located in the Museum of Science and Industry's Entry Hall, are able to explore the train's baggage, smoking, passenger and observation compartments and partake of interactive demonstrations on diesel-electric transmissions, compression ignition, center of gravity and streamlining.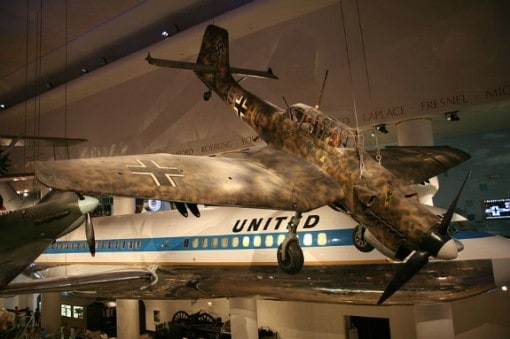 Earth Revealed
A definite "must-do," the Earth Revealed exhibit, which can be found on the museum's main level, consists of a suspended solid carbon fiber globe that is six foot in diameter. The sphere is illuminated by video projectors that transform it into an animated, revolving projection screen which ultimately depicts Earth as a living system.
Thanks to data provided by the National Oceanic and Atmospheric Administration, visitors can observe, almost in real time, the flow of ocean currents and storm formations that result from changing temperatures.  Facilitated shows take place several times each day.
Coal Mine
Coal Mine has been a permanent exhibit at the museum since 1933 and was the facility's first interactive experience to be featured there. The 30-minute excursion, found on the main level, provides an up-close look at the evolution of technology associated with the U.S. mining industry.  During the narrated trip, guests visit a mine shaft and learn about the mining process from loading underground trains to weighing materials and transporting things to the surface.  You'll also be able to examine fossils imbedded in shale.
Additionally, visitors are given the chance to observe how a sump pump collects and disperses underground water seepage and how methane gas tests are utilized in coal mines. Granted, if you're like me, you can see how a sump pump works at your own house but it's interesting to learn how important their job is when it comes to underground mines.
The tour's final stop is in an above ground, control room where you can learn how today's mines are controlled with equipment, closed circuit television monitors and computers.
U-505 Submarine
Even though there are many other exciting exhibits at the Museum of Science and Industry, one other that I recommend, especially for history buffs, is the U-505 Submarine.  This magnificent structure is the only German U-boat to have been captured during World War II. Until surfacing and being caught off the coast of West Africa June 4, 1944, it was widely known as a vessel that had terrorized the Atlantic Ocean while searching for American and Allied Forces ships.  Visitors can actually step inside the sub and get a taste for what life was like aboard it in the days leading up to its capture.
The exhibit is also a national memorial to the 55,000 American sailors who gave their lives on the high seas in World War I and World War II.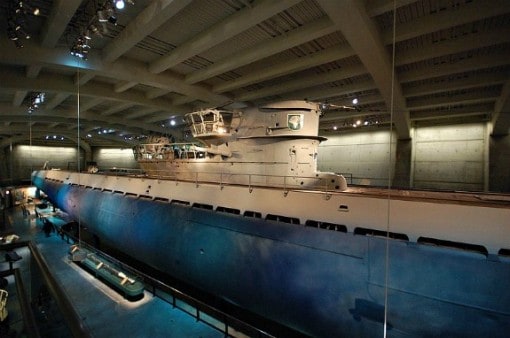 Food
While there aren't specific exhibits dedicated to food at Chicago's Museum of Science and Industry, there are dining options available at the facility including The Brain Food Court, Jazzman's Cafe and Finnigan's Ice Creme Parlor.
Interesting Facts
For a short period of time in the early 1900s, the building that houses the Museum of Science and Industry was the home of the Field Museum of Natural History.
The building's dome is 120 feet high and is supported by four anchors weighing more than 500 tons. Around the interior of the dome are written the following words: "Science discerns the laws of nature; Industry applies them to the needs of man."
Scenes from Hollywood movies Flatliners, Chain Reaction and Damien: Omen II were filed at the Museum of Science and Industry.
Location:  5700 S. Lake Shore Drive, the Museum of Science and Industry is located in Chicago's Hyde Park neighborhood; very close to Lake Michigan and the city's downtown area.
Hours:  Daily from 9:30 a.m. to 4:30 p.m.m closed on Christmas Day. The museum also offers special extended hours until 5:30 p.m. on various days throughout the year.
Admission:  Tickets can be purchased online, by phone or at museum ticket counters.  General admission tickets are $15 Adults, $14 Seniors 65 and older, and $10 Children 3 to 11.  Discounts given for Chicago residents.  There are additional charges for certain special and limited-time exhibits.
Photo Credits: Jeremy Atherton – Wikimedia Commons (Building Exterior); Wikimedia Commons (Planes); aaronx – flickr (U-505 Sub)
Indianapolis-based Greg Seiter is a 22-year freelance veteran who specializes in family travel. While embracing a background in athletics, the travel enthusiast has written for the Associated Press and various NCAA Championships publications in addition to AAA and Resort Condominiums International. Greg's top three travel destinations are Orlando, Fla., Pigeon Forge, Tenn. and Myrtle Beach, S.C.