If you're looking to experience some of the best beaches in California, a good place to start is Santa Cruz. Tucked into the northern part of Monterey Bay, Santa Cruz is a well-known surf town on the Central Coast.
Since it's only an hour and a half drive south of San Francisco, Santa Cruz is an ideal weekend getaway from the Bay Area. People come from all over the world to experience the city's laid back surf culture, scenic hiking, redwood trees, and the numerous sandy beaches along the Santa Cruz coastline.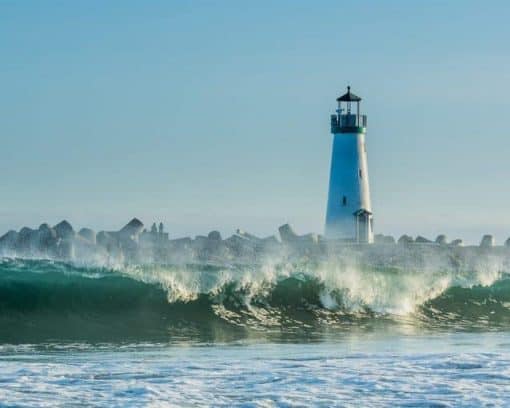 There are plenty of activities to enjoy in Santa Cruz, but having a full beach day at a few different beaches around town is one of the best ways to experience the beauty of Santa Cruz. Whether you're looking for the most popular and central beach in Santa Cruz, a good surfing beach, or the best local sandy hideaways, there's a beach for every type of visitor. Finish a beach day with a visit to Santa Cruz brewery or taproom and you've just about got a perfect day!
After growing up in Santa Cruz and coming back to visit multiple times throughout the years, I put together my picks for the best beaches in Santa Cruz.
These are my top 9 picks and why each one is worth a visit.
Main Beach
By far the most popular beach in Santa Cruz, Main Beach is located right next to the Santa Cruz Beach Boardwalk. If you're up for braving the crowds, especially in summer, this long stretch of sand is a convenient option to experience the Santa Cruz beach scene.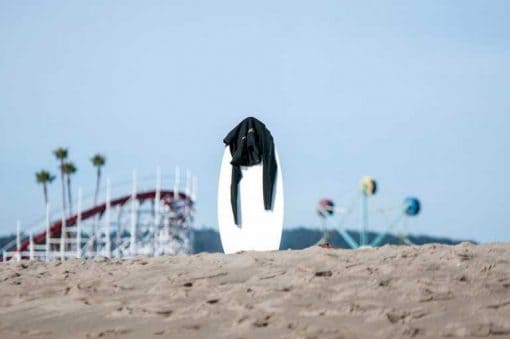 Make a day of it by enjoying the Santa Cruz Beach Boardwalk early in the day before the bulk of the crowds arrive. In the afternoon once the fog rolls off, head to Main Beach for a few hours. Finish off your day bowling across the street at the Boardwalk Bowl, playing games in the arcade, or mini-golfing at Neptune's Kingdom. Lastly, grab dinner from the Santa Cruz Wharf at sunset.
Just make sure to wear some good travel shoes since you'll be walking a lot and the Boardwalk is much larger than people realize.
As a bonus, there are a few volleyball courts on the beach near the arcade if you want to get some exercise while enjoying the sunshine.
Practical info:
Parking: $10-15
Public restrooms: At the Boardwalk
Lifeguards: When the Boardwalk is open
Natural Bridges State Beach
Not too far from Main Beach, you'll find a much less crowded beach at the end of West Cliff Drive – Natural Bridges State Beach.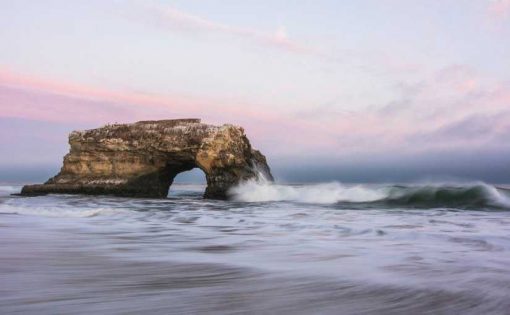 Natural Bridges is most famous with photographers for its attractive sea arch and wildlife spotting – seals especially love to hang out on the rocks at Natural Bridges. Besides its most well-known attributes, the beach has some of the best tide pools in Santa Cruz County (just make sure to go at low tide).
Next to the beach, you'll find the magical Monarch butterfly preserve. This is where thousands of orange and black butterflies make their home each year during their annual migration. The butterflies usually come around October and leave in February, with November usually being the best time to visit.
Lastly, Natural Bridges offers campsites (although these are currently closed due to COVID-19), hiking trails, a picnic area, and a long beach to explore and relax at.
Practical info:
Parking: $10 for the state beach parking lot. Otherwise, you can park for free along West Cliff Drive and walk over.
Public restrooms: Yes
Lifeguards: No
Seabright Beach
Located in midtown Santa Cruz, Seabright is the go-to beach for locals and tourists who are looking for a slightly less crowded alternative to Main Beach.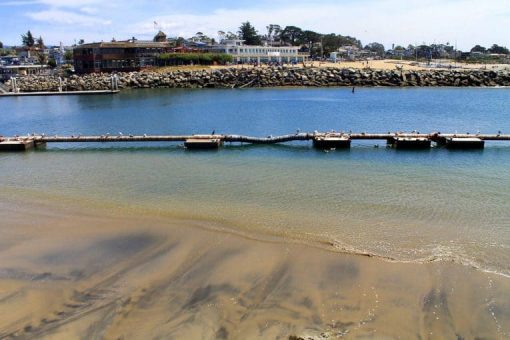 Nestled between the Santa Cruz Beach Boardwalk and the Santa Cruz Harbor, this is one of the more scenic beaches in Santa Cruz. There's also a view of Walton Lighthouse, which you can walk out to for a better all-encompassing view of the beach scenery.
Seabright Beach is a favorite pick for a Santa Cruz beach day because it's near good restaurants in the Seabright neighborhood, there's plenty of free street parking, and there are pits for bonfires (a favorite Santa Cruz pastime).
Practical info:
Parking: Free street parking
Public restrooms: Yes
Lifeguards: Only during the summer
Twin Lakes State Beach
On the other side of the Santa Cruz Harbor, you'll find Twin Lakes State Beach. Twin Lakes is another favorite local beach and one that is usually slightly less crowded than Seabright.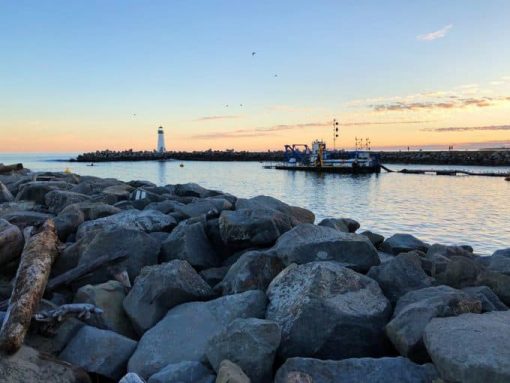 Similar to Seabright, Twin Lakes State Beach provides a good view of Walton Lighthouse, although you can't walk out to it as you can at Seabright beach. This is a popular spot for beach volleyball, bonfires, kayaking, sailing, and birdwatching at nearby Schwan's Lake.
There aren't quite as many food options within walking distance as there are at Seabright, but you'll find one of Santa Cruz's most popular fine dining restaurants near the harbor – The Crow's Nest. There's also a taqueria next door and a coffee shop for more casual fare.
Practical info:
Parking: Free street parking (on weekends a paid permit is needed), or $1/hr or $10/day at the parking lot near the harbor.
Public restrooms: Yes
Lifeguards: Only during the summer
Sunny Cove
Sunny Cove is one of the smaller sandy stretches in Santa Cruz, but it has been a favorite local beach for decades. This the best beach on this list if you want to experience a very local Santa Cruz beach.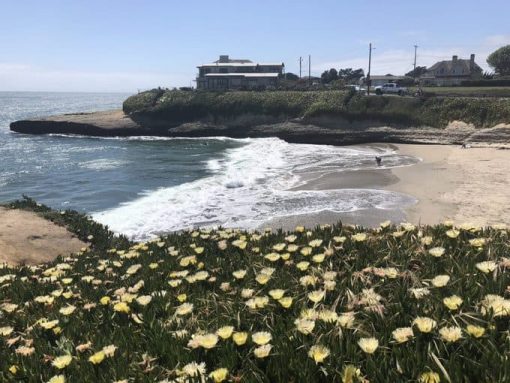 The only downside is parking near the cove can be tough, especially on weekends. But if you can find a spot, parking is free. Because of Sunny Cove's undeveloped nature, there are also no restrooms, lifeguards, or showers to wash off nearby.
Once you park, walk down the cliffside to the cove below or enjoy a nice view on the southside bluffs where there are benches. This is one of my favorite spots to watch the sunset with locals in Santa Cruz. It's also a popular place for locals to bring their dogs to play in the sunshine.
If you want to grab a bite to eat before or after the beach, there are numerous food options along East Cliff Drive, including a tasty local Mexican spot called Taqueria Michoacan.
Practical info:
Parking: Free street parking
Public restrooms: No
Lifeguards: No
Pleasure Point Beach
Pleasure Point is one of the more secluded Santa Cruz beaches, located along East Cliff Drive.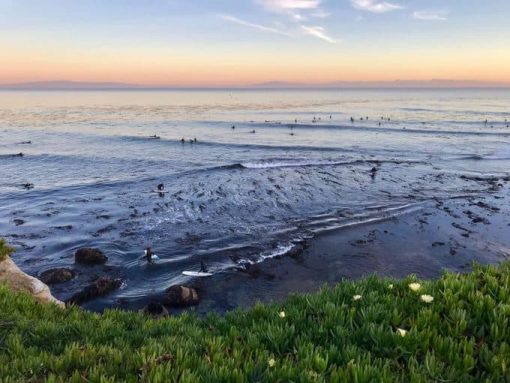 After Steamer Lane, which is the #1 surf spot in Santa Cruz along West Cliff Drive, The Hook in Pleasure Point is the second most popular surf spot in the county. Because of this, Pleasure Point Beach is one of the best spots to surf in Santa Cruz. If you're not a surfer, this might not be the best beach to visit because there's very little sand to lay out on.
However, a favorite local activity is to grab a coffee from Verve or a slice from Pleasure Point Pizza and watch the surfers do their thing from above. If you still want to enjoy some beach time, go at low tide when you'll find the most sand and rocks to walk along.
Practical info:
Parking: Free street parking and small parking lot
Public restrooms: Yes
Lifeguards: No
Capitola Beach
The equivalent of touristy Main Beach but on the other side of town, Capitola Beach is a popular beach near the picturesque Capitola Village.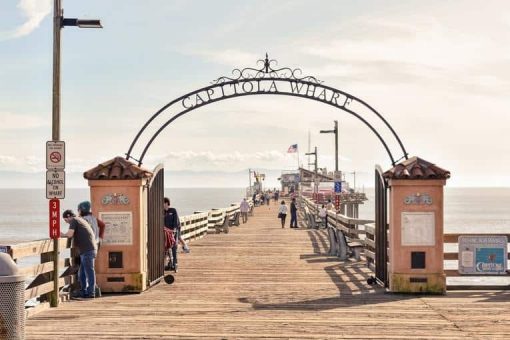 This is one of the best Santa Cruz beaches to visit if you plan to spend a day exploring the east side of Santa Cruz county. Although Capitola Village can be touristy, it's fun to pop your head into the local boutiques and admire the colorful Italian-inspired houses along the water.
There are various food options (as well as old-fashioned ice cream places) around the village, most of which have a seaside view.
Besides Main Beach, this is one of the best Santa Cruz beaches for the whole family to enjoy since there are plenty of attractions and things to do around Capitola Village for kids and adults alike. In addition to sunbathing, this can be a good beach for easy surfing, beach volleyball, fishing, and birdwatching.
Practical info:
Parking: Metered street parking in Capitola Village ($1.50/hr with a max of three hours). You can find more long term parking up on Cliff Drive ($1/hr)
Public restrooms: Yes
Lifeguards: Only during the summer
Seacliff State Beach
Seacliff State Beach isn't as popular as most Santa Cruz beaches because Aptos is known to be one of the foggiest parts of Santa Cruz County.
If you don't mind a gloomier beach day, there's a lot that Seacliff State Beach has to offer the average beachgoer. For one, it's a long beach that hardly ever has crowds.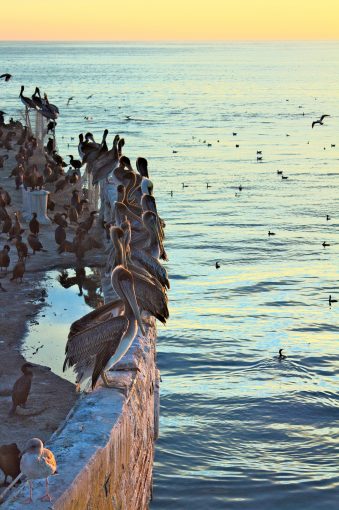 It's also the location of the SS Palo Alto, known as "the cement ship" by locals. The ship, which has almost sunk completely now, is a historic relic that was once built as a World War I tanker in 1919. It eventually made its way to Aptos and has been everything from an entertainment center to a fishing pier over the years.
Although you can no longer walk out on the boat due to its deterioration, you can stroll the pier and learn about the boat's transformation into a habitat for local marine life and shorebirds.
This is one of the more rugged Santa Cruz beaches and an ideal one to visit if you're looking to explore local Santa Cruz history and to enjoy a beach day without a ton of people.
Practical info:
Parking: $10 at the beach parking lot or free street parking near the beach.
Public restrooms: Yes
Lifeguards: Only during the summer
Panther Beach
Panther Beach is up there with Sunny Cove as one of the best local beaches in Santa Cruz, and it's by far the most secluded beach on this list.
The beach isn't the easiest to spot, but once you find Panther Beach nestled below the golden cliffs along Highway 1, you'll enjoy a secluded experience at one of the best secret beaches in Santa Cruz. The beach is located 10 miles north of Santa Cruz, just off Hwy 1 near Davenport. It's 100 feet below the highway, so it feels like you're miles away from traffic and civilization.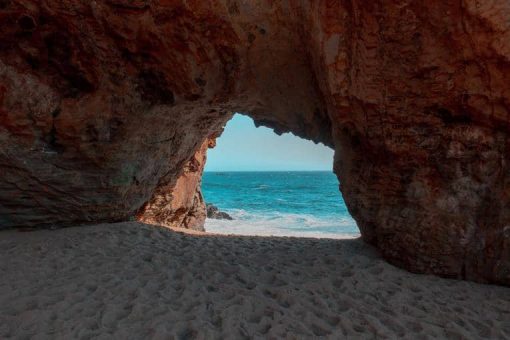 If you go during low tide there's another beach at this spot called Hole-In-The-wall that becomes accessible at the south end of Panther Beach.
Note that both of these beaches are clothing optional and swimming can be dangerous with how common riptides are in the surrounding waters.
This is also sometimes a popular beach with college students who want to drink and party on the beach so it's probably not the most family-friendly option. With that said, this beach is still worth a visit for its stunning golden-hued cliffs and untouched nature.
Practical info:
Parking: Free unmarked parking lot 1 mile south of Bonny Doon Road and Bonny Doon Beach, off Hwy 1.
Public restrooms: No
Lifeguards: No
Beaches & Sunshine
Santa Cruz is one of the most diverse cities in California and its beaches are no different. With 29 miles of coastline and 34 beaches, there are so many more Santa Cruz beaches I could've included on this list.
But from the perspective of a Santa Cruz local, these nine beaches represent the cream of the crop when it comes to beaches in Santa Cruz. They also showcase the different styles of beaches throughout the county, whether you're looking for a place to bring the whole family or you're interested in wildlife spotting, surfing, beach sports, or secluded nature.
So make sure to soak up that California sunshine and enjoy the beach culture of Santa Cruz on your next trip to the Monterey Bay.
Where to Stay
]
For Pinterest
Author Bio: Mimi McFadden is a travel blogger, avid yogi, and paneer enthusiast. Originally from California, she has been slow traveling the world since 2013. After living abroad for five years in Australia, New Zealand, Thailand, Greece, and Portugal she has finally found a home in San Francisco, California. You can find her on Instagram, Facebook, and her blog, The Atlas Heart.
The Travelers Way occasionally accepts guest posts from fellow travel bloggers, friends within the travel industry, and as advertorial content.