It's Oktoberfest season!
When it comes to celebrating the lively spirit of Oktoberfest, you don't have to book a flight to Munich to enjoy the festivities. The United States boasts a vibrant array of American Oktoberfests –  celebrations that capture the essence of Bavarian culture, complete with traditional music, hearty food, and of course, plenty of beer for your stein hoisting.
So grab your lederhosen or dirndl, raise your beer stein, and join in the revelry at one of these fantastic festivals. Prost!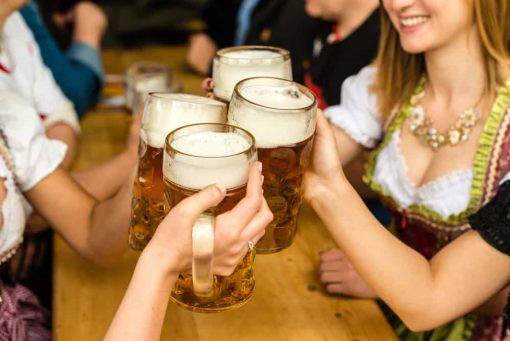 1. Oktoberfest Zinzinnati – Cincinnati, Ohio
Known as the largest Oktoberfest celebration in the United States, this event boasts authentic German food and music, and lots of German beer. It even features the World's Largest Chicken Dance!
Date: September 14-17, 2023
Location: 5th Street (downtown), Cincinnati
Website: Oktoberfest Zinzinnati
2. Oktoberfest by the Bay – San Francisco, California
Held on the San Francisco waterfront, this festival offers stunning views of the Golden Gate Bridge as backdrop to traditional Bavarian music, dance, and cuisine.
Date: September 20-22, 2023
Location: Pier 35, San Francisco
Website: Oktoberfest by the Bay
3. Denver Oktoberfest – Denver, Colorado
Celebrating its 51st year, this event features a massive biergarten (beer gardens), live music, and quirky contests like the Long Dog Derby.
Date: September 22-24, and September 29-October 1, 2023
Location: Downtown Denver
Website: Denver Oktoberfest
4. Big Bear Lake Oktoberfest – Big Bear Lake, California
Nestled in the mountains, this festival offers an Alpine village experience with Bavarian oompah bands, dancing, and an array of German and local beers.
Date: Weekends September 9-November 4, 2023
Location: Big Bear Lake Convention Center
Website: Big Bear Lake Oktoberfest
5. Oktoberfest Northwest – Puyallup, Washington
With a focus on authentic German beer and food, this event includes traditional entertainment like yodeling, polka dancing, wiener dog races and a Bavarian village.
​Date: October 6-8, 2023
Location: Washington State Fairgrounds, Puyallup
Website: Oktoberfest Northwest
6. Mount Angel Oktoberfest – Mount Angel, Oregon
Recognized for its welcoming atmosphere, this annual event showcases traditional German foods and music, dances, food vendors, and an impressive beer selection.
​Date: September 14-17, 2023
Location: Downtown Mt. Angel
Website: Mount Angel Oktoberfest
7. Projekt Bayern Oktoberfest – Wenatchee, Washington
Transforming the town into a Bavarian paradise, this event offers multiple weekends of Oktoberfest events, including entertainment, including live music and traditional games. This annual festival was previously held in Leavenworth, moving to Wenatchee in 2019.
Date: September 29-30, October 6-7, 13-14, 2023
Location: Town Toyota Center, Wenatchee
Website: Projekt Bayern Oktoberfest
8. Oktoberfest Vermont – Burlington, Vermont
Located in the scenic Green Mountains, this festival combines Bavarian traditions with Vermont flair, featuring craft beer and delicious food. The fun activities return after a Covid absence.
Date: September 22-23, 2023
Location: Waterfront Park, Burlington
Website: Oktoberfest Vermont
9. Addison Oktoberfest – Addison, Texas
Claiming to have the "largest Munich-style biergarten," this event offers authentic German music, folk dancing, and tasty bratwurst. Events include the Dachsund Dash, Bier Barrel Rolling (beer barrel rolling), and a beer stein race.
Date: September 14-17, 2023
Location: Addison Circle Park, Addison
Website: Addison Oktoberfest
10. Frankenmuth Oktoberfest – Frankenmuth, Michigan
Set in a charming Bavarian-themed village, this festival boasts German-style beer, polka music, and contests like the "chicken dance-off."
​Date: September 14-17, 2023
Location: Heritage Park, Frankenmuth
Website: Frankenmuth Oktoberfest
11. La Crosse Oktoberfest – La Crosse, Wisconsin
A highlight is the Maple Leaf Parade, featuring elaborate floats, marching bands, and traditional costumes, along with amusement rides and beer tents. A highlight of this end of September event is the craft beer night.
Date: September 28-30, 2023
Location: various location around La Crosse, including Copeland Park and the Oktoberfest Grounds.
Website: La Crosse Oktoberfest
12. Oktoberfest U.S.A. – Appleton, Wisconsin
Kicking off with the License to Cruise (a classic car show) and the ceremonial tapping of the keg, this Oktoberfest features plenty of music, cultural exhibits, and a variety of German and domestic beers.
Date: September 29-30, 2023
Location: Downtown Appleton
Website: Oktoberfest U.S.A.
13. Oktoberfest Tampa – Tampa, Florida
This festival provides a tropical twist on Oktoberfest, offering German music, beer, and dancing in a sunny Florida setting. Traditional food will food, including schnitzel, spatzle, bratwurst, and more.
Date: October 13-15, 2023
Location: Curtis Hixon Waterfront Park, Tampa
Website: Oktoberfest Tampa
14. St. Al's Oktoberfest – Chicago, Illinois
One of Chicago's most popular fall celebrations, this neighborhood celebration features an impressive music lineup and craft beer tasting.
Date: September 22-24, 2023
Location: St. Alphonsus church (West Lakeview), Chicago
Website: St. Al's Oktoberfest
15. Snowbird Oktoberfest – Snowbird, Utah
This Oktoberfest is weeks of fun for the whole family, featuring activities, live bands, traditional Bavarian fare, over 50 varieties of beer and an array of local vendors. Local breweries, delicious German food, and lots of fun make this mountain location a perfect place for festivities.
Date: August 12-October 15, 2023 (Weekends)
Location: Snowbird Ski & Summer Resort
Website: Snowbird Oktoberfest
Pin to your favorite Pinterest boards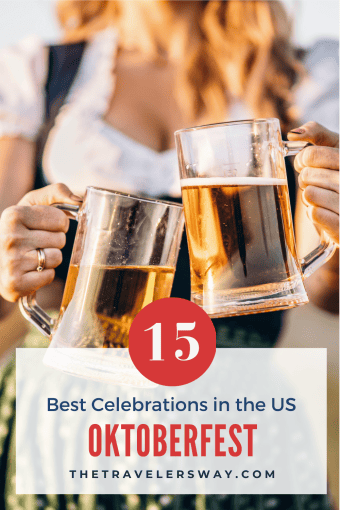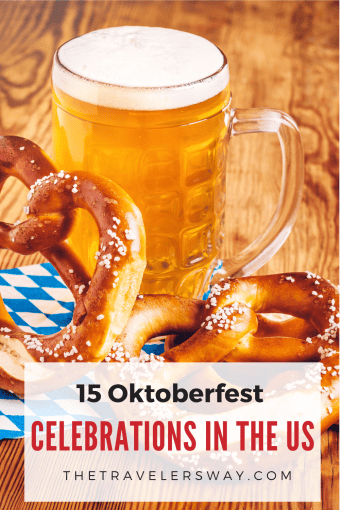 Mary Jo Manzanares is a founder and the editor-in-chief of The Traveler's Way, an online travel magazine proving informational and inspirational travel recommendations for curious Baby Boomer travelers. She has been a speaker at various industry events and has a personal travel blog at Traveling with MJ. When she's not traveling, Mary Jo likes lingering over a cup of coffee, wandering in a museum, sipping wine at a cafe, and sharing it all with friends and readers. Mary Jo's top travel destinations are Italy, Portugal, and the Caribbean.