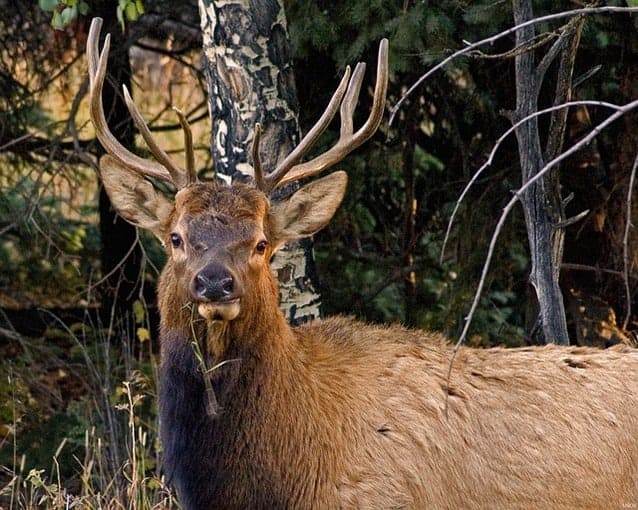 Celebrate the fall season with a photography trip to any scenic Colorado destination. With over 900 species of wildlife spanning across more than 350 wildlife areas, Colorado lets you take in the rich colors of autumn coupled with the mating and migratory traditions of the state's wild inhabitants. From the grasslands of the eastern plains to the sweeping vistas of the Rocky Mountains, there are several opportunities to capture one-of-a-kind memories and photos.
Panorama Point (Boulder) – Just one mile up Flagstaff Road, you can make the drive up to Panorama Point on a clear morning to capture shots of Boulder's expansive landscape. If you enjoy hiking, there are several area trails, including Panorama Point Loop. This hike is fantastic for fall foliage, as the lower part of Flagstaff has a beautiful mix of both coniferous and deciduous trees. Mountain Lions inhabit this area and coyotes, foxes, mule deer and raptors are commonly sighted.
Rocky Mountain National Park (Estes Park) – Mid-September to mid-October marks the peak of the elk rut in Rocky Mountain National Park, where more than 3,200 elk reside, making viewings not only possible but in many cases probable. Dawn and dusk tend to be prime viewing times for spotting elk and other forms of wildlife. The early morning hours and evening hours also offer the best chances to hear elk bugling. The scene of tens-to-hundreds of elk in one location, flanked by spectacular mountain scenery and fall colors is undeniably photo worthy.
Mount Evans (Clear Creek County) – The highest paved road in North America is an invitation to explore Colorado's inspiring high mountain environment. Upon reaching the 14,264-feet-high summit, mountain goats and bighorn sheep often graze roadside and are so accustomed to visitors that they are more than ready for photographs. While at the top, make sure to snap several shots of the breathtaking panoramic views of distant mountain peaks, alpine lakes, and glacier valleys.
Rawah Ranch (Glendevey) – A testament to the Ute Indians who named the area "Rawah," translating to abundant wild place, Rawah Ranch is located in one of the most scenic and unspoiled valleys in Colorado. You can view and photograph a myriad of wildlife from horseback and local hiking trails. The Shiras moose are Colorado's largest big game and were reintroduced nearly 30 years ago on Rawah Ranch. A complete list of wildlife can be found on Rawah Ranch's website.
Glenwood Canyon Recreation Trail (Glenwood Springs) – Running between the Colorado River and I-70, the Glenwood Canyon Recreation Trail is a relatively flat path perfect for all ages and abilities. Rent a bike and follow the Glenwood Canyon Recreation Path into Glenwood Canyon, where the sure-footed herd of bighorn sheep likes to scramble up the cliffs near the bike and pedestrian overpass. Though they are accustomed to curious humans, using a telephoto lens is advised to keep a safe distance.
Pawnee National Grassland (Greeley) – Spanning across 193,060 acres, there are many opportunities to view and enjoy wildlife on the state's Grasslands. Pronghorn antelope, mule deer, coyote, badger, and swift fox are just a few of the species that call the prairie home. The Grasslands also support many bird species, including Colorado's state bird, the lark bunting. The Pawnee National Grassland provides the perfect backdrop to get their perfect shot. From country roads to open spaces and reservoirs, there are a variety of settings for capturing stellar pictures.
North Park (Jackson County) – Recognized by the state legislature as the "Moose Viewing Capital of Colorado," the town of Walden is situated in the center of a large open valley called North Park. Here, you should be ready to snap several pictures: a 400 mm lens (minimum) is best, keeping the sun at your back and featuring wildlife in its surroundings. Filled with rich sage brush and extensive wetlands, an amazing variety of seasonal and year-round wildlife seem perfectly posed for incredible photos.
South Park National Heritage Area (Park County) – The slopes of the 14,000-feet-high peaks of the Mosquito Range are among the first to dot aspen gold among the evergreens, often starting in the last two weeks of August and hitting a peak at the first two weeks of September. One of the most popular locations to enjoy the breathtaking golden colors is from the top of Kenosha Pass and along the Colorado Trail as it crosses the pass. Elk are numerous in Park County and can be spotted, especially along US 285, all the way through the county toward Trout Creek Pass.
North Sterling State Park (Sterling) – The wildlife, plants and geology of North Sterling State Park's large, spacious reservoir on the high plains offers an abundance of wildlife viewing opportunities. Seasonal fall migrations bring flocks of hawks and eagles. While some are just passing through, others settle down for the winter. Early morning is the best time for wildlife watching; be on the lookout for dove, quail, bobcat, pronghorn and more.
Colorado Birding Trail (Statewide) – A network of hundreds of sites where you can watch birds and other wildlife, the Colorado Birding Trail is made up of a series of driving routes that each has a unique trail name and are composed of several watchable wildlife sites. Some trails include hiking or walking paths or platforms where you can observe the varying scenery
If you're in the area, take in the 10th Annual Bighorn Sheep Festival (Georgetown, November 12, 2016). Few animals evoke the spirit of Colorado's rugged and majestic mountains like the Rocky Mountain bighorn sheep. The vertical terrain that keeps sheep safe from predators also limits opportunities for Coloradans to view and appreciate Colorado's state animal. The festival is timed to coincide with the sheep's head-banging mating season, often referred to as "the clash."
For your favorite Pinterest boards: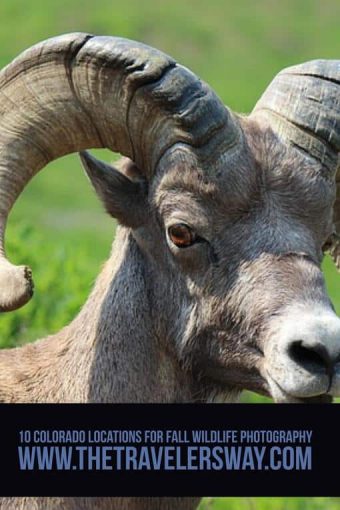 Anthony has found travel provides a healthy balance to his day job as a criminal defense attorney. Living on the periphery of blogging for years, he's now decided to flex his creative muscles with a little writing and photography of his own. Anthony's favorite travel destinations are the Caribbean, Italy, and Ireland.