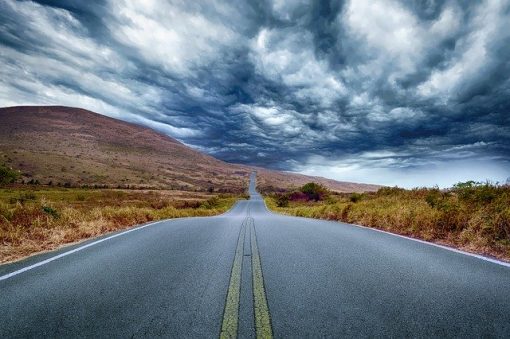 After barely leaving the house for the last four months, I'm starting to eye a summer road trip that gets me away from home while still appreciating that Washington State is gradually rolling out its opening plan. While I would love to jump on an airplane and head to exotic and far-flung destinations, that just isn't happening right now.
I'm factoring in a variety of considerations:
Washington State, like many other cities and states, is now requiring masks in most public places. Although I don't want to be around a bunch of other people, it's inevitable that I will need to plan for at least the occasional public situation (gas station, grocery stores, etc.).
We will likely opt for a private rental unit rather than a hotel. We want personal space, rather than communal space, and are looking for kitchen facilities and room to spread out and relax.
We're more likely to be looking for to-go food options to eat in our rental unit, just in case there aren't safe dining options available in local restaurants.
We still want to enjoy a bit of "value luxury" and feel like we've had an enjoyable getaway escape, kept ourselves and others safe, and gotten value for the price.
All of this is easier said than done!
I keep packing lists for most types of travel so that I don't forget (or at least reduce the number of times that I forget) things that I need. Even though I have more flexibility when traveling by car, I still try to maximize space and not overpack. I don't need to cart around too much stuff!
This sponsored content was created in partnership with Sunny Bay, a product line of BioMed DB Design. They are locally based, right here in Federal Way, Washington, and I have used several of their products for travel and self-care over a number of years.
Here are a few things I'm adding to my packing list:
1. Masks
I've got some stylish cloth masks, made by a friend, that I use around home. They're washable and easy to use, and since I don't go into public situations often, there are perfet to use.
For travel, though, I know that I will be in public situations more often, and laundering cloth masks isn't an option. Given the mask requirements going into effect, I hope these don't become hard to find again!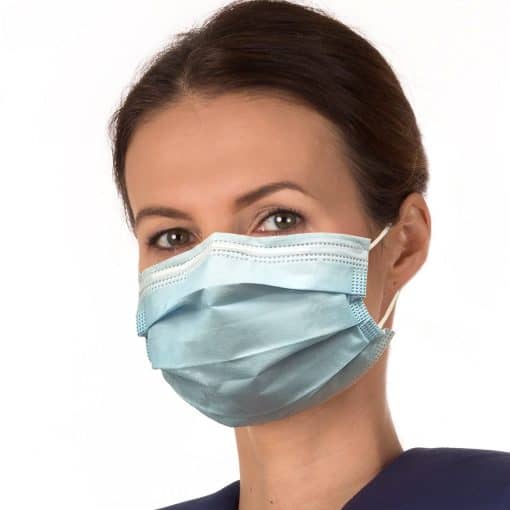 Sunny Bay has Level 1 disposable masks and is making more. While there's no need for hoarding, picking up a package or two to have on hand seems prudent. We'll be keeping a box in the car so they are always handy.
These masks come in a box of 100, a good size for individual or family use, and they ask that you not purchase in extreme quantities or hoard in order to help serve the most people. If you represent a larger business or organization and need a larger quantity of masks, contact them to work out reasonable details. Buying information here.
If you need a little more protection, the N95 Respirator Masks are an option. While not medical grade, these still block 95% (and more) of bacteria and small particulates. The masks are hypoallergenic, have elastic earloop for comfort, and an adjustable nose piece for a better fit.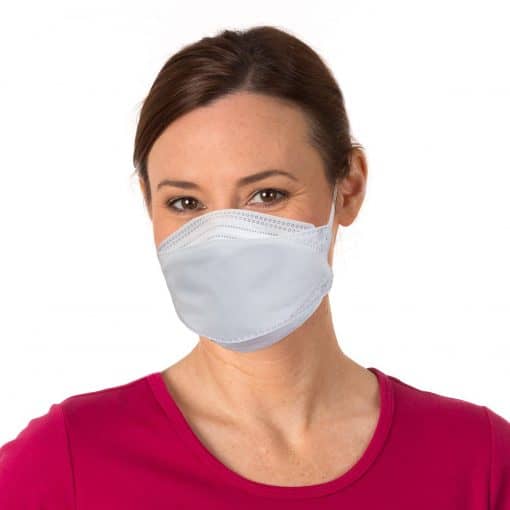 Buying information here. And if you need reusable cloth masks, you'll find that information here.
2. Travel Pillow
Most people think about a travel pillow for air travel, but they come in handy for the car, too. There are many considerations in choosing a pillow, personal preference as well as supporting your body's architecture. These are two favorites:
The Chiropractic Neck Pillow wraps around your neck with an additional firm column included at the neckband to provide added support for the neck. Those people with sensitive necks or who visit doctors or chiropractors for chronic neck problems may benefit from this extra support.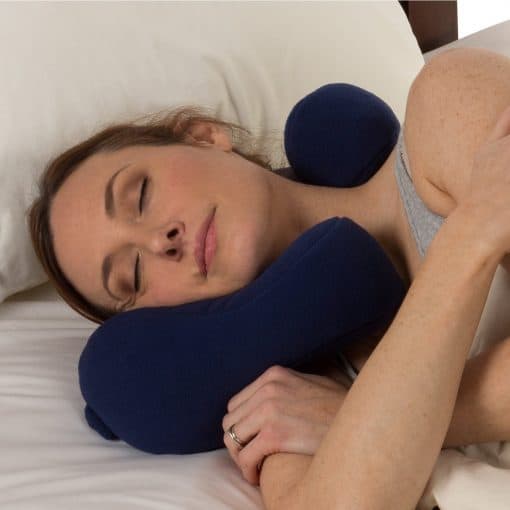 This pillow is great for the car, airplane, bus, or train while traveling. The pillow is narrower and softer at the cervical area and will easily fit in the small space between your neck and the headrest in the car or on airline seats.
It's also great for lounging in a recliner and even for sleeping. The special supportive column filled with flax seeds offers enhanced neck care without sacrificing comfort.
Buying information here.
Another option is a travel neck pillow that ergonomically wraps around the neck. The pillow provides proper support for the head so you can sleep comfortably during a flight or car trip, preventing a stiff neck that often comes from sleeping sideways.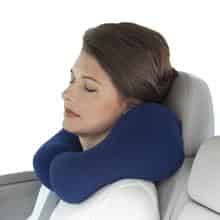 The pillow is machine washable; buying information here.
3. Heat belt
I think the heated lower back wrap is my favorite product! In fact, I'm using it right now as I sit at my desk (I think I overdid some physical therapy and my back has been spasming). I just warm it up in the microwave, loosely tie it around my waist, and let that heat seep into my body and work its magic.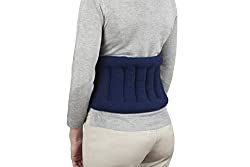 While the back wrap is probably too heavy to pack for a light, tossing it in for a car trip is an easy decision. Since we're looking for an individual unit in which to stay, I know that a microwave will be available. This could be a lifesaver at salvaging a road trip that might otherwise be uncomfortable or painful.
Buying information here.
For a lighter weight option, disposable heats pads – that slip into a belt for wearing – provide similar relief to the back wrap. If space and weight are issues, this is a good alternative to the back wrap. The belt is reusable, so packing it and a few heat packs would require a minimum of space for packing.
The heat pads are activated when opening and take about 20 minutes to warm up. Once activated, place the head pad into the belt and wrap around your waist. Secure it with the hook and loop closure. The combination is lightweight enough to wear underneath your clothing, making it easy to wear if I'm having a flare-up while traveling.
Buying information here.
If you're looking for more of a spot treatment, disposable adhesive heat patches may work well for you. In fact, I know keep them in my standard toiletry pack and they are always in my suitcase.
They are air-activated (like the pack used in the belt), adhere to your clothing with adhesive, and deliverable therapeutic heat for up to 12 hours. The patch won't damage your clothing and is lightweight enough that no one else will notice you're wearing it.
Play around with the patch to figure out where it will fit the best before removing the backing. It will also help if your clothing is more close-fitting than light and flowy as it keeps the heat closer to your affected area.
Buying information here.
What Else?
A year ago, these items wouldn't be on my packing list. As I've adjusted to new health and safety requirements, as well as paying more attention to self-care when traveling, I can't imagine traveling without them.
What recommendations to you have for what to pack for your summer road trip?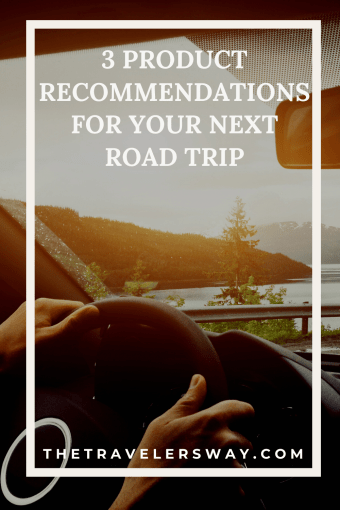 Mary Jo Manzanares is a founder and the editor-in-chief of The Traveler's Way, an online travel magazine proving informational and inspirational travel recommendations for curious Baby Boomer travelers. She has been a speaker at various industry events and has a personal travel blog at Traveling with MJ. When she's not traveling, Mary Jo likes lingering over a cup of coffee, wandering in a museum, sipping wine at a cafe, and sharing it all with friends and readers. Mary Jo's top travel destinations are Italy, Portugal, and the Caribbean.