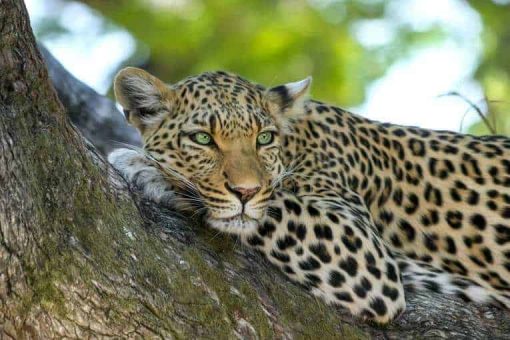 With visions of "the Big Five" dancing in my head, I began to prepare for my African Safari.
My first step was to interview a family who had recently returned from a two-week African safari. Cheryl provided me with a number of tips, and I was happy to have her advice. Now that I've returned from my safari, I've created my own list of tips, relying on some previous suggestions and adding my own.
From safety issues to document requirements, from medical issues to clothing choices and packing requirements, these nine tips will help make safari preparation easy and your experience memorable.
Safari Tip #1: Carefully Examine the Safari Itinerary
How much time will be spent traveling from park to park?
There were four days out of the seven that we were en route for over seven hours – one day was over nine hours in the vehicle before we got to the park. That is far too much time traveling from place to place! I recommend spending at least two nights in each park or reserve.
Masai Mara National Reserve is where we saw the greatest numbers of wildlife. Having said that however, I would never travel the road to the reserve again – it was not for the faint of heart! In places, there was no road at all. Other parts, there was a makeshift road alongside a road under construction. The makeshift road was pure dust! Although it was sweltering in the vehicle, we couldn't have the windows open because of the dust! One of our group commented: "This is like three hours on Thunder Mountain at Disneyland!"
Instead of this torturous route, I recommend flying from Nairobi to Masai Mara Reserve.
Safari Tip #2: Vaccinations and Anti-Malaria Pills
Check with your healthcare provider or travel clinic for their recommendations.
Mine recommended six vaccinations. Three were specific for the trip, based on my destinations and my age. Three were routine, specific for Kenya were meningitis, typhoid fever, and yellow fever.
Some African countries require Yellow Fever Vaccination proof for entry. Your provider will give you an International Yellow Card for proof of vaccination.
My healthcare provider also gave me two prescriptions. The first was for anti-malaria pills. Begin these the day before entering the country, and continues for two weeks after you exit. The second prescription was precautionary, an antibiotic for severe diarrhea.
Safari Tip#3: Check Visa/Passport Requirements
Check to see if you need a visa to enter the African country where the safari is operating
Kenya requires one. The application is quite detailed but can be done online. Make sure you allow sufficient processing time for Kenya visa. You'll need details of your trip such as the local addresses and phone contacts for all accommodations. Apply for the visa at least 30 days in advance of the trip.
Also check your passport to make sure it's effective for six months after the trip, a requirement for nearly every country. If you don't have that time till expiration, be sure to renew your passport in plenty of time. Additionally, some countries, South Africa for example, also require a passport to have at least one clean page.
You should register your travel plans with the U.S. State Department travel site. While in Nairobi, I received an email informing me that there was to be a planned demonstration the next day. We chose to stay away from that area.
Safari Tip #4: Plan Your Clothing
Plan your wardrobe for "day clothes" and "night clothes". It is so refreshing to return after a day of safari, shower, and have fresh clothing to slip into. Planning carefully will maximize your outfit options while not overpacking.
Wear khaki colors during the day – the color is less distracting to the animals. Choose clothes made from natural fibers like cotton and linen. Synthetic fabrics don't "breathe" and you will swelter.
You also need a hat with a string on it – to hold it on while in the open safari vehicles. Once in a park or reserve, one does not get out of the vehicle – so if your hat flies away, say goodbye to it!
Safari Tip #5: You'll Need Some Gadgets and Power
One of the most important accessories to bring on a safari is a good pair of binoculars.
You've paid lots of money for the safari, don't skimp on a pair of binoculars. Some safaris have limited binoculars to share. Ours had none. Without them, we'd have missed out on seeing all the spectacular sights we came on the safari to see.
Of course, a camera is also going to be important. You can get some shots with your phone, but you're really going to want something more powerful. And you'll want to bone up on some tips for safari photograhy before you leave.
I took photos both with my iPhone and Sony DL Mirrorless. Remember to keep the low battery setting on your iPhone or smartphone in order to preserve your battery all day.  Bring along a small external power supply to make sure nothing dies at the very time you need it.
Safari Tip#6: You'll Need Some Additional Supplies
You'll need to save room to pack some odds and ends of miscellaneous supplies.
Traveling to Masai Mara, there are miles and miles of dusty roads and miles where there are no roads at all. It was incredibly dusty. I found that a facemask was a necessity.
Always carry hand sanitizer – some restrooms had no soap. I took a small sanitizer with a hook came in handy as I could clip it to the outside of my bag. It came in handy.
Sunglasses and sunscreen lotions are two more necessities. The sun can be brutal. A collapsible water bottle – or two- also comes in very handy. Bring gloves for an early morning expedition as the mornings can be chilly.
Safari Tip #7: Plan for Insects
Dealing with insects and bugs is a necessity.
Bug spray is important to protect against bugs that can be merely annoying or health threatening. Your healthcare provider may be able to make some recommendations.
Several of my travel companions also purchased mosquito jackets. There are numerous options for mosquito-proof clothing so it may be worth buying some for the trip. available.
At night, use the mosquito netting in the camp/hotel.
Safari Tip #8: Pack Light
Yes, you'll need to bring lots of stuff, but you still need to pack light.
If you are extending your trip, bring along a weekend bag or carry on suitcase for the safari. The safari jeeps do not have much room, and there may be 6-8 others in the vehicle with you. That leaves very little room for luggage. The safari company will secure and look after your larger bags for your return.
Note that some African countries do not allow single-use plastic bags and there are fines for attempting to do so. Our bags were searched in Nairobi, Kenya, looking for plastic bags. Pack some reusable mesh bags. You can avoid complications entering the country and is so much better for the planet.
Safari Tip #9: Bring Some Gifts
Some safaris visit an orphanage, so check to see if yours does.
Consider bringing gifts from home to help support the orphanage. Items such as soccer balls, paper, pencils, toothbrushes, toothpaste, small stuffed animals, etc., can help brighten the life of the children.
A few caveats: Do not give gifts directly to the children, give them to the adults who will supervise distribution to the children as appropriate. This helps prevent a begging culture. We were also told not to give cash donations.
An African Safari is a once-in-a-lifetime experience. These tips are effective and will help you to have the most enjoyable safari possible!
Oh yes, what are the Big Five? 1. Lions, 2. Elephants, 3. Rhinoceros, 4. Buffalo, and 5. Leopard. We saw them all!
Save this to your favorite Pinterest board and refer to it when planning your African safari.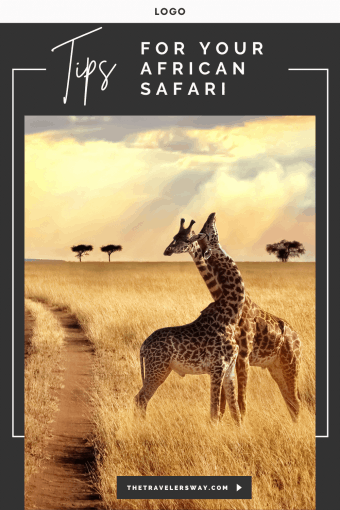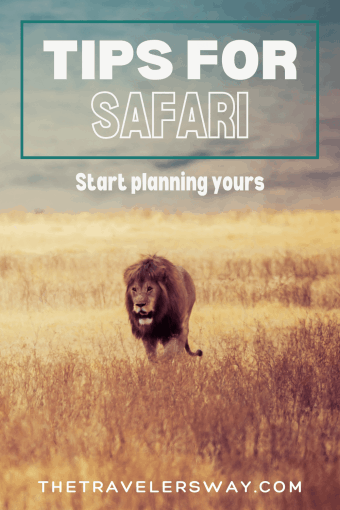 Guest bio: Jo-Anne Bowen is a freelance travel writer and food explorer with a background in food and nutrition. She has enjoyed cooking and dining through the years. Follow her on Instagram at @joannejourneys.
Photo credit: Leopard (designerpoint / Pixabay);
The Travelers Way occasionally accepts guest posts from fellow travel bloggers, friends within the travel industry, and as advertorial content.