When traveling, food plays a big part in the overall experience of a trip. Australia isn't commonly thought of when it comes to exotic cuisines, but it should be. There are a host of Australian dishes that will satisfy the stomach and let you experience real-life Down Under.
Whether it's meats, fish or desserts, we've got you covered with our top 10 foods to try in Australia.
Moreton Bay Bugs
Don't be put off by the name, Moreton Bay Bugs are actually a species of slipper lobster. Commonly found in the Pacific and Indian Oceans, the name comes from a bay near Brisbane. You'll find this popular seafood across Australia.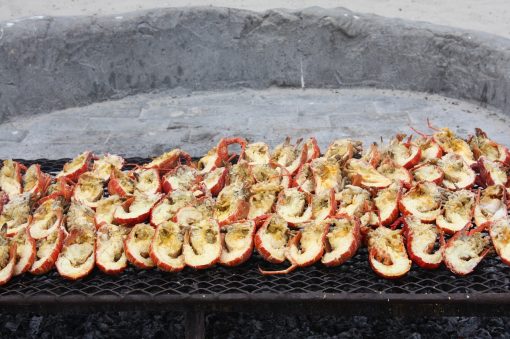 Most of the meat is located in the tail, and the lobster is typically cut in half and then grilled. Season lightly with oil, lemon, or butter, but even on its own, the Moreton Bay Bugs are delicious.
Fish and Chips
It's not just the Brits who enjoy good fish and chips, the Aussies have also incorporated it into their cuisine. Whether enjoyed during a day out exploring the Surf Coast Walk in Victoria, or by one of the many beaches, nothing beats fresh, lightly fried fish with thick, filling chips.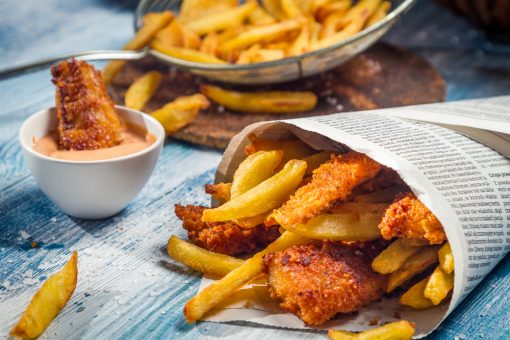 Many fish and chip shops still serve them wrapped in paper packaging. Add some sale, lemon, or a dash of vinegar to suit your taste preference. You can't go wrong with this Australian food choice.
Vanilla Slice
This pastry is believed to have originated in France and commonly goes by the name mille-feuille. Many countries around the world lay claim to its delicate layers of puff pastry and cream. Traditionally, the pastry is made up of three layers of puff pastry with pastry cream separating each layer. The top layer is dusted with sugar, cocoa, pastry crumbs, seeds, or glazed with icing or fondant. It is sometimes garnished with berries or mint leaves.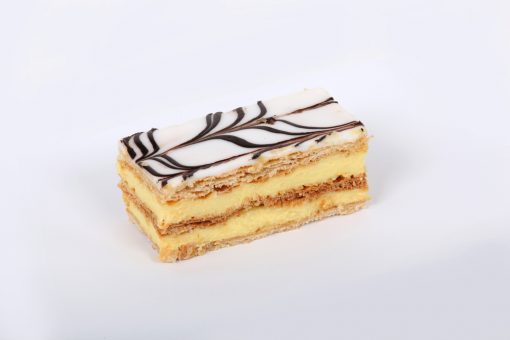 Australia takes this mouth-watering cake very seriously. There's a vanilla slice competition held in Victoria every year. It might be worth timing your visit to check out these prize-winning pastries.
Pavlova
While New Zealand and Australia dispute over who first invented the pavlova, one thing is for sure – the dessert is enjoyed by everyone. Pavlova is a meringue dessert, with egg whites providing a chewy texture and a soft marshmallow filling used inside. The crunchy crisp on the edges provides a perfect textural balance.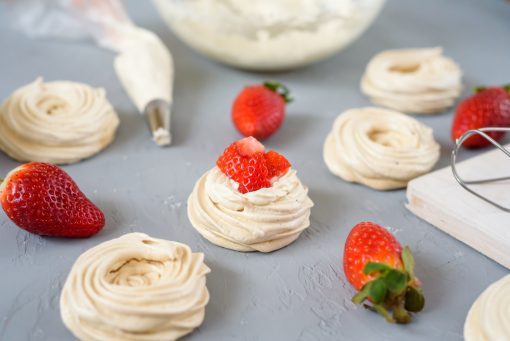 Pavlova was named for the Russian ballerina Anna Pavlova after she toured Australia and New Zealand in the 1920s. This popular dessert can be served family-style or prepared in individual sizes. Serve with whipped cream and fresh fruit for a perfect summer treat.
Barramundi
If you want a healthier alternative to fried, battered fish, the barramundi (Adian sea bass) is a fantastic option. Found in both fresh and saltwater, barramundi is firm and moist, with a sweet, buttery flavor, and is rich in omega 3 and protein. Barramundi has fewer calories than other fish, so it's a great choice when you want lots of flavor but are still counting calories.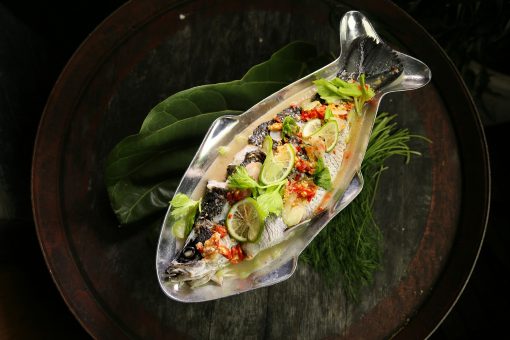 The best places to fish for barramundi, an Aboriginal name meaning large-scaled fish, is the Northern Territory in Australia. Barramundi is farmed and wild-caught and both make for a delicious dish.
Meat Pies
Whether you want something quick and filling while your on the go, or something simple to enjoy with your friends and family, the meat pie is a solid choice. Filled with mincemeat and gravy, accompanied with a rich tomato sauce, the Australian meat pie is hand-sized and packed with delicious flavors.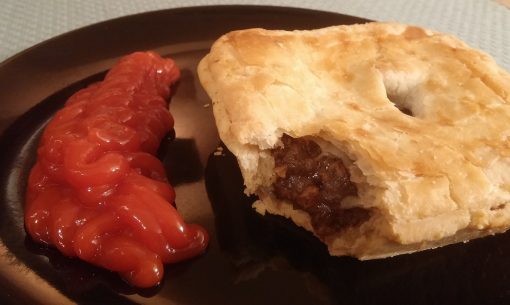 You can't miss finding this popular Australian dish – some 270 million meat pies are consumed every single year in Australia.
Lamingtons
This Australian cake is made from butter or sponge cake, then coated in chocolate sauce, and rolled in coconut. Lamingtons are so popular that July 21st has been named National Lamington Day in Australia.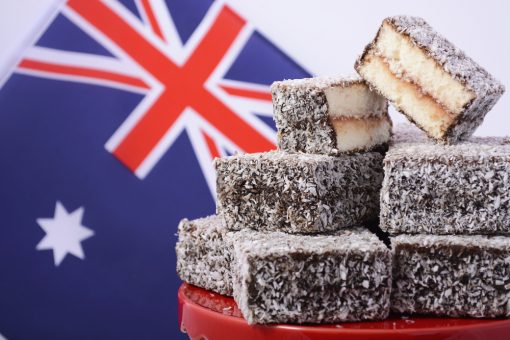 As well as being extremely yummy, Lamingtons also come with a fun tale explaining how the cake squares were given their name. It is believed that in 1901, a maidservant of Lord Lamington dropped a piece of sponge cake into melted chocolate. To avoid wasting it, Lord Lamington told the maidservant to cover the cake in desiccated coconut, and that's how the dessert came to be. We're all glad about that accident.
"Avo" on Toast
Avocado on toast has gained in popularity worldwide, so it's not surprising that Australians also have a deep-rooted love for the dish. Sure there are health benefits, but forget about all of that and think about how tasty avocados are when combined with goat cheese or feta, pepper, olive oil, and a poached egg. A delicious and popular dish in Australia.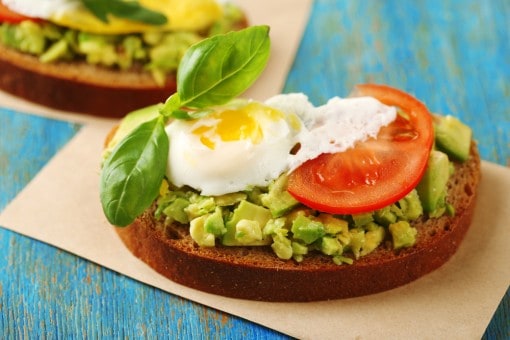 Although it can be eaten at any time of the day, many restaurants and cafes will serve avo on toast for brunch, so it's the perfect pick me up meal to give you a boost of energy while spending your day seeing the country. It is our go-to meal when visiting Torquay restaurants, along the Great Ocean Road.
Aussie Burgers With The Lot
Think of a normal burger, and then fill it with pineapple, pickled beetroot, onion, cheese, bacon, and even a fried egg. Welcome to the Aussie burger with the lot. This eclectic mix of ingredients provides a tangy yet sweet flavor, and surprisingly the vegetables complement each other alongside the beef patty.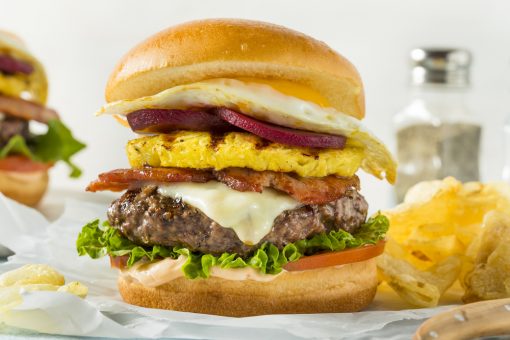 The real fun comes when you try to eat it without making a mess! Easily found everywhere across Australia, this dish is a perfect meal that will definitely fill you up.
Kangaroo Meat
Even though kangaroos are Australia's national animal, these marsupials also make for a tasty meal. Aboriginal people have been eating the meat for centuries, but only a few decades ago did it become legal for human consumption in Australia.
Kangaroo meat is actually a healthier alternative to beef, as it has high levels of protein and a lower calorie count. You can buy it in local supermarkets or find it on restaurant menus. Barbecuing or grilling is the preferred preparation method as it best keeps the meat flavorful and healthy.
What Else?
There's plenty of other exotic game meats to try when you visit Australia. You'll also find emu, camel, and crocodile.
If you want to try new dishes, Australia is a great place to experiment. Commonly found dishes are often given an Australian twist, creating fun and unique flavors that are a part of the Aussie way of life.
Guest author: Kiran is a member of the Great Ocean Road Collective. a website dedicated to sharing the beauty of the Great Ocean Road in Australia. If you are planning a trip to Australia, need some inspiration, or are looking for authentic advice on Aussie travel visit our website The Great Ocean Road Australia or check us out on Instagram.
Pin this to your favorite travel and food Pinterest boards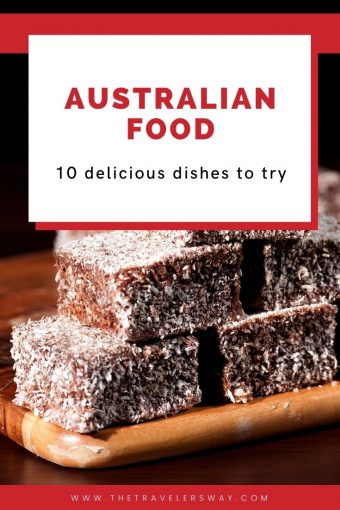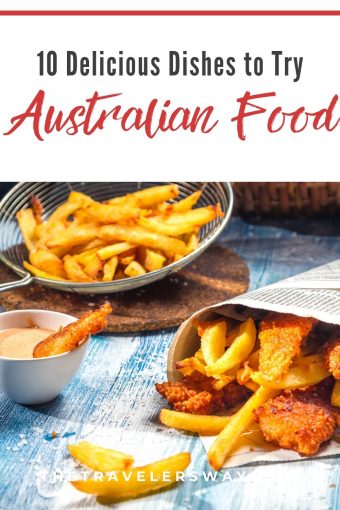 The Travelers Way occasionally accepts guest posts from fellow travel bloggers, friends within the travel industry, and as advertorial content.