I owe a big apology to all my loyal readers for keeping you in the dark over the last 3 months. Since my last post I travelled to Mexico twice, shared the stage in San Francisco with some of the authorities on the "geoweb", travelled to Corsica, the French Riviera, Lake Como, St. Moritz; and managed to launch PlanetEye.com where I lead the Technology team. Intense to say the least. But the most recent issue of Monocle has me burning the proverbial midnight oil and finding energy to start posting regularly again. Thanks for your comments while I was away.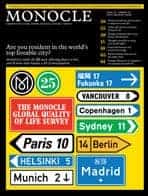 The Monocle Global Quality of Life Index may one day graduate to adopt a scientific methodology that considers a larger spectrum of cities around the world, but I'm happy to settle for their current coverage and play the my-city-is-better-than-yours game, using the tidbits of quick facts they've compiled. For those who don't buy the magazine here are the top 10 cities:
Copenhagen, Denmark

Good looks, brains, perfect proportions, a sunny disposition and a sense of humour are always a winning combination…

Munich, Germany

It combines a strong economy with rich cultural offerings. The city's workforce is highly qualified; its universities world class. And if the walls start closing in you've got the Alps on your doorstep.

Tokyo, Japan

… a new generation of well-travelled, job-hopping twenty and thirtysomethings who are changing Tokyo, challenging stereotypes…

Zürich, Switzerland

The city's world-class education facilities and cultural offerings, great local public transport and well-connected airport mean it can satisfy even the most demanding employees.

Helsinki, Finland

Waterside revival, civic pride and a view to Asia bode well for the city…

Vienna, Austria

Don't be deceived by Vienna's apparent bourgeois rectitude…

Stockholm, Sweden

… with its archipelago, pristine parks and old architecture, is pretty as a princess cake – the Swedes' favourite birthday treat.

Vancouver, Canada

By accepting increased building density as official city policy, Vancouver believes it is leading the continent in addressing climate change.

Melbourne, Australia

its economy is humming, its arts scene is thriving, and more than 1,000 new people a week are calling the city home.

Paris, France

…it is setting benchmarks in urbanism that have officials from around the world heading to meet mayor Bertrand Delanoë.
Sydney, Honolulu, Madrid, Berlin, Barcelona, Montréal, Fukuoka, Amsterdam, Minneapolis, Kyoto, Hamburg, Singapore, Geneva, Lisbon and Portland follow the leaders.
But the ranking is just a great marketing tool. Much more interesting and relevant to the readers of this blog are the articles "Thinking cities" which collects ideas from some of the best recognized urban thinkers; and "Perfect neighbourhood", a redux of their ideal borough dream from last year. More on this in upcoming posts.