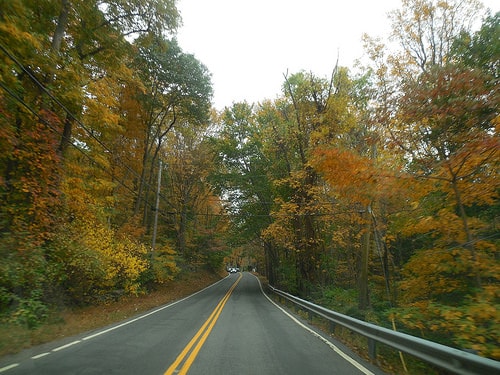 The most southern of the New England states, Connecticut offers a charming New England feel with cosmopolitan style.  With award-winning theaters, beautiful beaches, state-of-the art museums and more, Connecticut offers a diverse blend of experiences that are all in close proximity to each other – from relaxing and active, historic and contemporary to cultural and nature-orientated.
Connecticut is proud of its "still revolutionary" theme, and celebrates the spirit of independence and innovation that motivates people to experience new things, defy convention and blaze their own trails. This list of things to see and do in Connecticut honors the diversity and joy of discovery embodied by that spirit.
[tweetthis]26 things to see & do in "still revolutionary" Connecticut. @CTVisit[/tweetthis]
Soak in the Shore – The Connecticut shoreline has vacation necessities all in one spot. Beautiful beaches, luxurious resorts, a variety of boutique shops, rentals, and fantastic seafood all add up to quaint towns like Milford, Guilford, Essex, Kent, Mystic and more.
Endless Entertainment at Connecticut's Casinos – The Mohegan Sun and Foxwoods Resort Casino are two of New England's favorite casino destinations, offering visitors gaming and 24/7 top entertainers, boutique shopping, fine dining, signature spas and golf facilities. A new upsclae outlet mall has recently opened.
Watch History Come Alive – The state-of-the-art Mashantucket Pequot Museum (Mashantucket) is the largest Native American museum in the world.  You'll find life-size exhibits, dramatic films, and touch-screen computer programs that put the excitement of the past right at your fingertips.
Discover, Invent Learn – The Connecticut Science Center (Hartford) provides educational and entertaining experiences for families.  There are a variety of interactive activities, including 165 hands-on exhibits, a state-of-the art 3D digital theater, four educational labs and more. If you're a membere of a science center in your home community, check to see if that membership grants you free admission here.
Reflect – New Canaan is one of the largest centers of Modern residential design in the United States and the famous Glass House, created by American architect Philip Johnson, is one of the most significant structures of the 20th century. An object of fascination for decades, the rectangular house was built in 1949 out of quarter-inch-thick glass and without interior walls. Absent of curtains or blinds, the property's 49 acres of trees, landscaping and 14 additional structures are the house's only source of privacy.
A Literary Visit – The 1874 Mark Twain House (Hartford) was the author's residence for 17 years and is where he penned some of his most famous works including The Adventures of Tom Sawyer. Twain's Gilded Age mansion is a must see for its exotic Louis Comfort Tiffany designed interiors.at Lake Compounce –
Splish Splash – Lake Compounce (Bristol) is America's oldest and longest-running theme park. The park features more than 50 rides and attractions, including the Splash Harbor Water Park, Zoomer's Gas n'Go antique car ride and Boulder Dash, voted the number one wooden roller coaster in the world. Enjoy the rides by day and then stay overnight at Bear Creek Campground, where you can stay in a cabin, pitch your tent or hook up your RV – close enough to the park so you won't miss an hour of fun.
Go Wild – Connecticut's Beardsley Zoo (Bridgeport) is situated on 52 lush acres in historic Beardsley Park in Bridgeport. The Zoo features 300 individual animals representing nearly 100 species native to primarily North and South America.
Explore and Discover – Brownstone Exploration and Discovery Park (Portland) is Connecticut's first outdoor adventure park. Guests can experience activities from rock climbing, wakeboarding, cliff jumping and zip lining to scuba diving, snorkeling and more.
Year Round Sports – Power Ridge Mountain Park and Resort (Middlefield) is a year-round mountain adventure sports park. The park has the only full-size half pipe in the state and builds off Brownstone's success of catering to the entire family offering activities for the extreme adventurer to the casual observer, including mountain biking. The park will also be opening Fire at the Ridge, where renowned chef Kevin Cottle, who competed on the hit show Hell's Kitchen, will create artfully-inspired regional cuisine.
Take an Ivy League Stroll – Yale University (New Haven) and offers beautiful grounds and an impressive art museum (Yale University Art Gallery). The museum includes paintings by Manet, Picasso, Monet, and van Gogh. The city of New Haven is also known as one of the most groundbreaking cities for architecture and design in the United States.
Immerse Yourself in American Impressionism – The Florence Griswold Museum (Old Lyme) was the home of American Impressionism at the turn of the 20th century, largely thanks to Florence Griswold, "keeper of the artist colony." Florence opened her home to a group of artists in the early 1900s and today the inspirational grounds and gardens are open to all.
Family Amusement – Quassy Amusement Park (Middlebury) is a traditional family amusement and waterpark with award-winning "Wooden Warrior" roller coaster, "Splash Away Bay" an interactive water play area, "Fish Pond" a splash pad for the little ones, and home of the gigantic "Tunnel Twister" waterslides. Offering guests more than two-dozen entertainment rides and attractions, including a swimming beach, boat rides, catered outings, food, full arcade and two new attractions for the 2015 season, including the spectacular new spectacular thrill ride "FRANTIC," and a kiddie bumper car ride named "Collidoscope."
Let Your Imagination Soar – Travel through the history of aviation at one of the most outstanding aviation centers in the nation, the New England Air Museum (Windsor Locks). Tour the museum's three exhibit hangars and see more than 80 aircraft, helicopters, amphibians, modern jets and trophy-winning racers from all periods of history. Take a close look at some of the airplanes that so proudly served the World War II, such as the P-47 Thunderbolt, the Corsair and the Hellcat. The museum includes a number of hands-on exhibits for children's entertainment includes computer flight simulators and pedal-pusher airplanes.
Get Nose-to-Nose with Sharks – The Maritime Aquarium (Norwalk) features sharks, seals, river otters, jellies, sea turtles and other amazing marine animals from Long Island Sound. Year round study cruises aboardd the aquarium's new unique hybrid-powered research vessel, R/V Spirit of the Sound are offered. The new research vessel is powered by a unique hybrid electric propulsion system – reducing fuel consumption by an estimated 75 percent – and offers a climate-controlled indoor classroom and outdoor research space.
Take in a Concert – Enjoy a concert at Infinity Music Hall & Bistro (Norfolk) an intimate music, dining and entertainment destination. The newly renovated, historic building contains its original proscenium stage and wood, as well as many other notable details and features award-winning shows. If you can't venture to the northwest corner of the state, Infinity Music Hall & Bistro is also located in Hartford, offering the same great entertainment and delicious food in a 600-seat concert venue.
Singing From the Rafters – Head to Goodspeed Opera House (East Haddam) for performances April through December. They've been producing original musicals since 1877, with numberous productions going on to Broadway and critical acclaim.
Breathtaking Fall Foliage – Fall is arguably Connecticut's most beautiful season – with leaves in all corners of the state changing colors and providing one of nature's most impressive displays. The season doesn't last very long, so you'll need to act quickly if you want to go leaf peeping! You can see beautiful views all across the state – from Litchfield Hills (the town of Kent has been ranked the number one Fall Foliage Town in New England by Yankee Magazine) to New Haven to Fairfield County – you simply can't go wrong. For leaf peeping in the Greater New Haven region, try Sleeping Giant State Park (Hamden). The view from the Stone Tower gives you a beautiful 360 degree panorama view, looking south to Long Island and north past Hartford.
Hop Aboard – The Essex Steam Train and Riverboat is the only such combination in the country. At the historic, 1892 Essex Station, travelers can enjoy riding on a vintage steam train through the woodlands or a riverboat excursion through the Connecticut River Valley, so beautiful that the Nature Conservancy named it one of the "last great places" on earth.
Have a Whale of a Time – Mystic Aquarium is the place to discover whales, penguins, sea lions and other marine animals. The aquarium features a multimillion-dollar Titanic – 12,450 Feet Belowexhibit that takes guests on a journey to new depths of discovery through the eyes of the team that found Titanic.
Discover a Seaport – Mystic Seaport, the nation's leading maritime museum, transports visitors back to the 19th century with guided tours of waterfront tall ships, Civil War reenactments, one of the largest collections of maritime photography in the country and a planetarium. Visitors can climb aboard the Seaport's beautifully restored Charles W. Morgan whaleship, which was built and launched in 1841. The Morgan is now America's oldest commercial ship still afloat.
Interactive Learning – At Stepping Stones Museum for Children (Norwalk), the hands-on exhibits and educational programs engage, inspire and delight. With five main galleries, a Traveling Exhibit Gallery and over 100 hands-on activities, children can see, hear, touch, feel and participate, allowing their ever-growing minds venture to amazing new places.
Experience the Canopy – EMPOWER Leadership Sports & Adventure Center (Middletown) offers a premiere canopy tour experience featuring zip lines, rappelling and orienteering (map and compass), among other thrilling adventures for everyone.
Enjoy Small – The charm of Connecticut can be found in its small towns and main streets. Explore unique shops and galleries, get immersed in the café culture and soak in the authentic life. Start your exploration in Greenwich, in the state's coastal southwest corner, and enjoy boutiques, chic cafés, and art galleries. Then head to Guilford, which branches off from the largest town green in the state. There you can find five museums set up shop inside historic homes—including the Henry Whitfield State Museum which is the oldest stone house in New England. After that, try out Westport, a town that combines the feeling of a quaint New England town with a modern twist. Located on the Long Island Sound, the town offers a wide range of leisure activities, recreational venues and three beaches along the coast.
Sip and Savor – Enjoy a taste of New England with the Connecticut Wine Trail, made up of 25 vineyards located around the state. Connecticut produced wines have won hundreds of awards and medals and include varieties such Chardonnay, Cabernet Sauvignon, Pinot Noir, Merlot and Cabernet Franc.
Quaff a Cold One – For those who prefer drinks of the hoppier variety, the Connecticut Beer Trail lists over 30 breweries and beer pubs. No two stops on the trail are the same, and offerings include tours, tastings, and even beer to-go.
Connecticut's international airport, Bradley International, is located just north of Hartford. The state is easily accessible driving from New York (2 hours) and Boston (2 hours, 15 minutes), as well as by train. Connecticut would make a great getaway weekend from either of those cities.
Photo credit: Dougtone
Anthony has found travel provides a healthy balance to his day job as a criminal defense attorney. Living on the periphery of blogging for years, he's now decided to flex his creative muscles with a little writing and photography of his own. Anthony's favorite travel destinations are the Caribbean, Italy, and Ireland.