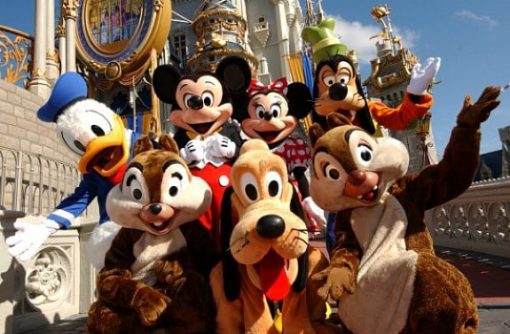 I will be the first to admit that a vacation at Walt Disney World Resort can be an expensive adventure.  However, with a little digging, I have uncovered some fabulous freebies that will keep you entertained at Disney World for hours.
Hit the Boardwalk
Built to resemble famous boardwalks of coastal cities, Disney's Boardwalk shops and restaurants are worthy of relaxed exploring during the daytime.  However, at night this quiet lakefront area is hopping with activity as street performers, food vendors and midway games entice visitors.
While waiting for sunset, stop in the lobby of The Boardwalk Inn and marvel at the miniature, hand-crafted carousel dating back to the 1920s.  You can also challenge your companions to a little board game competition available at the Bell Vue Lounge.  Located in the Inn, the lounge serves up morning coffee and evening bar specialties as guests enjoy listening to radio broadcasts of bygone days.
Work up an appetite while you explore the scenic jogging trail/pedestrian path that winds around the 25-acre Crescent Lake, and past five Resorts located near Epcot.  Everyone can join in the fun by renting a bike or surrey-built-for-four to ride around the boardwalk and lake.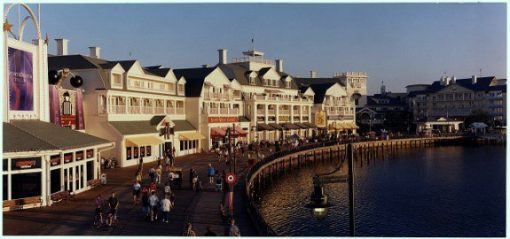 Dining on the Boardwalk covers a wide spectrum of options, from a hot dog stand and pizza by the slice to traditional Mediterranean dishes served at Celebrity Chef, Cat Cora's Kouzzina.  Dining while watching the big game on the big screens at ESPN Club is popular during season playoffs and tournaments.  For the best seats in the house, arrive early enough to snag a couple of leather lounge chairs in The Sidelines dining room.   If you just want to catch the score, there is a television screen located outside the entrance and visible from the Boardwalk.
If you're ready for dessert, try a selection of sugary cakes and pastries from Boardwalk Bakery.  Or grab a cone to go from Seashore Sweets.  
A water taxi transports guests between Disney's Hollywood Studios, Epcot Theme Parks, The Boardwalk and several of the Resorts located in the area.  It's a hub of activity you can watch from the waterfront patio of Big River Grille and Brewing Works, the only working microbrewery at Walt Disney World Resort.
Guests, 21 and over, can join in the lively fun at Jellyrolls, dueling piano bar or dance the night away at  Atlantic Dance Hall.  A cover charge may be required for admission on certain evenings.
Do Downtown
The Downtown Disney Area is one of my favorite spots in and around Walt Disney World.  This shopping, dining and entertainment area is divided into three sections –  the West Side, Marketplace and Pleasure Island.  This is where you can find major entertainment options like House of Blues, Cirque du Soleil and DisneyQuest.
With free parking and no admission fee charged, guests can literally spend hours here walking about, window shopping, people watching and enjoying the live entertainment that is scattered throughout.  On one visit, I watched a young gentleman playing an electric didgeridoo, while around the corner a group of performers dressed in elaborate period costumes were playing classical music, rock style.
While the entertainers are enjoyable, I could stand for hours in front of the glass enclosed work area at Goofy's Candy Kitchen watching the candy makers preparing the made-to-order treats.  The skilled workers prepare each creation, adding items from a long list of toppings selected by each guest.  It is even more exciting to watch if the treat they are creating is your own — my favorite, marshmallows dipped in dark chocolate, covered with mini milk and white chocolate chips!
Hitch a Ride
One of the benefits available to Resort guests at Walt Disney World is complimentary transportation around the theme parks and between Resorts.  Taking advantage of the transportation options can provide not only a means of mobility, but free entertainment as well.
Riding the ferryboats between the resort properties and the Magic Kingdom can provide a relaxing ride and offer some great views.  The views from the Monorail around Magic Kingdom can provide both a scenic ride and an opportunity to update your attraction to-do list.  Personally, I prefer the open-air back seats of the water taxis that run between Epcot, the Boardwalk area resorts and Disney's Hollywood Studios.  It's a great spot to enjoy the midday sun or get a look at the twinkling stars.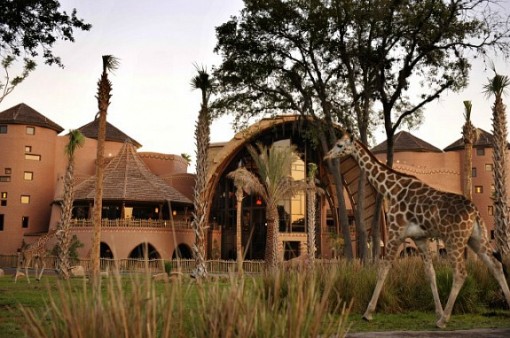 Explore a Resort
Being able to readily access the resort properties opens up a realm of possibilities for free entertainment. Disney's Wilderness Lodge for example, offers free tours of the property.  Built to resemble National Park lodges, Wilderness Lodge boasts an 82-foot-tall fireplace in its 7-story lobby.  Artifacts depicting Native American culture and pioneer life are scattered throughout.  Be sure to time your visit to catch the eruption of Fire Rock Geyser that shoots water 120 feet in the air in a tribute to Yellowstone's  Old Faithful.
Once you have explored the lobby and displays of African artifacts at Animal Kingdom Resort, stop by the front desk to pick up an exotic animal guide.   Using the guide you can identify some of the 30 species of animals that roam the adjacent 43-acre wildlife preserve from an elevated rock platform.  Don't forget your camera for this free safari adventure.
Other animal encounters, more on the mild side, are waiting for guests visiting Ft. Wilderness Resort.  Explore the many trails or stroll through the stables at Tri-Circle-D Ranch and visit Cinderella's ponies and the horses that dutifully pull the wagons down Main Street U.S.A. in the Magic Kingdom.  For a little more active fun, rent a cane pole and try your luck at catch-and-release fishing.
Play in the sand at the beaches of  Disney's Swan and Dolphin or any of the properties that line the Disney World lakes.  The Resorts that rim Bay Lake also provide a nightly viewing of the Electrical Water Pageant.  My favorite is to grab a hammock at Disney's Polynesian Resort for a relaxing view of the show.  Keep in mind that Resorts that offer views of Cinderella's Castle will also provide an excellent  and free view of the nightly Magic Kingdom fireworks presentation.
Catch a Flick
Ft. Wilderness Resort is home to The Meadow Recreation area outdoor theater that hosts the nightly Chip 'n' Dale Sing-Along and marshmallow roast.  While the popular camp-style sing-along is free, there are marshmallows and s'mores kits are available for purchase.  Immediately following the sing-along is the free outdoor screening of   classic Disney films. Guests can also catch a free film screening at Disney's Grand Floridian Resort.
Photo Credits: WDW News
Having been transplanted numerous times, I have learned to explore the sites around our new found hometown, uncovering hidden gems and attractions. When vacation time rolls around, I enjoy traveling with my family and the occasional weekend escape with my husband, coming home to share our travel experiences with others. You can follow me on Twitter @JAIngersoll. My top three destinations are Walt Disney World Resort, the Midwest and any beach I can walk along.