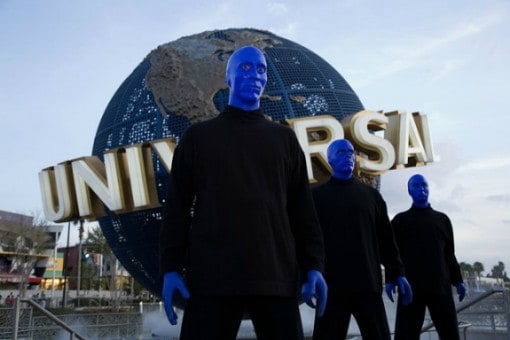 From live musical performances to stunt-heavy productions, Universal Orlando is home to a variety of shows but in my mind, there's one in particular that stands out.
The Blue Man Group show at Universal CityWalk is a one-hour and 45 minute production that focuses on the theatrical antics of three bald, enigmatic characters who entertain their audiences with unique combinations of music, art, science humor and multimedia aids.  With a specific focus on percussion-related musical skills in particular, the all-blue performers communicate only through mysterious stares and random bodily gestures.  No words are ever spoken by the actors; not even when members of the audience are hand-picked to go on stage in order to be part of a skit.
The show takes place at Universal Orlando Resort's Sharp AQUOS Theatre, a 1,000-seat facility that's accessible from both Universal CityWalk and Universal Studios Florida.
Prior to our first visit to the facility, my wife was emphatic that we be in our seats before the scheduled start time of the show. As one who obsesses over punctuality, I was in complete agreement.
We arrived 15 minutes early and were instantly entertained by scrolling marquees on both sides of the theatre's stage that periodically delivered what appeared to be humorously sarcastic and very specific messages to certain members of the audience, who were identified by name.
However, approximately 12 minutes into the actual show itself, I quickly realized why my wife had insisted that we not be the last ones to arrive that evening.
In the middle of an act that was supposed to climax with members of the Blue Man Group shooting a large, paint-filled balloon across stage via a heavy duty sling shot, the theatre's auditorium lights came on, the performers stopped what they were doing and all three walked toward the front of the stage.
"You're late" flashed repeatedly on the off-stage marquees, accompanied by music that was taunting in nature, and a spotlight followed a seemingly innocent couple as they hurriedly searched for their seats.
All the while, the Blue Man Group followed the couple's every move with an expressionless stare.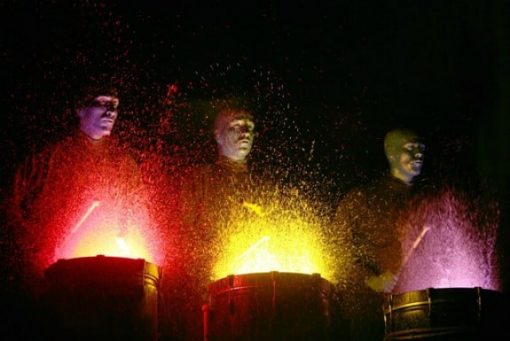 Even without an intermission, time passed quickly thanks to skits that involved the creation of art through paintball spitting, creativity with PVC pipes and the cross-stage shooting of multiple marshmallows into the mouth of one of the performers.
Sporadic music, both live and pre-recorded, is somewhat loud, at times, during the Blue Man Group show but the unusually-hilarious production is appropriate for virtually any age.
Things to Know Before You Go
There's an area in the theatre called "the poncho section;" the first four rows that are located closest to the front of the stage. This is the most interactive area for attendees. If you sit there, you will be provided with a poncho to wear because the performers work with some materials that splash and can make a mess. Note, sitting in this section does not guarantee that you will get splashed but there's certainly a chance of that happening.
The Sharp AQUOS Theatre lobbby provides a full concession counter with an array of snacks, cold beverages and cocktails. Patrons can bring their snacks and drinks to their seats and enjoy them during the performance.
Strobe lights are used during two portions of the show so if you're sensitive to strobes, plan accordingly.
You can purchase tickets to see Blue Man Group without paying for admission to the theme parks. Ticket prices start at $64 for adults and $25 for children ages 3-9.
Shows are performed almost daily but specific information can be found at www.universalorlando.com/Theme-Park-Tickets/Blue-Man-Group-Tickets.aspx.
Blue Man Group at Universal Orlando Uses…
approximately 600 feet of PVC tubing in its tube instruments;
520 gallons of paint each year;
more than 6,000 cakes of blue make-up annually;
about 31,000 marshmallows each year;
an estimated 3,100 Twinkies per year;
about 11.7 tons, or 23,400 pounds of Jell-O per year (or the weight of about nine 2009 Honda Civics);
nearly 1,000 boxes of Cap'n Crunch cereal on an annual basis; and
about 67,600 ponchos yearly.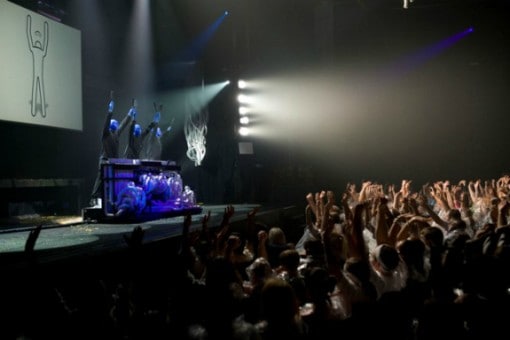 Blue Man Group Trivia
Blue Man Group was created by three friends named Chris Wink, Matt Goldman and Phil Stanton. After creating the characters and the show, the three played every New York Off-Broadway Blue Man theatrical performance during the production's first three years.
About 20 million people across the globe have seen a live Blue Man Group performance.
Blue Man Group has performed with the Philadelphia Orchestra, Boston Pops as well as at the Hollywood Bowl.
In addition to Orlando, various Blue Man Group productions can be seen nightly in New York, Boston, Chicago, Las Vegas, Berlin and Tokyo.
Photo credits:  ©2011 Universal Orlando. All Rights Reserved. (used with permission)
Indianapolis-based Greg Seiter is a 22-year freelance veteran who specializes in family travel. While embracing a background in athletics, the travel enthusiast has written for the Associated Press and various NCAA Championships publications in addition to AAA and Resort Condominiums International. Greg's top three travel destinations are Orlando, Fla., Pigeon Forge, Tenn. and Myrtle Beach, S.C.