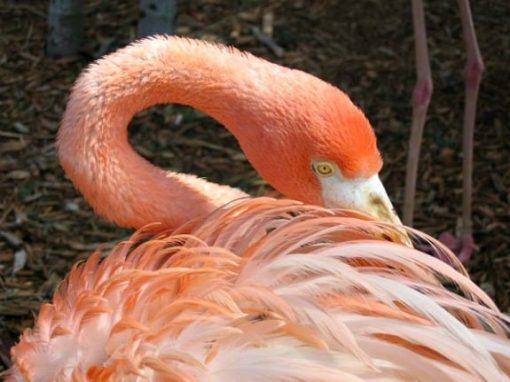 Who hasn't marveled at the awkwardly graceful flamingo?  Ranging in color from the grey hatchlings through various shades of light pink up to vibrant red, these birds fascinate us with their ability to stand, virtually unmoving, on one leg.  But the minute they start to move, those stick-like legs all akimbo, it's hard to imagine that they can maneuver anywhere in a hurry.
The flamingo in this photo lived at the Miami Seaquarium, and would be considered quite a desirable mate.  The flamingo's color (shade of pink) is based on the quality of its diet, with a darker shade of pink being more healthy and attractive to a prospective mate.  The Seaquarium, like zoos around the country, are adding foods rich in beta carotene to flamingo diets and as a result the captive flamingos are sporting a more rich and vibrant color.
The Miami Seaquarium is a 38-acre zoo and aquarium that is probably best known for its marine animal residents.  Flamingos join dolphins, killer whales, sea turtles, manatees, and a whole lot more, in calling the Seaquarium home.
Location:  Miami Seaquarium, 4400 Rickenbacker Causeway, Miami, Florida
Hours:  9:30 am – 6 pm daily
Admission:  Adults $38.95; Children ages 3-9 $28.95, plus Florida sales tax.  You can save on your admission tickets by purchasing them online.
Parking:  On site parking available for $8.
Photo credit:  Mary Jo Manzanares
Mary Jo Manzanares is a founder and the editor-in-chief of The Traveler's Way, an online travel magazine proving informational and inspirational travel recommendations for curious Baby Boomer travelers. She has been a speaker at various industry events and has a personal travel blog at Traveling with MJ. When she's not traveling, Mary Jo likes lingering over a cup of coffee, wandering in a museum, sipping wine at a cafe, and sharing it all with friends and readers. Mary Jo's top travel destinations are Italy, Portugal, and the Caribbean.