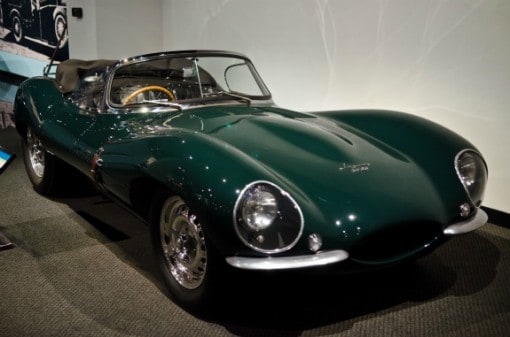 Founded by Robert and Margie Petersen in 1994, the Petersen Automotive Museum is one of the largest museums in the world dedicated to our love affair with the car.  This love affair proudly plays out along museum row in the Miracle Mile neighborhood of Los Angeles.
The museum has four floors displaying over 100 vehicles at any time, with exhibits chronicling the history of the automobile and its place is popular culture.  Here's a floor-by-floor look at what you can expect:
First Floor – Watch an interactive presentation of the history of the care and its influence on popular culture, The Streetscape: The Car and the City in Southern California.
Second Floor – Explore the permanent and rotating exhibits of classic cars, specialty cars (racing cars, high performance cars, etc.), and vehicles from the Hollywood.
Third Floor – Share your love of cars with your kids at the May Family Children's Discovery Center where they'll get a hands on look at the science of cars.  Who knows?  You may be passing on your passion to another generation.
Fourth Floor – This all-glass penthouse is used as a conference center or for private parties.  Sneak a peek if you have the opportunity.
The exhibits at the museum are constantly changing, with items from the permanent collection rotating as well as special featured exhibits.  Here's what you can currently see at the Petersen Automotive Museum:
Phil Hill: The Life of a Legend.  A racing legend, Phil Hill was America's first – and only – Formula 1 champion.  Among his many other credits are Grand Prix championships and the first American to win the 24 hours of Le Mans.  He was also a student of automobile history, an accomplished mechanic, and a restorer of classic cars.  This exhibit, created in collaboration with his son, will give you a look at the life and work of a racing legend – from his vehicles to his helmets.  Vehicles on display will include Bentley, Chaparral, Cobra, Ferrari, Mercedes, and Porsche.  (NOTE:  A tribute dinner will be held to honor Phil Hill on November 10th, 2011.)  Runs through November 27th, 2011.
Scooters:  Size Doesn't Always Matter.  They're small, they're budget-friendly, they're quirky and oddly endearing.  In Rome you'll see them darting in and about traffic, and in India and China they outsell cars.  As gas prices rise, so do the sales of scooters.  The exhibit will take you through the history of the scooter, from the 1915 Autoped to the British Unibus to the sexy Italian Vespa, you'll come to understand why scooters are an integral part of today's culture.  Runs through May 28, 2012.
Supercars:  When Too Much is Almost Enough.  With their powerful engines and adventurous styling, super cars are all about performance.  Exotic in appearance, these are the cars you likely lusted over in your teens, the car you swore you owned when you were old enough.  This exhibit features Ferraris and Porsches, Bugattis and Lamborghinis.  These cars are hot, sexy, and you can decide if they're too much.  Runs through February 5th, 2012.
If you have a car lover in your family, plan a visit to the Petersen Automotive Museum.  It'll warm the heart of the car afficianado in your family.
Location:  6060 Wilshire Boulevard, Los Angeles
Hours:  Tuesday through Sunday, 10 am – 6 pm
Admission:  $10 for adults, $8 for seniors (62+), $5 students and active military, $3 for children (5-12), and free for children under 5.   Print your tickets at home and save $1 per person.
Parking: $2 for 30 minutes, with a maximum of $8 (with paid admission).
Photo credit:  Ed Kwon via flickr (Jaguar); Smart Destinations via flickr (classic cars)
Mary Jo Manzanares is a founder and the editor-in-chief of The Traveler's Way, an online travel magazine proving informational and inspirational travel recommendations for curious Baby Boomer travelers. She has been a speaker at various industry events and has a personal travel blog at Traveling with MJ. When she's not traveling, Mary Jo likes lingering over a cup of coffee, wandering in a museum, sipping wine at a cafe, and sharing it all with friends and readers. Mary Jo's top travel destinations are Italy, Portugal, and the Caribbean.