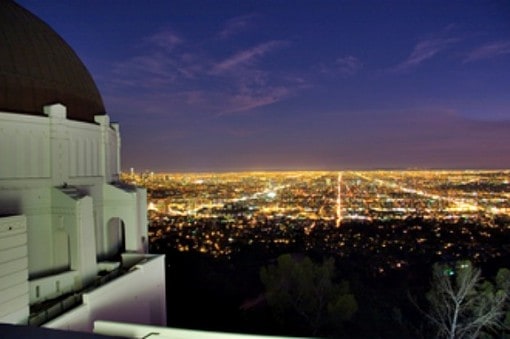 Los Angeles can be an expensive city to visit, but don't overlook the free things to do in LA that can be just as much fun while stretching the travel budget.  There are plenty of parks, beaches, and places to walk, but here are six FREE ideas that are often overlooked:
Griffith Park Observatory
The Griffith Park observatory, located on the southern slope of Mount Hollywood, is a Los Angels icon and can be seen from many parts of the city.  The observatory has much to offer walk-in visitors with free exhibitions and displays. The view from the observatory, which is atop one of the highest hilltops in the park, takes in Los Angeles below the Pacific Ocean beyond and is spectacular.  Admission to the observatory building and grounds are free, although there is a charge to see shows in the Planetarium.    Free public telescopes are available every night that the skies are clear, and demonstrators are available to help you figure out what you're seeing and assist you in viewing.  Telescope hours vary, so check before heading out.  Griffith Observatory is open Wednesday-Sunday until 10 pm.
Location:  2800 East Observatory Road, Los Angeles
Los Angeles County Museum of Art (LACMA)
While the museum's art collection has a modest fee, it offers two free music programs that are worth a look.  Friday night features the LACMA Jazz series featuring jazz musicians from around the great southern California area.  The program usually begins at 6 pm, no reservations required.  Sundays Live is another free music program, featuring a variety of musicians in performance starting at 6 pm.  No reservations required.
Location:  5905 Wilshire Blvd, Los Angeles
Chinatown Self-Guided Tour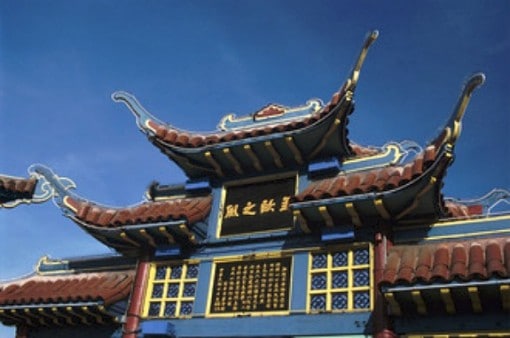 The tour starts at Central Plaza and its small shops and walkways, and home to many of Chinatown's family association social meetings.  Listen for the clicking of mahjong tiles, look for the statue of Dr. Sun Yat Sen, take photos in front of the 5-tiered pagoda, and soak up the atmosphere and culture.  The tour continues throughout the Chinatown neighborhood, giving you plenty of options on places to stop, things to see, and yummy treats to sample.  If you time your visit right, you can also take in the quarterly Chinatown Art Nights, where local areas keep their downs open into the evening.
Location:  Start at Central Plaza, 974 North Broadway, Los Angeles
The Getty Center
The Getty center features a collection of European and American art from the Middle Ages to present day.  The collections are housed amidst a backdrop of dramatic architecture and peaceful gardens, making a visit an experience for all your senses. Entry to the collections is free and no tickets or reservations are required.  There is a bit of catch, though, parking is $15.  Take the bus and save a bundle while still enjoying a day among some of the best art collections around.  Hours are 10 am-5:30 pm, Saturday until 9 pm.  Closed on Monday.
Location:  1200 Getty Center Drive, Los Angeles
The Getty Villa
Another chance to enjoy the largesse of J. Paul Getty (and family) is visiting the Getty Villa in Malibu.  This educational center and museum features collections on the cultures of ancient Greece, Rome, and Etruria, along with Roman inspired architecture and gardens.  The Getty Villa is open 10 am-5 pm daily, closed on Tuesday.  Admission is free, but again there is a $15 parking fee, so take public transportation to save.  An advance timed-entry ticket is required.
Location:  17985 Pacific Coast Highway, Pacific Palisades
LA Farmers Market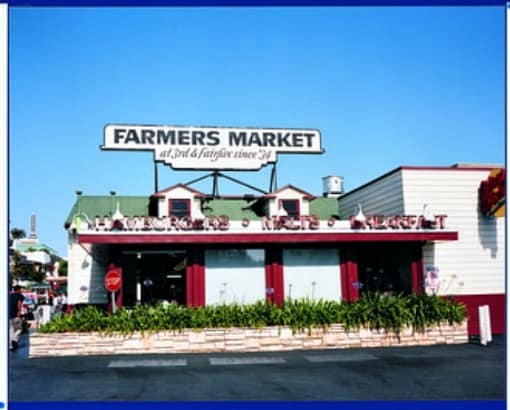 This Original Farmers Market is a LA institution, and for nearly 80 years has been offering fresh produce, specialty foods, and authentic ethnic cuisine.  You can wander for free, but let's be honest – you're probably going to want to buy something.  You can nibble on some free samples, of course, but that, too, can lead to purchases.  Find solace in the fact that you're spending a fraction of what you would elsewhere for much higher quality.  The market is open seven days a week, rain or shine.  Hours are 9 am-9 pm, Monday through Friday, till 8 pm on Saturday, and 10 am-7 pm on Sunday.  Some individual shops may have extended hours.
Location:  The Farmers Market is located at the NE corner of 3rd Street and Fairfax Avenue, Los Angeles.
Photo credits:  Courtesy of Discover Los Angeles
Mary Jo Manzanares is a founder and the editor-in-chief of The Traveler's Way, an online travel magazine proving informational and inspirational travel recommendations for curious Baby Boomer travelers. She has been a speaker at various industry events and has a personal travel blog at Traveling with MJ. When she's not traveling, Mary Jo likes lingering over a cup of coffee, wandering in a museum, sipping wine at a cafe, and sharing it all with friends and readers. Mary Jo's top travel destinations are Italy, Portugal, and the Caribbean.