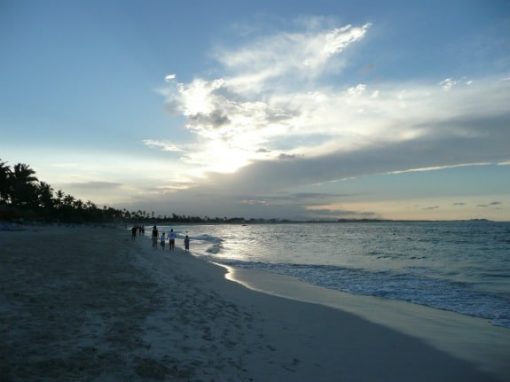 There are beaches all over the world, but some of the best are just south of North America in the Caribbean.  Particularly in the Dominican Republic, the second largest Caribbean island, where visitors flock daily.  Punta Cana,  on the island's east coast, is where you can enjoy beautiful, white sand adorning a coastline that boasts the most tranquil of clean turquoise waters.
Even better, the east coast also has its own Punta Cana Airport so getting in and out is easy.
Not sure where to begin, here are five beaches we recommend on the Dominican Republic's east side and while beaches are usually free, getting to several of the small islands where these beaches are tucked away will cost money.  Just be sure and negotiate a price for the boat ride before you hop on board.  From there, all you have to do is decide whether you want to swim, sun or just stick your toes in the sand and order another mojito.
Punta Cana Beach is the most well known of all the beaches in the Dominican Republic.  It's in this area you will find a large number of resorts for all inclusive holidays, each one offering specific beach activities depending on the property.  With coconut palm trees lining the 30-plus miles of paradise folks enjoy para-sailing, volleyball and riding the waves.  The nightlife around the Punta Cana area is also highly recommended.
Playa Bavaro Beach sits nearby Punta Cana Beach on nearly two miles of beach stretch.  In harmony with the gentle breeze, Bávaro Beach is surrounded by a coconut grove and is protected by the coral reefs along the shoreline where the ocean turns into a natural pool.  Activities depend on the resort, but feeling the cool breeze on your face while relaxing or taking some time for the local shopping plazas near the beach is high on many a Bavaro Beach excursion.
Isla Saona is located within Parque Nacional Del Este and is located on a tiny island just a short distance from the mainland.  One of the southeast coast's most popular tourist destinations, the island can be reached by motorboat from Bayahibe.  Highlights include sunbathing, snorkeling and often a chance to come face to face with a manatee or bottlenose dolphin while swimming. There is also a restaurant on the island serving seafood along with local drink favorites.
Isla Catalina is another beautiful island and features what most folks say is the best coral reef in the Dominican Republic.  The fish are so tame they'll eat out of your hand.  Just one-and-a-half miles from the mainland, the island is only six square miles and is a day tripper paradise that draws divers more than anything else.  The island is also eco-friendly with sand dunes, mangroves and reefs.  The highest point of the island is 60-feet above sea level and you'll find a number of birds and tropical fish since natural sandbars offshore make the depth just off the island only a few feet deep.
A popular beach for scuba divers and snorkelers, Playa Dominicus has a large presence of coral reefs and a fair share of resorts.  For those adventuring off the beach for some culture nearby the draw is both Altos de Chavon Village and the Altos de Chavon Amphitheater nearby.
Photo credit:  wikimedia
Rita Cook | Rita Cook is a writer/editor with over 1000 articles. She can be heard on Insider Mag Radio at KPRO 1570 am and she also reviews cars for the Washington Times Communities (Behind the Wheel). Her most recent published books include "A Brief History of Fort Worth" as well as two haunted books on Dallas and Fort Worth to be published in the fall 2011. Rita's favorite travel destinations are Italy, India and Kenya.