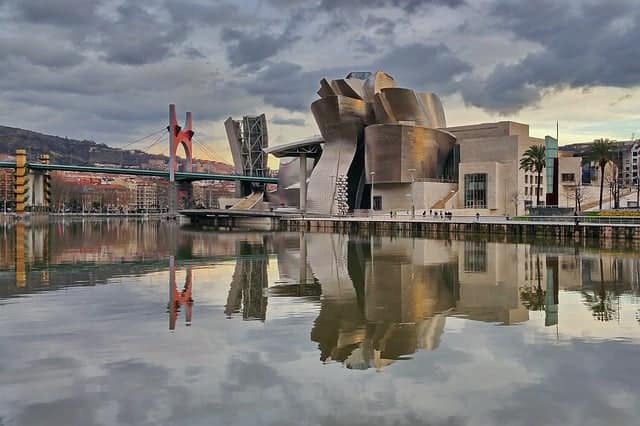 Bilbao has finally made it onto the map for UK tourists – primarily due to ever-improving transport connections. Along with low-cost flights, Brittany Ferries run up to three times a week from Portsmouth to Bilbao – ideal for those looking to take their car along for the ride.
With such a wealth of sights and attractions, a short-stay in Bilbao always leaves you wanting more. On the plus side, just a day or two is more than sufficient to check out a few of the city's highlights, which include the following:
Guggenheim Museum
Unsurprisingly, the single most unmissable sight in Bilbao is the world-famous Guggenheim Museum. The building itself is simply breathtaking from the outside, while its interiors play host to more than 24,000 square meters of exhibition space. A little like the Louvre in Paris, you could do with dedicating a full day to this fascinating museum.
Casco Viejo (Old Town)
Linked with the New Town by five beautiful bridges, the city's Old Town extends from the San Antón Bridge to the Church of San Nicolás. It's up to you whether you set an agenda, but the best way of exploring the Old Town is without the luxury of a map or a watch. Take your time to explore the historic Siete Calles (Seven Streets) and stop at as many cafes and shops along the way as you wish. Plaza Nueva is also worth stopping by while strolling the streets of the Old Town.
Museo de Bellas Artes de Bilbao
Another of the city's museums not to be missed is the Museo de Bellas Artes de Bilbao. The museum features an excellent permanent collection of European works spanning the 14th to 17th centuries, along with an exhibition space dedicated to some of Spain's more contemporary artists.
Parque Doña Casilda de Iturrizar
A firm contender for the most beautiful park in the city, Parque Doña Casilda de Iturrizar is a great place to head for a spot of relaxation on a warm, sunny afternoon. There's a lovely lake at the park which is great for kids with families, along with any number of fountains and sculpture to discover as you walk the winding paths.
Museo Marítimo Ría de Bilbao
The Bilbao River Maritime Museum is housed in one of the buildings at the city's former shipyard and provides and interesting look at Bilbao's past. In order to get the most out of your trip, taking a guided tour comes highly recommended.
Basilica de Begoña
Even if religious buildings aren't usually your thing, it's worth the 20-minute walk up the hill to Basilica de Begoña to check out the unbeatable view over the city.
The Beaches
Last but not least, there are several wonderful beaches to check out in Bilbao, should you coincide your trip with the best weather of the season. Las Arenas, Ereaga, Arrigunaga and Gorrondatze-Aizkorri (Getxo), Barinatxe-La Salvaje and Arrietara-Atxabiribil (Sopela), and Plentzia and Gorliz beaches, and finally the one at La Arena (Muskiz) are all within easy reach of the city and boast outstanding amenities.
What are your don't miss sights in Bilbao?
Anthony has found travel provides a healthy balance to his day job as a criminal defense attorney. Living on the periphery of blogging for years, he's now decided to flex his creative muscles with a little writing and photography of his own. Anthony's favorite travel destinations are the Caribbean, Italy, and Ireland.