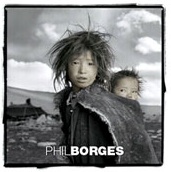 If you were shocked (and you should) by saving the ethnosphere, and felt kind of powerless against the cultural devastation of which Wade Davis was talking, you'll find hope in the TEDTalk from Phil Borges. The power of his portraits are mostly a way to promote his organization Bridges of Understanding, dedicated to teach digital storytelling to teenagers worldwide so they are capable of preserving their cultures.
The project has already rendered a valuable collection of short movies (slide shows, mostly) that depict all aspects of local cultures such as their daily life, schools, music, sports, environment and religion; all from the candid eye of teenagers empowered through the power of technology to open up to the world and stand up for their people. A truly remarkable mission.
I would love to organize a workshop for those teenagers that have just migrated to this big city and have a critical eye for the foreign culture that now they must call home. The window of opportunity to save those precious thoughts is very small and closes as fast as their attitude changes with the influence of the metropolis. But first I should get myself into one of the Mentor Training Workshops.
You too can feel inspired. Watch the TEDTalk (20 minutes).