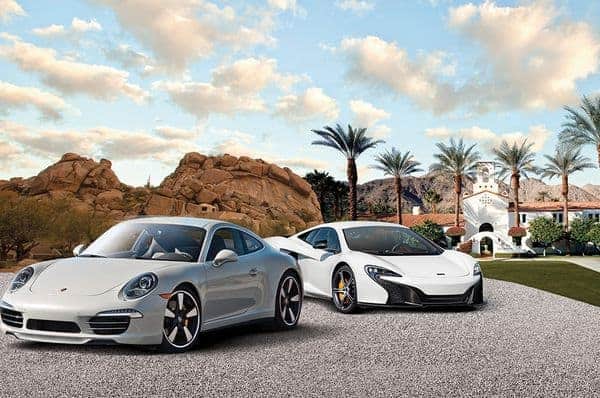 Following a successful test drive in 2014, Waldorf Astoria Hotels & Resorts shifts into the fast lane with the global launch of Waldorf Astoria Driving Experiences, now bookable for guests across North America, Europe, and the United Arab Emirates at 10 of the brand's 26 hotels and resorts. The package includes access to new Ferrari, McLaren, Lamborghini, and Porsche model cars, tips from experienced racing professionals, and the opportunity to drive along beautiful pre-determined routes making for an unforgettable day on the road.
Waldorf Astoria Driving Experiences provide guests with a premier supercar driving experience, including the thrill of driving a Ferrari 458 Italia, McLaren MP4-12C, Porsche GT3, Lamborghini Huracan, and Lamborghini Gallardo.
Car lovers will relish the opportunity to drive these cars the way they were meant to be driven – on the open road and in the most stunning locales around the world. And with a little coaching and advice, drivers of all skill levels can have a memorable day behind the wheel.
Guests can book the Waldorf Astoria Driving Experiences at the following properties:
North America
Arizona Biltmore, A Waldorf Astoria Resort – Phoenix, Arizona

October 30 – November 1, 2015
November 6 – 8, 2015
November 20 – 22, 2015
December 11 – 13, 2015

Boca Raton Resort & Club, A Waldorf Astoria Resort – Boca Raton, Florida
La Quinta Resort & Club, A Waldorf Astoria Resort – Palm Springs, California

October 16 – 18, 2015
October 23 – 25, 2015
November 13 – 15, 2015
December 4 – 6, 2015

The Roosevelt, A Waldorf Astoria Hotel – New Orleans, Louisiana

September 11 – 13, 2015
October 9 – 11, 2015
[tweetthis]Under the instruction of professionals, experience the thrill of driving a supercar as part of #WaldorfExperiences[/tweetthis]
Europe
Trianon Palace Versailles, A Waldorf Astoria Hotel – Versailles, France
Waldorf Astoria Berlin – Berlin, Germany
United Arab Emirates
Waldorf Astoria Dubai Palm Jumeirah – Dubai, UAE

November 6 – 8, 2015
November 20 – 22, 2015
December 4 – 6, 2015

Waldorf Astoria Ras al Khaimah – Ras al Khaimah, UAE

October 30 – November 1, 2015
November 13 – 15, 2015
November 27 – 29, 2015
The pre-arranged courses will take guests through some of the world's most beautiful routes and historic landmarks. The properties will offer morning, afternoon, and evening sessions every day, each lasting two and a half hours. The cost of the experience is $999 USD per couple (excluding accommodations).
Three packages are available:
"Drive & Stay" – includes one night's accommodations
"Drive & Drive" – includes a dual experience of the supercars and the golf course
"Drive & Dine" – includes dinner at a signature restaurant on property
Photo courtesy of Waldorf Astoria via TravMedia
Anthony has found travel provides a healthy balance to his day job as a criminal defense attorney. Living on the periphery of blogging for years, he's now decided to flex his creative muscles with a little writing and photography of his own. Anthony's favorite travel destinations are the Caribbean, Italy, and Ireland.