Always on the list of must-visit spots in Penang, Malaysia, the Blue Mansion is officially known as Cheong Fatt Tze Mansion, named after a 19th-century merchant. Built at the end of the century, the mansion is a vivid indigo blue, making it hard to miss, and boasts 38 rooms, 7 staircases, and 220 leaded Gothic-style louvered windows, in a style that follows the principles of Feng Shui.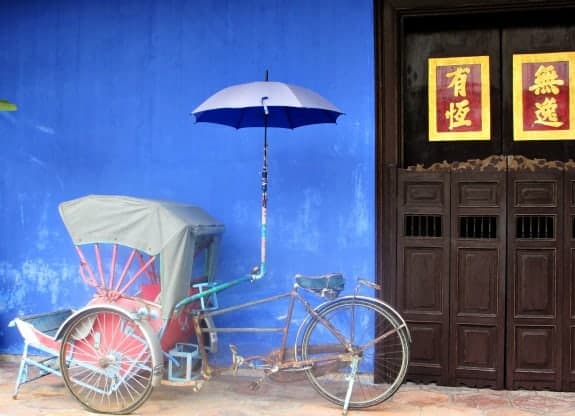 Cheong Fatt Tze was a Chinese businessman, who started life as the son of a poor family before emigrating to Southeast Asia to seek his fortune. He went first to Indonesia, where he got married and eventually started a trading company, accumulating property and wealth before expanding to Malaysia.
Arriving in Penang, Malaysia, Fatt Tze built the Blue Mansion in the late 1900s and took up residence there. While he traveled extensively, the Blue Mansion remained his home base for his eight wives and six sons.
Following Fatt Tze's death in 1916, the mansion passed to his heirs until it was purchased by a local group (in 1989) who wanted to preserve the historic site. Today it is both a private residence and a 16 room bed and breakfast, winning awards from UNESCO for the ongoing restoration work done on the mansion.
Thrice daily heritage tours of the main rooms of the mansion are offered at 11 am, 1:30 pm, and 3 pm. These are the only times the mansion is open to the public, and it's worth arranging your schedule to get a glimpse inside. The tour takes you through the main courtyard and sitting area, the dining area with it's massive table, through some of the hallways, and also a bedroom. I liked looking at the clothes hanging on the rack. Touring the mansion was a trip back in time, almost seeming like the residents stepped away – but just for a moment,  and will be back any time now.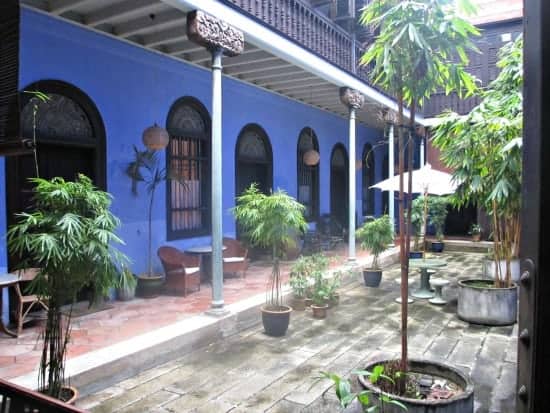 To the side of the residence, the bed and breakfast is just as vividly blue, with 16 themed bedrooms, each designed by a local artist around a specific theme. Period furnishings and art round out the ambiance. All rooms have an en-suite bathroom, are air conditioned, and have a personal valet. Free wifi is available. Breakfast is served daily in the courtyard, a chance to get fueled up in preparation for the rest of the tasty food in Penang.
The mansion can also be rented out for wedding, receptions, and other special events.
Location:  14th Leith Street, 10200 George Town, Penang, Malaysia
Hours:  Access to the mansion is only available by a guided tour, offered thrice daily at 11 am, 1:30 pm, and 3 pm.
Admission:  Approximately $3.70, depending on exchange rate.
Rooms:  $130-245 night, based on double occupancy, including breakfast.
Photos courtesy of the author
NOTE:  My visit to the Blue Mansion was part of a trip sponsored by Malaysia Tourism, Tourism Authority of Thailand, and Thai Airways.
Mary Jo Manzanares is a founder and the editor-in-chief of The Traveler's Way, an online travel magazine proving informational and inspirational travel recommendations for curious Baby Boomer travelers. She has been a speaker at various industry events and has a personal travel blog at Traveling with MJ. When she's not traveling, Mary Jo likes lingering over a cup of coffee, wandering in a museum, sipping wine at a cafe, and sharing it all with friends and readers. Mary Jo's top travel destinations are Italy, Portugal, and the Caribbean.