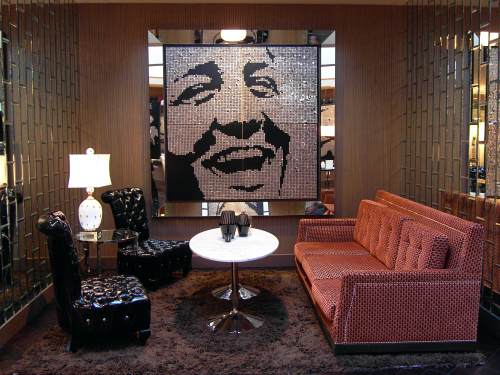 The incomparable Frank Sinatra died on May 14, 1998, but the respect and admiration for his music, talent, and the "spirit of cool" he left behind remains. Sinatra would have turned 100 years old this December 12th.
Sinatra called the Greater Palm Springs area "home" for nearly 50 years – from his arrival in the late 40s right up to his passing. Today, from his midcentury modern Palm Springs home and Rancho Mirage compound, to restaurants and landmarks throughout the desert, you can still glimpse of places owned and frequented by The Chairman of the Board.
[tweetthis]10 not to be missed Palm Springs locations for Frank Sinatra fans[/tweetthis]
Here are a 10 not-to-be-missed spots for Sinatra fans (courtesy of Palm Springs writer, Howard Johns):
 Twin Palms Estate – (1148 East Alejo Road, Palm Springs) – Sinatra had this midcentury modern home built in 1947 by award-winning architect Stewart Williams. The property boasts four bedrooms, seven bathrooms, a state-of-the-art (by 1947 standards) sound system, movie projectors and sound recording equipment for guests' enjoyment. Huge sliding glass doors open onto an expansive backyard patio leading to a cabana, two signature "twin palm" trees, and a piano-shaped swimming pool. Revel in the property's Sinatra history – right down to the crack in the bathroom sink caused by a wayward champagne bottle, said to be tossed at Ol' Blue Eyes by an incensed Ava Gardner. While the property is not open to public tours, it may be rented for private parties or personal stays.
The Compound – (70-588 Frank Sinatra Drive, Rancho Mirage) – This sprawling 2.5 -acre residence was built in 1954 and includes a main house, movie theatre, five guest houses, an actual train caboose turned into a barbershop and sauna, two swimming pools, tennis courts and a personal art studio. Each building was named after one of Sinatra's songs: "New York, New York," "High Hopes," "The Tender Trap," "Send In the Clowns," "Chicago" and "My Way." The Compound includes the famous guest quarters built in 1962 for (but never used by) President Kennedy, and a helicopter landing pad in the circle drive, later turned into a flower garden. The Compound was sold in the late 1990s and is privately owned, but it remains one of the most popular drive-by addresses for carloads and busloads of tourists who visit the area.
Frank Sinatra Drive (Rancho Mirage) – Easily one of the most recognized street names in the Palm Springs area (although Bob Hope, Gerald Ford, Dinah Shore and Kirk Douglas also have been given the honor), Frank Sinatra Drive begins at the hilltop entrance to The Ritz-Carlton in Rancho Mirage, and continues about eight miles east and ends at the far edge of Palm Desert. Visitors who travel its path will pass the legendary Tamarisk Country Club, Former Ambassador to the Court of King James Walter Annenberg's "Sunnylands" Estate (still surrounded by a bright pink wall, painted as such at the insistence of Mrs. Annenberg), Wolfson Park, where one can still hear a recorded welcome to the park speech by Sinatra himself and, of course, Sinatra's famous compound.
Melvyn's Restaurant & Lounge at The Ingleside Inn (200 West Ramon Road, Palm Springs) – This now legendary hotel and restaurant was the site for Sinatra's pre-wedding dinner to Barbara Marx in 1976. Owner Mel Haber, who still greets guests daily at the inn and restaurant, remembers: "Sinatra invited 80 people. Made all the arrangements himself. He was very meticulous in his selections – he chose the veal and vegetables." Melvyn's was also a favorite hangout for Sinatra and buddies Jilly Rizzo, Pat Henry and Danny Schwartz, who would hang out in the bar and drink Jack Daniels. Remembers Haber: "Sinatra was very friendly. He'd talk and listen to the music and have a good time."
Lord Fletcher's (70-385 Hwy 111, Rancho Mirage) Lord Fletcher's was for Sinatra's quieter, more personal times. He dined there for more than 30 years and made it the site of his 70th birthday celebration in 1985. Manager Michael Fletcher said, "He liked the casual atmosphere. He could be himself, and nobody would bother him."
Barbara Sinatra Children's Center (39000 Bob Hope Drive, Rancho Mirage, on the Eisenhower Medical Center campus) – Founded in 1986 by Sinatra's wife Barbara, the $2.5 million, 13,000- square- foot facility continues to be a national leader in the treatment of child sexual abuse. The annual Frank Sinatra Invitational Celebrity Golf Tournament raises money for the Center each year, with a star- studded gala that attracts more than 1,000 players and fans from around the country.
Sinatra's Star (123 North Palm Canyon Drive, Palm Springs) – Sinatra is forever remembered on the Palm Springs Walk of Stars, which lines the east and west sides of Palm Canyon Drive in downtown Palm Springs. The star was presented to Sinatra on January 15, 1994, in honor of his outstanding achievements on the stage, in the movies, and on TV and radio. More than 2,000 people showed up to pay their respects, and traffic stopped in the street upon the arrival of The Chairman of the Board.
St. Louis Catholic Church (37-220 Glenn Avenue, Cathedral City) and St. Francis of Assisi Church (47-225 Washington Street, La Quinta) remain today as two houses of worship supported by Sinatra and his family. St. Louis Catholic Church, once frequented twice a week by Sinatra's devoutly religious mother, Dolly, is still known as "The House That Dolly Built," because of her many financial contributions. Sinatra's daughter Nancy held her second wedding there in 1970. St. Francis of Assisi, built in 1974 and designed by famed Italian opera director Franco Zeffirelli, was frequented by Sinatra himself, as well as fellow parishioner Frank Capra, who directed Frank in the 1959 movie, 'A Hole In The Head.'
The Riviera Resort (1600 North Indian Canyon Drive, Palm Springs) – was where Sinatra organized big charity shows featuring such fun-loving buddies as comedian Jerry Lewis and fellow crooner Bing Crosby. Crosby, a longtime Sinatra idol, owned a home at Thunderbird Heights in Rancho Mirage. (in photo above)
Desert Memorial Park (69-920 Ramon Road, Cathedral City) – The final resting place of Ol' Blue Eyes. Sinatra's body was buried at the Park in a family plot next to his parents. His grave is located near the entrance in front of the waterfall. Frank's closest friend Jilly Rizzo, his uncle Vincent Mazzola and composer Jimmy Van Heusen are buried close by. Hundreds of Sinatra fans make the vigil to Sinatra's burial spot each year to pay their respects. His simple headstone, which reads, "The Best Is Yet to Come," is almost always adorned with fresh cigarettes, dimes (a favorite giveaway of Sinatra's, as a reminder of tougher times) and, often, miniature bottles of Jack Daniels.
Mary Jo Manzanares is a founder and the editor-in-chief of The Traveler's Way, an online travel magazine proving informational and inspirational travel recommendations for curious Baby Boomer travelers. She has been a speaker at various industry events and has a personal travel blog at Traveling with MJ. When she's not traveling, Mary Jo likes lingering over a cup of coffee, wandering in a museum, sipping wine at a cafe, and sharing it all with friends and readers. Mary Jo's top travel destinations are Italy, Portugal, and the Caribbean.