Chocolate has lots of variations and room for exploration. Just look at this collaboration between the Ritz-Carlton Hong Kong and master Swiss chocolatier LINDT. They've created – again – a new six-course interactive chocolate dining experience at the world's highest Chef's Table. This perfect meal for chocolate lovers is offered from November 18th, 2013 through February 28th, 2014.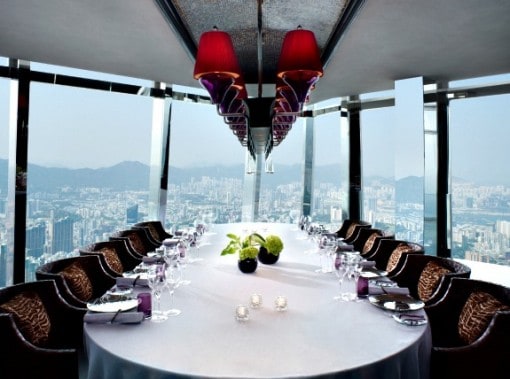 Located on the 102nd floor at 1, 378 feet above sea level, the world's highest Chef's Table is a private dining room at the Ritz-Carlton, Hong Kong, with a separate lounge area and a spectacular harbor view. It features an open kitchen that offers a front row view for the guests. The ambiance is intimate with the use of soft lighting and rich burgundy red furniture and fittings. The Chef's Table can accommodate up to eight guests.
This brand new chocolate menu combines that delectable taste that we all love with seasonal ingredients and special festive elements. It's a chance to learn – and taste – how chocolates can complement and give special character to savory dishes. Now that sounds like I challenge I can step up and accept.
Created exclusively for The Ritz-Carlton, Hong Kong, guests will be able to taste four chocolate varieties within the six-course menu in terms of their intensity and complexity – LINDT dark chocolates, Excellence 70%, 85%, 90% and 99% Cocoa. Their senses will be excited throughout the evening with a perfect matching of chocolate with seafood and meat.
Highlights of the menu include:
The impeccable combination of LINDT Excellence 70% Cocoa Dark with Sicily red prawns, organic garden green and lemon curd, and chocolate soil. The acidic character of the chocolate blends in nicely with the lemon curd and thus enhances the flavor of the succulent Sicily red prawns.
The Chocó / Citrus / Rock with LINDT Excellence 85% Cocoa Dark is a fun-filled with surprise, with the outer surface of the sphere frozen by iced nitrogen and the inner chocolate cream remaining warm, waiting for guests to break it open with a spoon.
The toasty flavor of LINDT Excellence 99% Cocoa Dark complements the Kurobuta pork belly perfectly, enriching and balancing out the full-bodied and caramelized oily texture of the pork belly.
The menu is also available with wine pairing recommendations by the sommelier of the hotel. The Chef's Table offers impeccable service, with each chef attending to only one table throughout the evening. Every dish will be served with detailed explanations of the ingredients and the cooking methods. Guests will learn from the masters of the effort and techniques that go into the preparation of their dishes, and are welcome to ask questions about the dishes and share feedback directly with the chefs. It is a truly interactive dining adventure.
The Ritz-Carlton, Hong Kong, occupies floors 102-118, making it the highest hotel in the world. Its 312 guest rooms all offer spectacular city and harbor views.
The special chocolate dinner is priced at approximately $250per person, based on a party of 8. Certainly a splurge, but a worthwhile one for food lovers who appreciate interest pairings.
The LINDT EXCELLENCE Chocolate Dinner at The Chef's Table, The Ritz-Carlton, Hong Kong
Amuse-bouche
Soya bean and chocolate sphere
Italy smoked tuna , cocoa nib , rainbow fruit
Chocolate, quail egg toast, black truffle
Crafted with LINDT Chocolates
∞ ∞ ∞
First Course
Sicily red prawn, organic garden green, lemon curd, chocolate soil
with LINDT Excellence 70% Cocoa Dark LINDT Excellence 70% Cocoa Dark
∞ ∞ ∞
Second Course
Duck confit ravioli, egg yolk, cauliflower mousse, chocolate veil, truffle essence
with LINDT Excellence 90% Cocoa Dark
∞ ∞ ∞
Pan-fried foie gras, chocolate, endive puff pastry, Sauternes, baby sorrel, golden raisin
with LINDT Excellence 85% Cocoa Dark
∞ ∞ ∞
Third Course
Chocó / Citrus / Rock
Chocolate citrus emulsion, chocolate cremeux, iced nitro
with LINDT Excellence 85% Cocoa Dark
∞ ∞ ∞
Fourth Course
Braise Kurobuta pork belly, almond foam, chocolate balsamic, potato fondue
with LINDT Excellence 99% Cocoa Dark
∞ ∞ ∞
Dessert
Chocolate / Ginger
LINDT Excellence 70% Cocoa Dark chocolate soufflé,
orange ginger sorbet, caramel fruits, smoke sphere
Petit Four
Variation of chocolates made with LINDT chocolates
Coffee or Tea
Photo credit:  via TravMedia
Mary Jo Manzanares is a founder and the editor-in-chief of The Traveler's Way, an online travel magazine proving informational and inspirational travel recommendations for curious Baby Boomer travelers. She has been a speaker at various industry events and has a personal travel blog at Traveling with MJ. When she's not traveling, Mary Jo likes lingering over a cup of coffee, wandering in a museum, sipping wine at a cafe, and sharing it all with friends and readers. Mary Jo's top travel destinations are Italy, Portugal, and the Caribbean.