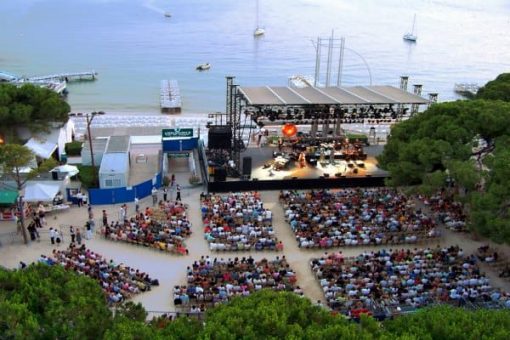 The French Riviera. I don't need to tell you that it's one of the most magical places around.  Couple that with any combo of Jazz, good food and wine, and some art thrown in and you're bound to do just about anything to get there, right?  After all, you will be following a long line of distinguished visitors to the area including the likes of F. Scott and Zelda Fitzgerald, Pablo Picasso, Henri Matisse, Pierre-Auguste Renoir, Claude Monet. . . and the list goes on.  Add in good weather in the French Riviera, particularly in the town of Antibes Juan-les-Pins and you have a winning combination when the annual jazz festival comes to town.
And I'm not talking about just any old jazz festival either.  In case you might be confused, I am talking about the Antibes Juan-les-Pins jazz festival (website in French), now in its 51st year.  This year the festival will be held from July 14 to 24, 2011 with headliners as substantial as B.B. King and Marcus Miller.  This year, as in years past, the festival will also feature new artists, but you can be sure they won't be new for long.
This part of the Riviera is known as the Cote d'Azur and there is reason this part of France is called "The Blue Coast." The colors are so brilliantly inspiring that Picasso  called this home in the mid-40s and was where he created "happy" art (as I call it). Stop in at Picasso's museum, once the Grimaldi Castle, and enjoy up to 245 pieces of his work. And, when he left the area six months after his arrival and after some intense creations, he also left the city of Antibes 23 painting and 44 drawings as well.
There is sunshine in Antibes Juan-les-Pins 300 days a year so who wouldn't be happy.  In fact, it made Monet so happy that he said of his time spent here, "What I will take back from here will be the mildness itself – white, pink, blue – all wrapped up in that magical air."  See for yourself as you tour the city and notice the imposing citadel standing as a fortress against the mighty Alps in the background.  Or ramble down the little alleyways and get lost in time – after all, there is a 3000 year history here.  There's an Absinthe Bar just near the marketplace and you don't want to miss that, it's a one-of-a-kind thing for sure.
For the hardcore art lover (and even if you're not) the Painter's trail is a must and it's also along the coast so you can enjoy the scenery.  On the itinerary you will follow along a trail offering a chance to see exactly what they painters saw (as in Picasso, Raymond Peynet, Monet and Eugene Boudin, to name a few) as they painted the same thing you will look at with their art placed on the very site where they sat up their easel.  With sixty lecterns in all it is just one more way for the Cote d'Azur to worm its way into your heart.
Quick Stop in Vallauris
Why Vallauris you ask?  That's an easy question.  This is a town that is known for its ceramics (the names Jean Marais and Jean Cocteau should come to mind) so when in the area it's a must. You can also see Picasso's "War and Peace" at the National Picasso Museum here.  In the castle's chapel where the painting lives you will see the hardwood panels of both the war and peace compositions – a good place now just to sit and contemplate.
It was in this town, too, that many an artist came to the area to learn what was called "the art of fire."  And the resort town called Golfe-Juan, just below Vallauris on the sea, celebrates Napoleon's landing on his return to France from the Isle of Elba every year.
A Short Jaunt to Jazz Option Number Two
Just a quick trip from Antibes is the town of Vence where there is a secondary jazz festival and this year it is in its 14th year.  Created by Director and musician in his own right, Teo Saavedra,  the festival is called Nuits du Sud and will be held from July 7 to August 6, 2011.  Artists this year include Max Romeo and Gotan Project.   A cultural experience, musicians from all genres play here and when not enjoying the music there is also the old town to discover.
In Vence there's Matisse's chapel and of course, the historic town.  Of particular note, the 2000 years of history and the Roman columns and, slip into the Cathedral  and see the Notre-Dame de la Nativite and don't miss the Castle of Villeneuve.
Whether you opt for the Juan-les-Pins or the Nuits du Sud jazz festival, you can bet that in between all that music there will also be plenty of good food and sunshine.  Just drink the local wine and pick out your favorite jazz musicians and let the rest quietly unfold.
Where to Stay:
Garden Beach Hotel – Juan-les-Pins – Located between Nice and Cannes on the French Riviera and right in the heart of the ultracool town of Juan-les-Pins, the hotel overlooks the Mediterranean Sea and sits next to a thicket of pine groves.  Only complaint, do we really have to pay that high of a price for the internet?
Las Mas de Pierre – Saint-Paul-de-Vence – A Relais & Châteaux listing  with charming dining room and terrace and a "La Princesse" Lounge Bar where we spent some time while visiting. Just at the foot of the Saint-Paul-de-Vence fortress in Provence also boasting a garden with a number of hundred-year-old olive trees.
Getting Around:
French Riviera Executive Transport Service (Ask for Piero) – Landing in Nice or Cannes and this limo or transport company is the one to call – the primo company in the south of France and offer multilingual drivers and guides.
Photo credit:  Courtesy of French Tourist Office
NOTE:  The author visited France as a guest of the French Tourist Office; the opinions expressed here are her own.

Rita Cook is a writer/editor with over 1000 articles. She can be heard on Insider Mag Radio at KPRO 1570 am and she also reviews cars for the Washington Times Communities (Behind the Wheel). Her most recent published books include "A Brief History of Fort Worth" as well as two haunted books on Dallas and Fort Worth to be published in the fall 2011. Rita's favorite travel destinations are Italy, India and Kenya.