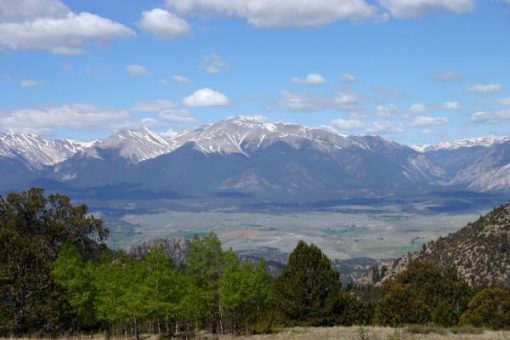 You don't have to be a cowboy to enjoy a dude ranch vacation. In fact, at the Elk Mountain Ranch near Buena Vista, Colorado, you don't even have to go horseback riding if you don't want to.
As Colorado's highest guest ranch at 9,600 feet above sea level, Elk Mountain Ranch sits at the end of a meandering dirt and gravel road, approximately 10 miles from Highway 285.  The family-owned facility, snuggled by mountainous terrain and a seemingly endless number of Aspen and Evergreen trees, is surrounded by the San Isabel National Forest and overlooks the wildflower-laden Arkansas Valley.
I selected this ranch as a family vacation destination because of its Rocky Mountain elevation, potential for magnificent scenery, numerous entertainment options and restrictions on overall group size. Surprisingly, however, after spending nearly seven full days there, the thing I was most impressed by was the friendly demeanor of the owners and staff.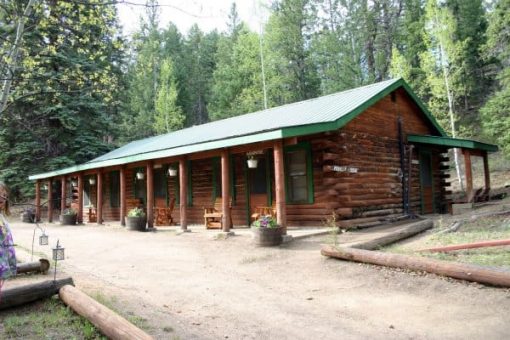 No more than 30 guests at a time can partake of one-week stays at the ranch each season from late May through mid-September. In fact, owners Tom and Sue Murphy believe their restricted gathering size helps to promote relaxation and a sense of togetherness.  That was certainly the case with my family. We had five in our party, including two children and my 80-year-old father, so we decided to stay in the spacious Pioneer Lodge – a simple but inviting one-story structure that consists of three separate lodge rooms, each equipped with its own bathroom, shower and exterior entrance. Outside our lodge, we shared a long porch and rocking chairs where fellow guests and staff members alike periodically stopped by during the week to share a laugh or summarize the previous day's events.
We also found opportunities to bond and learn about one another while dining, both indoors and out.
Home-cooked family-style meals served in the Main Lodge are particularly conducive to open dialogue at the ranch as visitors and employees sit together around large circular tables in the midst of simple yet appropriate western-themed decor. However, out on the trail, the same opportunities exist whether ranchers are enjoying brunch high up in the mountains in a secluded prairie-like setting or a picnic-style meal served within walking distance of the residence cabins.  Incidentally, the food, with varying options available for even children and picky eaters, is plentiful and tasty no matter where it's served.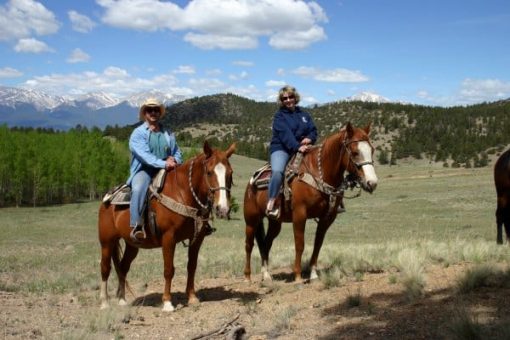 For those wanting to experience horseback riding while at Elk Mountain Ranch, horses are hand-picked by staff members based on each respective guest's body type and riding experience.  My dark tawny-colored steed for the week was Tuffy, a muscular animal that boasted a calm and pleasant demeanor; perfectly suited to my novice riding abilities. Trail rides of varying duration and difficulty are offered daily at the ranch so it's refreshing to know that guests who may be a tad sore in the saddle after their first day or two can ride as much or as little as they chose for the remainder of their respective stays. Some in our party rode every day while a couple of others decided not to ride at all. Either way, it's okay!
While one guest may prefer a peaceful afternoon nap or a secluded on-foot trail hike, another may opt to go fishing, play horse shoes, cards or a board game, relax in the facility's hot tub or simply chat with new found friends while taking in the area's intoxicating ambiance.  Elk Mountain Ranch also has a dedicated children's program counselor who provides kids with opportunities to pan for gold, visit a nearby hillside teepee, work on hand-made crafts and even interact with animals.
Separate day-time excursions are also available to vacationers. For example, many of us elected to "ride the waves" rather than our horses one day during our stay so for us, a full day of whitewater rafting along the Arkansas River was just a short bus ride away. On another day, we left the ranch early for a van trip to the city of Aspen; cautiously navigating Independence Pass over the Continental Divide while enjoying bountiful snow-laden mountain decor all along the way. During our afternoon visit there, we enjoyed a self-guided exploration and shopping opportunity while navigating quaint inner-city streets by foot. The mountain air was crisp and there were an abundance of brightly-colored flowers on display throughout the city.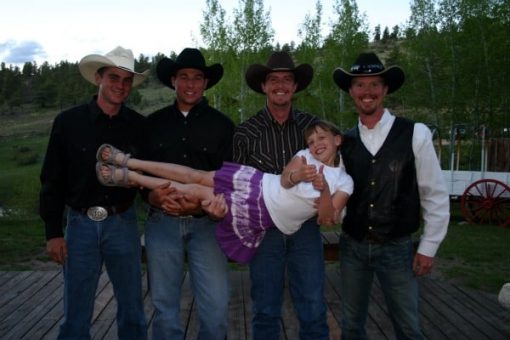 I would be remiss if I didn't mention the ranch-wide square dance we all participated in one night while staying at Elk Mountain Ranch, the early evening volleyball and basketball games we played and the archery and skeet-shooting tournaments my wife, father and I were each a part of. Additionally, having stayed there for only one week, it's hard to believe that we were also able to find time for a hayride and camp out, a large group game of "fat bat" softball and an evening filled with musical entertainment by a local artist.
Eventful but relaxing days encompassed my stay at Elk Mountain Ranch where new experiences and deep conversations combined to make the vacation one I look forward to taking again.
Photo credit:  All by Denise Seiter
Indianapolis-based Greg Seiter is a 22-year freelance veteran who specializes in family travel. While embracing a background in athletics, the travel enthusiast has written for the Associated Press and various NCAA Championships publications in addition to AAA and Resort Condominiums International. Greg's top three travel destinations are Orlando, Fla., Pigeon Forge, Tenn. and Myrtle Beach, S.C.