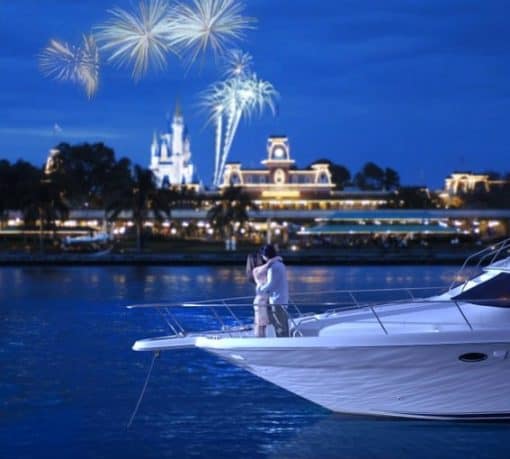 When couples sit down to plan their honeymoons, most envision a romantic, secluded destination.  When families plan a Disney vacation, they envision a trip filled with togetherness, thrilling attractions and magical memories.  So it's understandable that when couples plan their honeymoons at a Disney Resort, the best of both combine into a romantic vacation filled with excitement and magic.
A Disney property might not be the first location that pops into your head for a honeymoon destination.   Still, offering five theme park resorts,  four cruise ships, three vacation club resorts and a world of Adventures by Disney tour packages, it's not surprising a Disney Honeymoon is so popular.  In fact, according to the wedding planning site, TheKnot.com, Walt Disney World Resort is the number one honeymoon destination in the continental United States.
A romance at sea awaits honeymooners aboard a Disney Cruise ship.  Departures from Port Canaveral in Florida allow guests to set sail on a variety of three to seven night cruises.  Couples can sail away to tropical ports in the Bahamas, Eastern and Western Caribbean and all cruises make a stop at Disney's private island, Castaway Cay.  Departures from the West Coast send couples on exotic cruises to Alaska, the Mexican Riviera and beginning in 2012, Hawaii.
Couples can rest assured that while a Disney cruise may be an excellent family vacation, there are numerous "adults only" sections.  Guests aboard the Disney Dream and soon to be launched Fantasy, will love the themed lounges and cafes.  On a recent Disney cruise, I found the adult swimming pool and infinity hot tub wonderfully relaxing with a view not to be missed.
Relaxation awaits at the Spas on board the cruise ships.  Merely walking into Senses Spa on the Disney Dream, I felt at peace.  A variety of treatment packages are available, including a daily fee that grants guests admittance to the Rainforest Room.  Here  aromatherapy saunas and steam rooms and relaxing heated tile loungers are  perfect for erasing any wedding stress.  The ultimate honeymoon spa experience, for me, would be one of the packages offered at the couples villa.  Each luxurious villa offers side by side massage tables, a private hot tub offering ocean views and a lounging bench for two.  Perhaps the only thing that could top this experience would be the ocean side massages offered at Serenity Bay, the  adults only beach on Castaway Cay.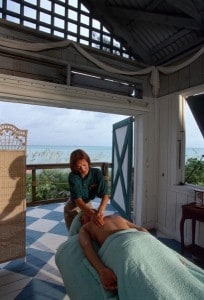 If you want a beach honeymoon, how about the South Carolina shores of  Disney's Hilton Head Island Resort.  Created to look like a 1940's fishing and hunting lodge, I felt lost in the tranquility of the surrounding 100 year old live oaks, while still being close to all that this popular vacation destination has to offer.  Whether staying in the Grand Inn or tucked away in a private beach cottage,  honeymooners will love the romance of Disney's other Atlantic Ocean destination, Disney's Vero Beach Resort.  Located on what is known as the Treasure Coast of Florida, Vero Beach is a short two hour drive from Walt Disney World.
One of the most popular honeymoon destinations in the world will soon be available to Disney guests with the opening of  Disney's Aulani Resort and Spa in Hawaii.  Located on the island of Oahu, this resort will offer sun, surf and sand at one of the most romantic spots on earth.  Scheduled to open in August, the resort is now accepting reservations.
An Adventures by Disney Honeymoon allows couples to travel globally with all the special attention travelers expect from  Disney.    Adventures to Africa, Asia, Australia, Central and South America, Europe and North America include a variety of sites and experiences.   Local experts  insure a true taste of the local culture whether walking the Great Wall of China,  snorkeling at the Great Barrier Reef or bobbing down the Colorado River beside your Navajo guide. Vacation specialists plan the adventures allowing the honeymooners to merely sit back and enjoy the view. Adult Exclusive tours are also available through Adventures by Disney.
For couples seeking an active honeymoon with a variety of dining options, a wide range of accommodations and thrilling attractions, a Disney Resort seems the perfect ticket. The Magic Your Way Plan, allows couples to select their tickets, make dining and hotel reservations well in advance of their trip. Offering a wide range of vacation options and accommodations in six categories, there is a honeymoon to fit every budget.
Even still, couples can create a wish list of  experiences and register for the honeymoon of their dreams through Disney's Honeymoon Registry.  From spa treatments and golf greens fees, to tickets to the theme parks, family and friends can purchase gift cards toward the happy couple's vacation expenses.
Couples celebrating at Disneyland Resort will want to sip from the award-winning wine collection at Napa Rose restaurant at Disneyland's Grand Californian Hotel.   The Hearthstone Lounge, also at the Hotel, is perfect for couples seeking a romantic spot as they share a cocktail around the fireplace.  The Downtown Disney Area hosts live entertainment among the variety of dining spots sure to create a festive mood.
Walt Disney World Resort provides world of options for honeymooning couples.  What could be more romantic than watching the nightly fireworks of Magic Kingdom from the rooftop lounge at the Contemporary Resort.  Or how about sipping tropical cocktails while sharing a hammock on the beach of The Polynesian Resort.  My favorite is strolling through the World Showcase at Epcot, stopping in France for a glass of champagne as the pyrotechnic show, Illuminations, begins.
No matter which destination you select, a Disney vacation is perfect for celebrating a honeymoon.
Photo Selections: WDW News, Disney Cruiseline News
Having been transplanted numerous times, I have learned to explore the sites around our new found hometown, uncovering hidden gems and attractions. When vacation time rolls around, I enjoy traveling with my family and the occasional weekend escape with my husband, coming home to share our travel experiences with others. You can follow me on Twitter @JAIngersoll. My top three destinations are Walt Disney World Resort, the Midwest and any beach I can walk along.