Located in southeastern France, extending from the lower Rhone River to the Italian border, and bordered by the Mediterranean Sea, Provence maximizes its climate and landscape into some of the best cultural and culinary tourism around. You may not know exactly where it is on the map, but chances are, you've heard of it. And maybe even thought about going there (you'll find some good tips here about the best time to visit Europe).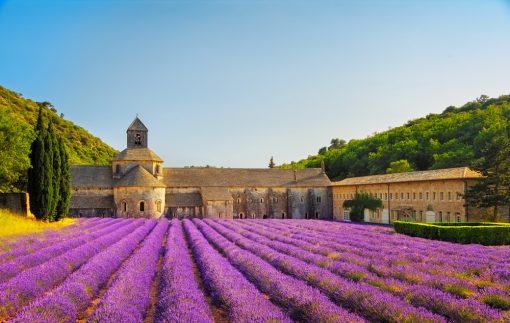 There is plenty of great food to be tried there – think of olives and olive, garlic, seafood, lamb, local fruit and vegetables, but what are you going to do when you aren't eating?
Queue up info on your phone (an eSim card makes wifi and phone access easy when you're traveling), and take a look at this list of ideas of things to do in Provence.
1. Cycle Mont Ventoux – This highest peak in France is part of the staging for the Tour de France, so this is for the serious cyclists. For many cyclists, this is on the top of their bucket list. If cycling is not your thing, you can always hike or drive up. No matter how you get to the top, the spectacular views make it worth the effort.
2. Hunt Truffles – A more relaxing pastime, this activity comes not only with a glimpse of authentic Provencal life, but a delicious truffle tasting at the end of it. ! Les Pastras, near Cadent in the Vaucluse region, offers visitors a chance to spend an afternoon learning how this '"black gold" is cultivated and how truffle dogs are trained. The world's most secretive business opens it doors to welcome you.
3. Explore Roman Ruins – Experience France's long and ancient heritage, with a one of the many sites of Roman ruins and artifacts. The town of Arles is home to some of the best examples of Roman architecture in France, including the Amphitheatre of Arenes d'Arles and its neighboring Roman Theatre. Around 25 miles to the north of Arles is the the Pont du Gard, originally a Roman aqueduct, another spot to soak up the history and the sunshine.
4. Lavender of Provence – Used in everything from soaps, cosmetics, flavoring, honey and Provencal cuisine, lavender is often thought of as synonymous with Provence. Following the Lavender Roads in Provence during July and August lets you see the fields in full bloom. A visit to the Lavender Museum on the route du Gordes can teach you everything you need to know, or a take guided tour of Les Agnels Lavender Distillery.
5. Visit a French Chateau – As Scotland is famous for its castles, France is famous for its Chateaux. If there are two that you must not miss in Provence is the Chateau de Lacoste and the Chateau des Baux. The former was once home to the notorious Marquis de Sade and is now owned by fashion mogul Pierre Cardin. Along with stunning views of the Luberon the chateau also boasts an annual music festival, a summer celebration of the performing arts with a dramatic backdrop. The Chateau des Baux on the other hand is possibly one of the best Medieval sites that you will visit in France. During the summer there are activities for the entire family to enjoy ranging from falconry to archery and battle re-enactments.
6. Frolic on the Gorges du Verdon – The Gorge du Verdon is not only one of the most stunning and dramatic gorges, but probably one of the best known. Get a glimpse of its turquoise waters and steep canyons that draw everyone from the extreme sports lovers to the vintage car Sunday drivers. With watersports-a-plenty, cliff side towns, pretty floral villages and numerous vistas to enjoy, you'll be able to find something that suits your travel style and interests. .
7. Take a Provencal Cooking Class – When you return home from your trip to Provence, not only do you want to WOW your friends with your knowledge of fine wines, but what better way to tell them about your holiday than to cook them a delicious Provencal-style meal. You will find many cooking schools across the region and some hotels offer classes as well.
8. Enjoy and Discover Art – Provence has long been a landscape that artists have painted, so why not spend time in those locations. Paul Cezanne is probably Provence's most famous artist, but both Henri Matisse and Vincent Van Gogh were both enchanted with the area. You can find a host of art galleries and museums to discover their artwork. For a more modern take on art, each year the Carrieres de Lumieres put on a multimedia show of sound and light in a stone quarry. And don't pass up the opportunity to discover a new artist in one of the many galleries, markets, or street stalls.
9. Enjoy the Vineyards – Some consider the wines of Provence to be very ordinary, but you should taste and decide on your own. The area is known for its Rosé, but is also home to some spicy, full-flavored red wines from Coteaux d'Aix-en-Provence, Bandol, and Vacqueyras. Visit the vineyards in Provence for wine tasting sessions, combine with an al fresco restaurant stop and optional shopping time.
10. Visit Avignon – The city walls that surround Avignon were built between 1359 and 1370, so the rich history should tempt you. There is plenty to see and do in this famous city, including of course a visit to the magnificent Palais des Papes which is the largest Gothic palace in the world. Each summer/autumn it hosts the Les Luminessences, an audio and visual show which is projected onto the building and tells the dramatic history of the city. Avignon is also well known for its markets, festivals, music, and art, so make sure to check out the events calendar before you go.
For Pinterest
If visiting Provence, France, is on your bucket list, pin this to one of your relevant Pinterest boards. That way you'll always have the information handy. Enjoy your Provence planning.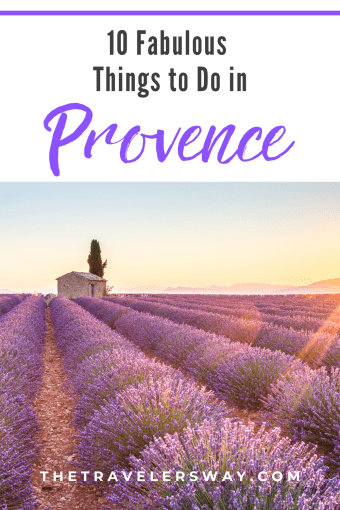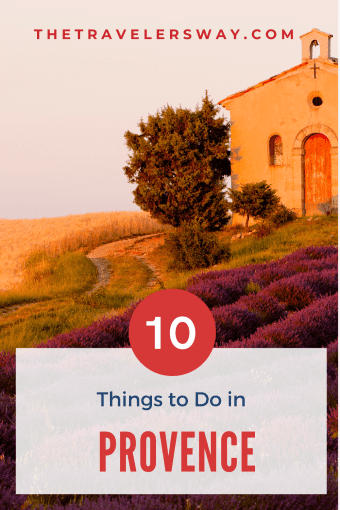 Anthony has found travel provides a healthy balance to his day job as a criminal defense attorney. Living on the periphery of blogging for years, he's now decided to flex his creative muscles with a little writing and photography of his own. Anthony's favorite travel destinations are the Caribbean, Italy, and Ireland.