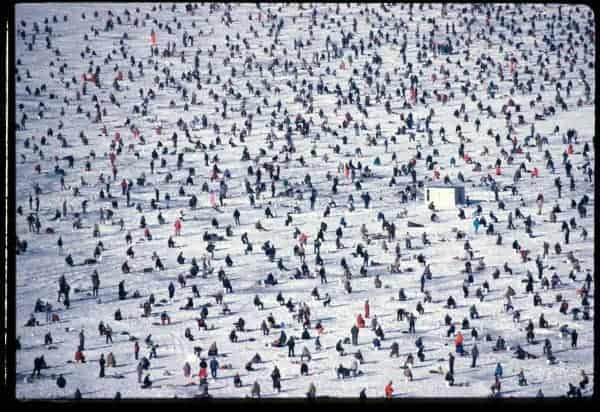 With its plenty of quirky winter sport and outdoor activities, Minnesota is one of the United States' best-kept secrets as a premier winter vacation destination.
Not only is Minnesota the Land of 10,000 Lakes, but it also can boast the Land of 10,000 Sports.  Here are four wacky and wonderful winter sports that you may not have heard of, but you may want to try.
Ice Fishing
When a foot or more of ice covers one of Minnesota's 11,842 lakes, it means ice fishing season has arrived. This longstanding Minnesota winter tradition thrives at places like the "Walleye Capital of the World," and international waters of Lake of the Woods in search of the elusive record catch. Home to a variety and volume of fish, walleye and muskie reign, however exceptional smallmouth bass, northern pike and crappie fishing is plentiful too. With more 3,000 ice fishing houses set up at any given one time, Lake of the Woods attracts avid anglers, families and general fishing enthusiasts, and is a popular Minnesota ice fishing destination.
If you're competitive about your ice fishing, don't miss the International Eelpout Fetival. Held every February, this 3-day event attracts nearly 20,000 people to Leech Lake in Walker, Minnesota. That's abouty 20 times the population of the town. The festival is anmed for an ugly bottom-dwelling fish, the eelpout. With the temperatures often reaching well below zero, attendees can choose from a variety of events including the Polar Plunge, a frozen wet t-shirt contest and of course, an eelpout fishing competition.
[tweetthis]Outdoor adventure #OnlyinMN includes these wacky winter sports from @exploreminn[/tweetthis]
Skijoring
Skijoring is a unique and fast growing winter sport that combines cross country skiing and dogsledding. Think water skiing with snow, cross-country skis, and a team of one to three dogs, attached by harnesses and a rope.
Derived from the Norwegian terms for "ski driving", skijoring has popped up in a handful of resorts and trails throughout Minnesota. Resorts offer lessons, outing and the option of bringing their own dogs or using the resort's dogs.
Bandy
A mash-up of sports, bandy has elements of soccer, American football, hockey and field hockey. While it's popular overseas – there are more than a million players in Russia, and it's the bandy is the second most popular winter sport in the world– there's only one bandy rink in the United States. And it's in Minnesota. Accordingly, Minnesota is home to both the men and women's national bandy teams. The rink is open to the public for visitors to try.
Winter Biking
Biking is not just a warm weather activity. Since the mid-2000s, Minnesota's winter biking community has outgrown its competition with bundled-up fat-bike riders, extensive winter biking races and all around good family fun for all ages. Pedal MN has winter biking tips and tricks for those who want to visit Minnesota and understand why Minnesota is one of America's best winter biking states.
In January, the Arrowhead 135 Ultra race attracts winter bikers who race 135 miles across the frozen and remote wilderness of northern Minnesota by bike, ski or foot. Participants are given 60 hours to complete the course with three checkpoints, luring elite athletes and spectators to Minnesota from around the world.
Photo courtesy of Explore Minnesota
Anthony has found travel provides a healthy balance to his day job as a criminal defense attorney. Living on the periphery of blogging for years, he's now decided to flex his creative muscles with a little writing and photography of his own. Anthony's favorite travel destinations are the Caribbean, Italy, and Ireland.