As November arrives, winter approaches in the great white north of Canada, and the boots, snow pants, and parkas emerge from the closet as Canadians look forward to outdoor adventures. So dust off your gear, find some cabins for rent in Canada, and dig in for a magical winter season.
As a native of Canada, I didn't always look to outdoor winter adventures especially given that I'm from the urban center of Toronto where the word "outdoors" equates to scenes of concrete and steel. But as I've matured, I've started to venture outside of the city core to seek out, explore, and love cold winter activities. It may still not be my favorite season or adventure, but the visitors coming to our country for the season can't all wrong.
Winter in Canada lasts four months of the year. Take advantage of the season with these favorite cold weather Canadian past times.
Ice Skating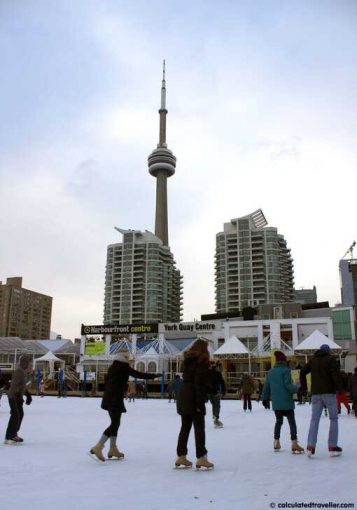 Strap on the skates – whether you wear your own or opt for a pair of rentals – and hit the ice. Don't worry if you can't perform a triple salchow or lutz, or if you don't even know what that means, it's still great fun to just go around and around and around the rink.  Sure, you'll occasionally stumble and fall, but all the while you'll also be enjoying the music, and experiencing the enjoyment of watching everyone else stumbling right along with you. The best part of all is warming up afterward with hot chocolate topped with mini marshmallows.
Skiing
Canada is home to some fabulous slopes to swoosh down. The choices of hills are plenty and a little research will help you find one that matches up with your experience level and preference. There's Whistler Blackcomb in British Columbia, Banff and Lake Louise in Alberta, Mont Tremblant in Quebec, Blue Mountain in Ontario, and Martock in Nova Scotia. Whether you prefer a snowboard, downhill, or cross-country, there's you'll find lots of packed powder in Canada.
Dog Sledding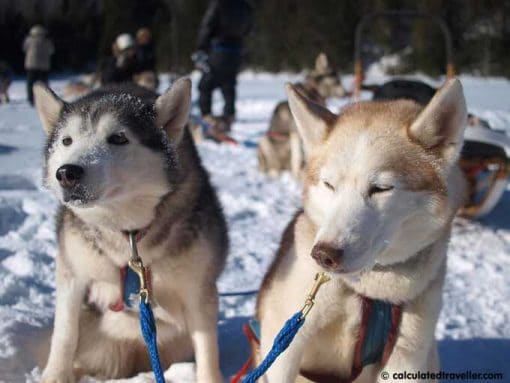 A personal favorite and perfect for the Canadian animal lover is taking a team of huskies out for a run. It may seem unfair to make the huskies pull you around on a sled but trust me; the dogs love it! On my first adventure running with the huskies whenever I stopped the sled for a break or slowed the team down, the dogs would bark, howl and scowl at me with a look that seemed to say "Why are we stopping now?!" They only stopped their sulking when we started moving again. Loveable and huggable, if you play with them and shower them with affection and encouragement, they'll want to run faster.
Ice Fishing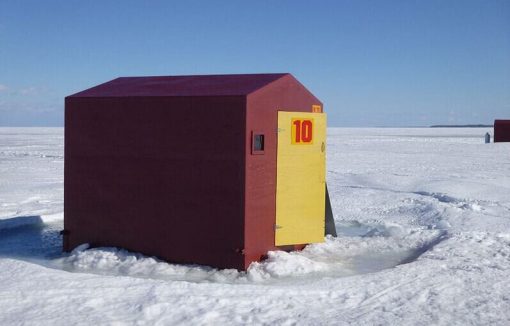 A real outdoor adventure sport, my experience ice fishing involved a lot of beer, laughter, and chatter with my girlfriends – perhaps that's the reason why we didn't catch anything!
When ice fishing, it doesn't matter if you catch anything or not, it's great fun and lots of laughs spending the day with friends as you stare into a hole in the ice waiting for a fish to swim by in a hut on top of a frozen lake. It's also a great activity for kids.
Snowshoeing
Less rigorous than skiing and more physical than ice fishing is snowshoeing – it is the best way to hike through the Canadian forests and trails without sinking into the snow. It takes a bit of time to get the hang of walking in snowshoes, but before you know it you'll be deep in the forest experiencing nature at it's wintery best!
Snow Tubing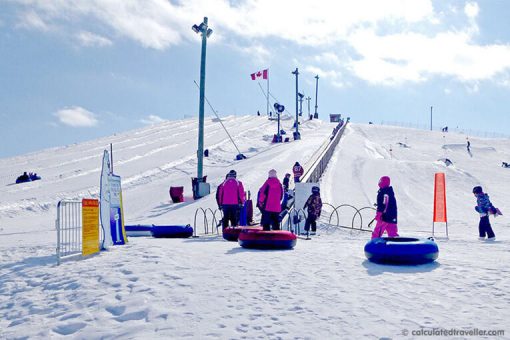 Snow tubing is tobogganing on steroids! I must admit I was terrified the first time I dragged that inner tube up the hill and as I sat down on it, I agreed to let the attendant put a spin on my ride down. Yes, I screamed as the wind filled my ears and the snow sprayed in my face. But as my inner tube spun around and around, my screams transformed into laughter and squeals of delight. Once at the bottom of the hill as I slowed to a stop I was out of breath from the excitement and exhilaration of the experience with a big grin on my face I grabbed my tube and ran back up to do it again.
Sleigh Rides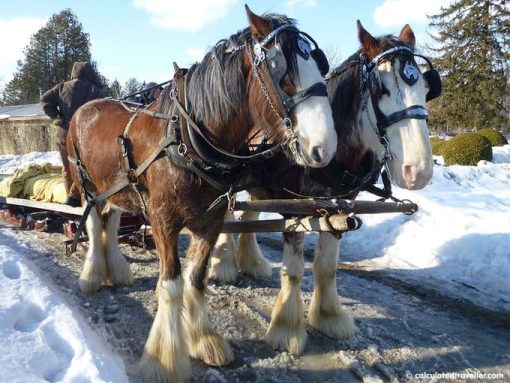 The warm feeling of the hot cocoa in your gloved hands, the ringing of the bells on the sleigh, the sound of the horse's hooves on the trail, and the brisk winter air surrounds you as make your way through the forest on a sleigh ride. A sleigh ride is perfectly romantic if you have your honey with you.
Polar Plunge
Invigorating? Refreshing? Insane? I say all of the above! The most extreme outdoor winter activity in Canada of all time is to strip down to your bathing suit and jump into the icy cold lake – if you dare.
As you can see, there are a lot of outdoor winter activities to fill your time in the cold weather months of Canada. Check the weather reports, then grab your coat, gloves, boots and a hat, and head outdoors this winter in the great white north!
Make planning your winter getaway easy by pinning this to your favorite travel, outdoors, or winter Pinterest boards.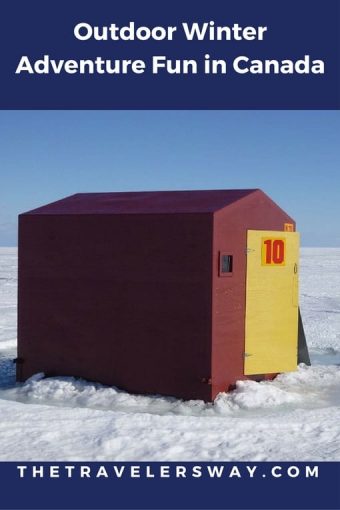 Author Bio: Mary Chong provided this story and accompanying photos about Canadian Winter Outdoor Adventures. Mary is a travel writer based in Toronto, Canada. She shares photos and stories of her adventures from both near and far on her travel website CalculatedTraveller.com.
The Travelers Way occasionally accepts guest posts from fellow travel bloggers, friends within the travel industry, and as advertorial content.