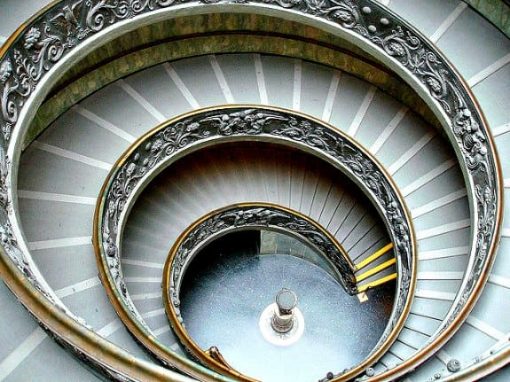 Many of the visitors to Vatican City aren't Catholic, or even religious at all.  They're drawn to this small city/state out of an interest in history, politics, and art.  And if you're keeping track of the countries you visit, this walled city/state located entirely within the city of Rome, counts.
Religion does play a part of tourism in Vatican City, and St. Peter's Square and Basilica are probably the most widely recognized locations.  But over 5 million visitors walked around the corner last year to go to the Vatican Museum for a look at a collection of art and artifacts owned by the Catholic Church that spans over 500 years and includes sculpture, paintings, drawings, tapestries, and more from some of the most famous Italian artists.
The museum was founded in the early 16th century by Pope Julius II, and over the years it has expanded to include 54 galleries.  The last gallery is the best known, the Sistine Chapel, but you have 53 to go through to get there – and along the way you'll view an impressive collection of Renaissance works from Raphael, Caravaggio, and others.
As you're walking through the galleries keep looking about – to the right and left, up and down, and around every corner and down every hall.  Even the staircase (in photo above) a spiral double-helix, is a work of art with its graceful shape, gold adornment and filigree.
Photography is allowed in the Vatican Museum, except for in the Sistine Chapel.
Although hearing dreadful stories about long waits to get into the Museum, we showed up and bought tickets on site.  The wait was less than an hour, although standing in the rain made it seem longer, much shorter than I've waited for dinner in some places.
The Vatican Museum is open Monday-Saturday, 9 am-6 pm.  Tickets which include the Museum and the Sistine Chapel are € 15,00 (approximately $19, depending on exchange rate).  Discounts may be available.  Tickets can be purchased onsite or in advance online.  On the last Sunday of each month, it is open to the public for free.
Photo credits:  From the collection of the author.
Mary Jo Manzanares is a founder and the editor-in-chief of The Traveler's Way, an online travel magazine proving informational and inspirational travel recommendations for curious Baby Boomer travelers. She has been a speaker at various industry events and has a personal travel blog at Traveling with MJ. When she's not traveling, Mary Jo likes lingering over a cup of coffee, wandering in a museum, sipping wine at a cafe, and sharing it all with friends and readers. Mary Jo's top travel destinations are Italy, Portugal, and the Caribbean.