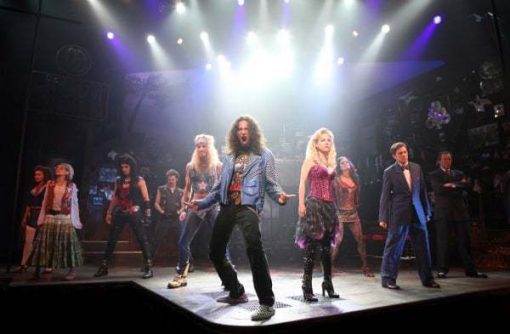 There are a lot of things happening in the world today that can keep you up at night worrying — increasing gas prices, declining home values, job security, problems in the Middle East, I mean seriously do I need to go on?  Wouldn't it be great to roll back the clock to the 1980's and a more carefree time in our lives when the only thing keeping us up at night was our energetic lifestyle?  While I am not a magician, I can offer you one suggestion, treat yourself to a night at the theater and see Rock of Ages.
Rock of Ages is a fun, light-hearted love story told  through the hit songs of the 80's made popular by the iconic rockers Journey, REO Speedwagon, Pat Benatar, Whitesnake, Poison, Foreigner, Styx and Starship.  From the big hair to the short skirts and tight jeans, you will be whisked back to the blissful time of '80's rock 'n' roll.
The story is set in 1987 at a rock club on the Sunset Strip,where a "small town girl" meets a boy from the big-city, full of the dream of making it big as a rock star.  Through songs like Anyway You Want It, Can't Fight This Feeling, Every Rose Has It's Thorn, Harden My Heart and I Wanna Know What Love Is, the two fall in love to the music many of us grew up.   As my toes were tapping and head was bobbing to the familiar tunes, I caught myself asking,"did we really dress like that?"  Followed immediately, of course, by a sigh of, "man, I wish I could still wear something like that!"  I bet you'll be singing along with these tunes, too, and probably asking the same questions.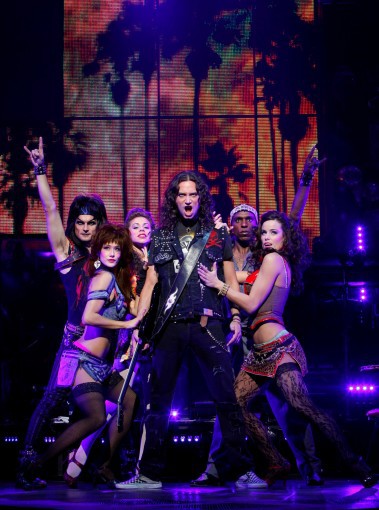 What started out as an off-Broadway production turned into an extremely popular run on Broadway.  Rock of Ages was nominated for five Tony Awards in 2009:  Best Musical, Best Actor, Best Director, Best Costumes and Best Sound Design.  While still playing on Broadway at Helen Hayes Theatre in New York, the production recently opened at the Comedy Theatre in Melbourne, Australia and is scheduled to begin a run at the Shaftsbury Theatre in London beginning September, 2011.
I had the opportunity to see Rock of Ages recently as part of the US National Tour through Broadway Across America.  I have to be honest, when the invitation to view the performance was extended to me, I wasn't as excited to attend the theater as I usually am, for one sad reason.  The role of Drew, the would-be rocker, is played by Constantine Maroulis. While I knew that Constantine received a Best Actor Tony Award nomination for this role and I knew from watching him compete on American Idol that he has an excellent voice, it was watching his, dare I say, arrogant performances on Idol that really turned me off.  Even watching Constantine perform a number from Rock of Ages recently on Dancing with the Stars, I was not sure if I would be able to get beyond those images and truly enjoy the show.
I am happy to report that away from the glare of the television cameras, his acting performance was truly enjoyable and his vocals were amazing.  Several of the duets sung with Elicia MacKenzie, who plays Sherrie, the other half of the love interest, were incredibly powerful and well blended.  I was swept up in the story as I had hoped I would be.
If you are looking for a night of reminiscent fun, pile on the hairspray, Cum On Feel The Noize and shout out, I Wanna Rock at Rock of Ages.
The Broadway Across America tour currently has dates scheduled to run through July in various cities across the United States.   The subject matter, language, costumes and dancing may not be appropriate for children under 14, parental discretion advised.
NOTE:  The author was granted complimentary tickets for the purpose of a review, the review here is solely the perspective and opinions of the author.
Photo credit:  Courtesy of Broadway Across America, Joan Marcus, photographer
Having been transplanted numerous times, I have learned to explore the sites around our new found hometown, uncovering hidden gems and attractions. When vacation time rolls around, I enjoy traveling with my family and the occasional weekend escape with my husband, coming home to share our travel experiences with others. You can follow me on Twitter @JAIngersoll. My top three destinations are Walt Disney World Resort, the Midwest and any beach I can walk along.