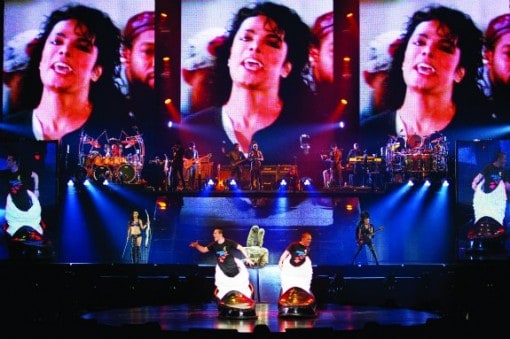 Picture a quick-hit combination of elaborate costumes, stunning visual effects, impressive acrobatics, 1980s style dancing and music made popular by the late Michael Jackson and you'll have a pretty good idea of what to expect in Cirque du Soleil's traveling tribute to the King of Pop – Michael Jackson: The Immortal World Tour.
I saw the two-hour show when it passed through Indianapolis and came away with mixed emotions; not because of anything I saw or experienced but rather, because of what I didn't.
The quality of the production was very good and the combination of recorded Michael Jackson music tracks and utilization of a live band led by longtime Jackson collaborator Greg Phillinganes was absolutely outstanding, but the show's lack of a lead character – I was expecting to see at least one Jackson impersonator – left me somewhat disappointed.
Rather than focussing on a specific story line, the creators of Michael Jackson: The Immortal World Tour structured the performance as a series of vignettes that feature a mime, a five-man dancing group of clowns and a costumed Bubbles the chimp.  Here's a teaser of what to expect:
For the focus on Jackson's childhood, part of the show's large, multifunctional stage transitions from a flat performance area to a standing projection surface, and then ultimately to a ramp. In the middle of the stage, there are also large drawers that serve as steps for artists to perform on.
During the show, after a brief look inside the Neverland Ranch where bronze statues come to life, the audience is transitioned into a heart-pumping, dance heavy rendition of "Wanna Be Startin' Somethin'."
I enjoyed the performance medley of "Heartbreak Hotel," "Smooth Criminal," "In the Closet" and "Dangerous."  And though I appreciated the flexibility and artistry of an accompanying pole dancer as music and video footage flooded the arena, I found her pole dance antics to be somewhat distracting and borderline inappropriate for many of the younger audience members.  Nevertheless, the show's emotional flow is subtle and genuine. It's difficult not to feel the groove as acrobats are sent spiraling into the air during "Dancing Machine" or while an afro-heavy celebration of the Jackson 5 is taking place.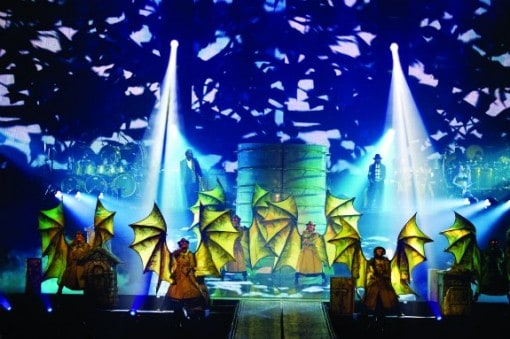 The sequence composed of "Ghosts," "Is It Scary," "Threatened" and "Thriller," which begins with a costumed creature crawling out of a large storybook,  is enjoyable but too short.  It's the prelude to a 20-minute intermission.
Costumes featuring 275 blinking LED lights that change color to reflect an appropriate mood during "Billie Jean" and two other Jackson songs were very well received.
At times the performances takes audience members on a bit of an emotional roller coaster ride.  For example, an army of robots march in unison as a video montage plays footage that depicts violence, destruction and despair during the playing of "They Don't Care About Us."  It's a stark contrast to the lighter and happier moments.
As the show draws to a close, fireworks and flash pots are part of a vignette that includes a global flag display, intended to reflect Jackson's emphasis on hope, unity and change during the playing of "Black or White" and "Man in the Mirror."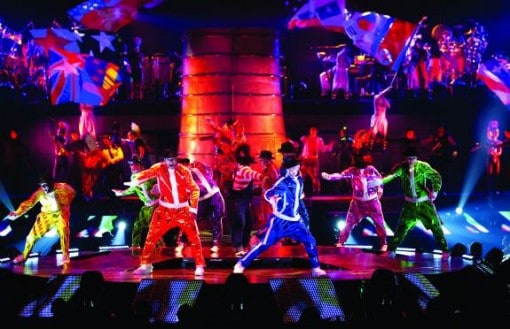 The Immortal World Tour is a colorful performance by extremely talented musicians, gymnasts, dancers and acrobats, who attempt to pay tribute to one of the greatest entertainers of our time.  They combine signature Jackson moves and musical talents with modern-day variations, interpretations and technology.  Over 30 songs are performed, most folded into medleys rather than being played in their entirety.  (To my surprise, popular Jackson hit tune "The Way You Make Me Feel" is strangely left out of the show.)
This production is not a musical concert, a clinic in popular Jackson dance moves, or a typical Cirque du Soleil stunt-heavy show.  What it does well is feature outstanding musicianship with an appropriate combination of physical feats, entertaining dances and visual effects.
Costume Close-Ups
The bat costumes used in "Threatened" are made of ultra lightweight paper used for shipping parcels.
There are more than 250 costumes in the show and more than 1,000 pieces total including accessories, shoes, hats and head pieces.
Three 52-foot trucks are required to carry the costumes and additional wardrobe equipment (washers and dryers, sewing machines, supplies, etc.) from city to city.
Set Design Facts
The stage area that extends into the audience is equipped with a conveyor belt, a lift and a video screen.
Giant on-stage shoes used during the performance reference Michael Jackson's famous penny loafers. They are eight feet long and created from orthopedic foam with a vinyl skin.
A six-foot tall glove used during the performance is a soft sculpture that allows the dancer inside to create various hand positions using their full body.
The total video projection surface in the show is more than 5,300 square feet; larger than a basketball court.
It took more than 9,000 hours to create the show's props and puppets.
Tour Dates
After an extensive North America tour that runs through late summer 2012, the Cirque du Soleil production of Michael Jackson: The Immortal World Tour will take a brief hiatus before embarking on a European tour in October.
Ticket Prices
Generally between $50 and $175 per ticket
Photo Credit: OSA Images
Indianapolis-based Greg Seiter is a 22-year freelance veteran who specializes in family travel. While embracing a background in athletics, the travel enthusiast has written for the Associated Press and various NCAA Championships publications in addition to AAA and Resort Condominiums International. Greg's top three travel destinations are Orlando, Fla., Pigeon Forge, Tenn. and Myrtle Beach, S.C.